Turn of the Screw
Henry James, adapted by Jeffrey Hatcher
Coliseum, Oldham
(2005)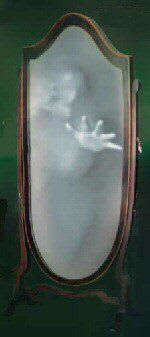 Henry James's ghost story - or psychological thriller - Turn of the Screw is directed at the Coliseum by Robin Herford and designed by Michael Holt, who both worked on the late Stephen Mallatratt's adaptation of Susan Hill's The Woman In Black for the West End, which is still running and touring after fifteen years. On the surface, this production has quite few things in common with the earlier ghostly production: the story is told by just two actors, the design cleverly compacts a whole house into a few platforms and staircases and makes good use of gauzes to conceal and reveal and, more obviously, the script makes frequent mentions of a ghostly 'woman in black'.
The story is about a governess employed to look after two children, brother and sister, in a large old house. Stories of the mysterious deaths of the previous governess and the valet lead to ghostly sightings and then to suspicions that the ghosts have possessed the children and are controlling their actions. But are these sightings genuine or is it all in the mind of the governess?
Jeffrey Hatcher's adaptation, like a lot of stage adaptations of literature, suffers from an excess of narration, so much so that at times it feels like we are having an abridged version of the novel read to us. Despite this, Herford's production keeps up a good pace throughout the play and manages to keep the audience's attention for most of the time even when there is little stage action. A poor production of this script could be very dull to watch, but Herford has managed to create a very watchable and at times quite riveting production from it.
The responsibility for telling most of the story goes to Alexandra Milman, who plays the governess. She has a huge amount of information to learn and to put across to the audience and she does a very good job of it. Ian Targett's role is more varied; he plays the children's guardian, the female housekeeper, the sinister ten-year-old boy and the governess's reflection in the mirror, all without any change of costume. All of his performances work well, and he is largely responsible for making the frenzied climax just before the end of the play so intense and compelling.
The Coliseum has brought in a good team to create a stylish, interesting production of James's controversial ghost story. Whilst the adaptation is more literary than theatrical, this production manages to make it entertaining with plenty of moments that are funny, frightening (there was one point in particular when almost the whole audience jumped together) or exciting.
"Turn of the Screw" runs until 2nd April
Reviewer: David Chadderton