Twelfth Night
William Shakespeare
Shakespeare's Globe's Touring Ensemble
Globe Theatre
–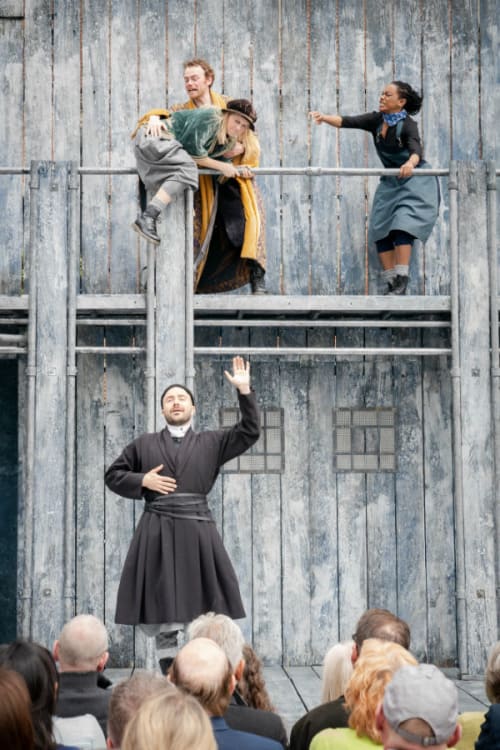 The Globe's touring production of Twelfth Night is a brisk, light and amiably conventional approach to the play, with its humour coming mainly from the antics of the most staggeringly drunk Toby Belch (Colin Campbell) you could imagine and his victims Malvolio (Mark Desebrock), tricked into wearing bright yellow stockings, and Andrew Aguecheek (Beau Holland), ready to believe anything he is told by Toby.
However, in its determination to keep things light, it gives us a rather cold, remote version of the love triangle of Orsino (Evelyn Miller), Viola and Olivia (Andrius Gaucas). Despite Shakespeare's words, we could just as well believe they had all fallen for Toby Belch as each other.
This can't have been helped by the Globe's hankering for the cosy childhood pantomime world allocation of gender roles where men dress up as women and women dress up as men.
Far from the gender swaps challenging the still unfairly limited roles in theatre for women, this production gives the central female part of Viola to a man, Eric Sirakian.
Not that he does a bad job. His clear and confident easy delivery of the words follows the meaning of the text.
This is a lively, always watchable, never confusing performance in which most of the cast play multiple roles. But we never get a sense of the danger felt by Viola, a woman refugee alone, driven to disguise herself as a man, or the disturbing humiliation and brutal incarceration of Malvolio that prompts him to threaten revenge on "the whole pack of" them.
At a time when refugees are being daily hounded in the media and the issue of workplace abuse has become so topical, this seems a missed opportunity.
Reviewer: Keith Mckenna