Twelfth Night
William Shakespeare
Grosvenor Park Open Air Theatre
Grosvenor Park, Chester
–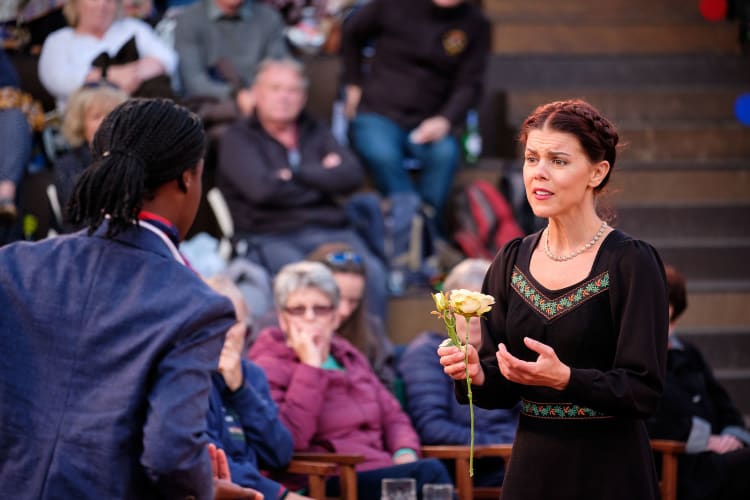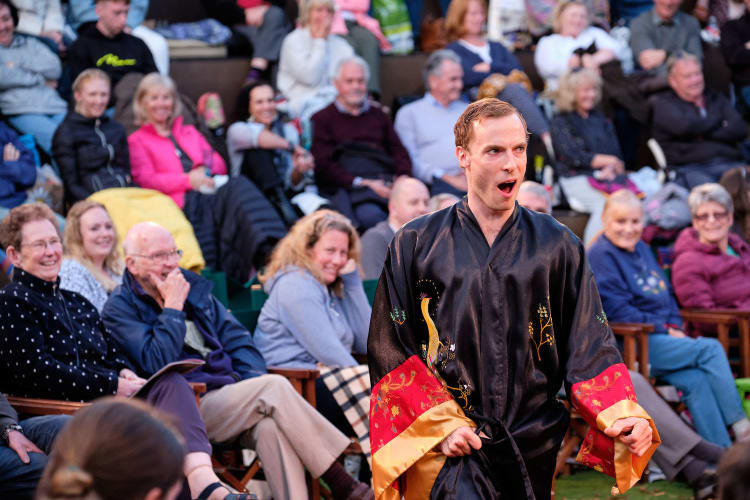 We all need certainties in life that we can depend on, that can provide calm and reassurance as reliably as the Sunblest van delivered bread to homes in the early '70s. Chester is fortunate to have one of the biggest "dead certs" going in this respect and to return to soothing balm of the Grosvenor Park Open Air Theatre, a "Wooden O" that springs up among the trees of this oasis of calm in the walled city every July and August, was welcome indeed.
This season's programme kicks off with Shakespeare's bittersweet comedy Twelfth Night. Director Julia Thomas has set this production in the modern day but the timeless themes of love and sorrow shine through perfectly. The shipwrecked twins, Sebastian and Viola, both believing the other to be dead, arrive in an Illyria that is hosting a folk festival that has attracted an interesting crowd to say the least. Viola, calmly delivered amidst the unfolding madness by Whitney Kehinde, is drawn into the decadent world of Count Orsino and a complex web of love and desire where no one seems to love the person who loves them. This is particularly difficult for Sarah-Jane Potts's sultry Olivia, who seems to be the flavour of everyone's month.
If the works of Shakespeare hold a mirror to ourselves, then the characters in Twelfth Night are easily recognisable. Chris Wright is superb as Sir Toby Belch, an obnoxious, over-privileged posh boy playing the clown so that he can gain influence and manipulate people. Not too difficult to think of a modern parallel to this permanently sozzled schmoozer. His partner in revelry, desperate for friendship and unaware he is being used for his money, is Sir Andrew Aguecheek, played by the returning Mitesh Soni who was such a hit last year in Chester.
However, Samuel Collings as Malvolio provides the highlights of the performance, firstly while reading what he believes is a love letter from his Mistress Olivia, in a scene making unforgettable use of beach toys. His subsequent cavorting in yellow stockings has the audience in stitches and If you see a funnier piece of theatre this year, you will be very lucky. It is simply outstanding. However, the hilarity rapidly becomes sympathy for Malvolio's humiliation as melancholy is rarely too far from the surface in this outstanding production.
Lisa Howard's sardonic Maria is a treat and Marc Benga is excellent as Sebastian in the fleeting moments he is onstage. However, the whole company are superb and will surely make Grosvenor Park Open Air Theatre's tenth birthday a memorable one. This reviewer can't wait to see The Borrowers and Henry V.
Reviewer: Dave Jennings