Twelfth Night
William Shakespeare
Guildford Shakespeare Company
Guildford Castle Gardens
–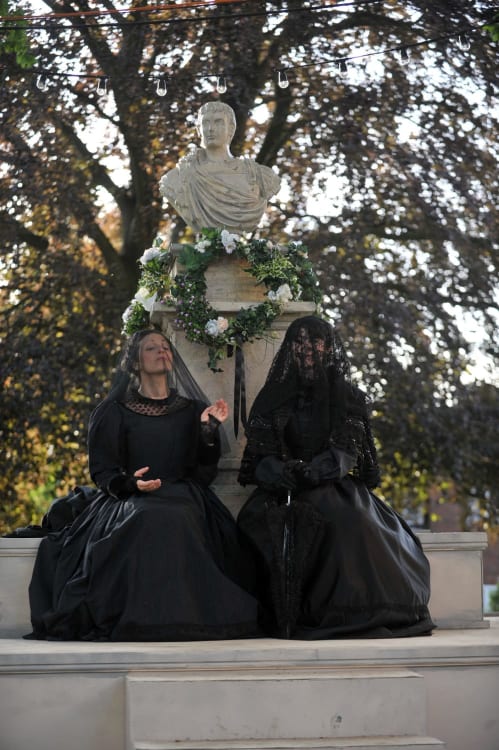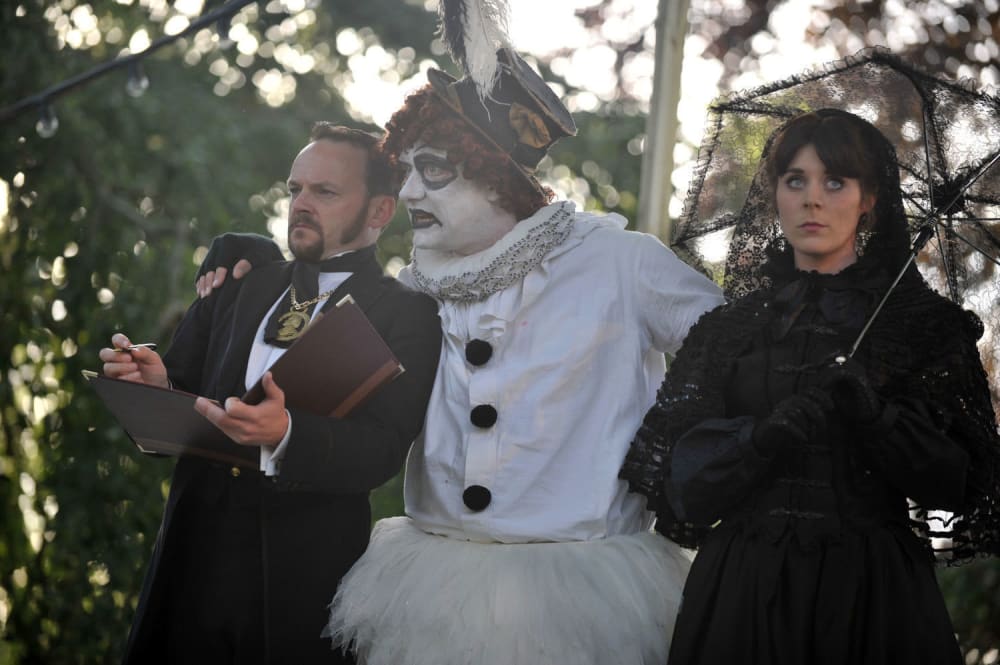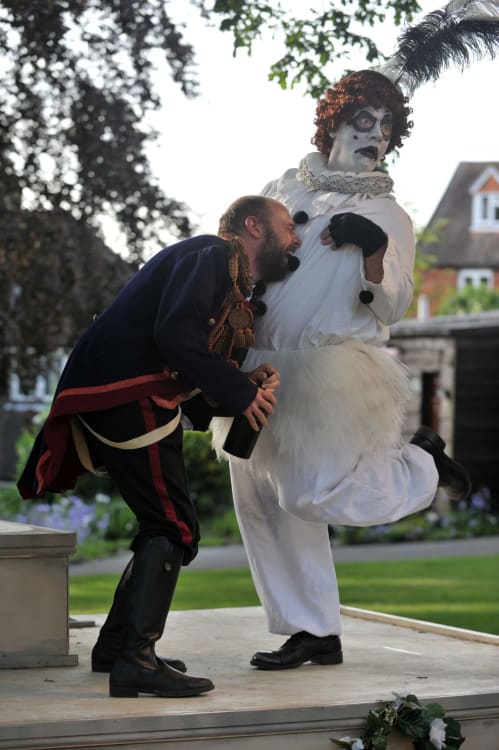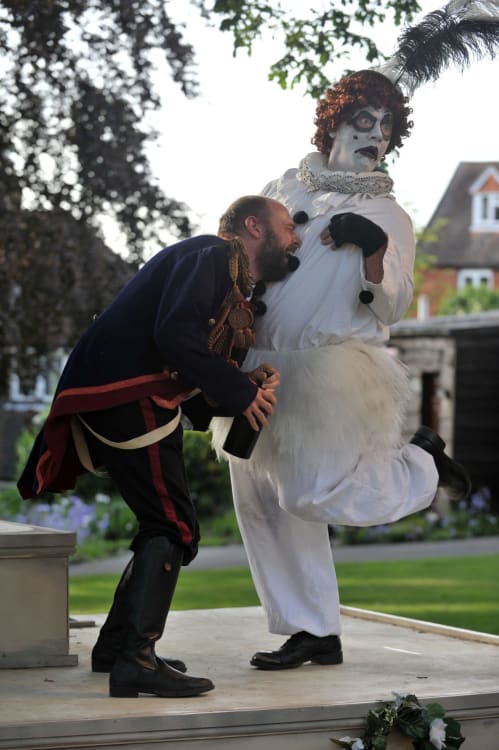 Shakespeare's alternative title What you Will seems to be suggesting that the interpretation of his play is whatever the actors make of if, and nothing is quite as it seems.
There is a shipwreck, a countess in mourning for her father and brother, a lovelorn Duke, misplaced love, confusion of twins, girl disguised as boy, a purse of money missing, and through it all a melancholy Fool appears to be wiser than his masters with a nice line in dry humour below the surface.
Central to the mixture of plots is the steward Malvolio, in love with the Countess and about to be displaced in her favour by a rather cruel plot hatched by her waiting gentlewoman Maria, her uncle Sir Toby Belch and a stray rather foolish knight, Sir Andrew Aguecheek.
It was a shame that the opening night was so cold, but we British know how to deal with the weather. Coats and blanket wrapped round, hot coffee in hand, and the chill didn't spoil enjoyment of the show one bit.
This young, vibrant, energetic and enthusiastic company is always worth watching, and its aim to make Shakespeare accessible and fun pays off with many who previously avoided the Bard being totally converted.
This year, designer Neil Irish has extended the bandstand with hedging, and a small bridge connects it to a raised platform and dais under the magnificent oak tree. Here the Countess Olivia is waiting for the bust of her dead father to be unveiled, and her steward Malvolio will begin the ceremony.
In he marches in the shape of Matt Pinches, full of self-importance and pomposity, his expression, his stance and his manner absolutely perfect for the character and very funny. Pinches is a very talented and versatile actor and particularly excels at comedy, but I feel he must be careful not to overdo the comic aspect. It can be so much funnier if seeming natural and not contrived.
Playing the part as an uptight Scotsman, the change of garb to one mistakenly believed to please his lady makes sense for the first time. Yellow patterned socks and a kilt could be quite feasible, although in his energetic capering we were close to finding exactly what a Scotsman wears (or doesn't wear) under his kilt.
Of the three plotters, Chris Porter plays Sir Toby in roisterous drunken fashion, happily joined by Richard Galazka in a nicely judged Sir Andrew Aguecheek. The lovely Sarah Gobran is enjoyable, and enjoys her role, as the chief plotter, while all three (and the audience) have fun secretly watching the antics of Malvolio.
Emily Tucker is a very appealing shipwrecked twin Viola, probably very glad to be in warmer clothes when disguised as a boy, and particularly touching in the Willow Cabin speech, her voice full of love and longing for the Duke, although why she falls for him I'll never know. I have always thought of Orsino as a wet, weedy and fickle character, and that is exactly how he is played by Richard Knightley, although he does cheer up when discovering he will be married after all, having switched his affections at the last moment.
Rhiannon Sommers is a truly delightful Countess Olivia, the most down-to-earth of them all, her satisfied sigh of "most wonderful" when finding two identical husbands was very funny.
Morgan Philpott as the fool Feste is a joy throughout, singing and playing the traditional songs so melodically and, despite his final song—there was no rain.
Reviewer: Sheila Connor