Twelfth Night
William Shakespeare
Custom/Practice
Lion & Unicorn Theatre
–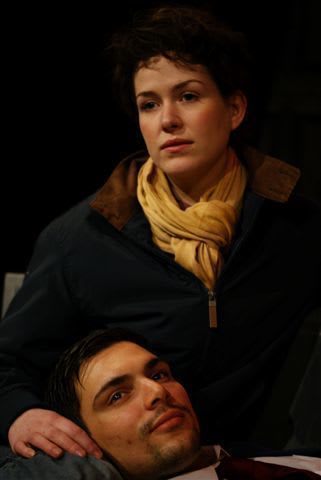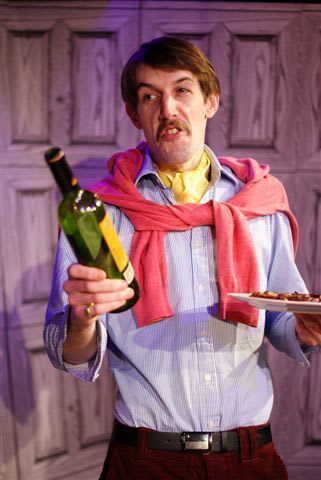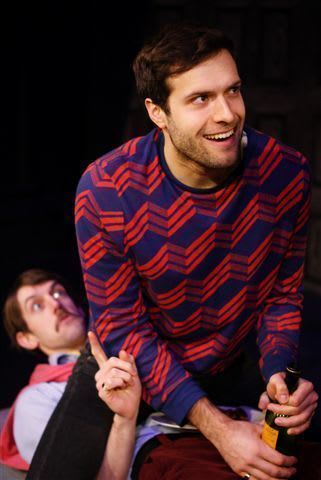 This is a modern dress production of Shakespeare's comedy of gender-swapping and mistaken identity in which shipwrecked Viola poses as a boy dressed to mirror her supposedly drowned twin brother Sebastian. She finds a place in the court of Duke Orsino and is sent by him to court local Countess Olivia on his behalf. Meanwhile while Viola falls for him, the countess falls for her in her male Cesario guise.
Director Rae Macken dispenses with anachronistic props such as swords and instead of duelling with weapons stages a fist fight and wrestling. She even has some messages delivered as read-out mobile texting. Costume designer Amanda Mascarenahas ensures the twins are lookalikes in jeans and scarves. The twinning is also helped by matching accents: their home town of Messaline must be in Yorkshire.
Though Shanaya Rafaat's Olivia is in black, she shows little of being a sister sorrowing for her dead brother. Provocatively short-skirted and brightly spoken, she's a Chelsea girl. Her uncle, Toby Belch, appears first in a kangaroo suit but that is the only costume eccentricity—except for the scripted one in the subplot when Toby, his chum Andrew Aguecheek and Olivia's maid Maria make a fool of her steward Malvolio by faking a letter from his mistress and getting him to wear yellow stockings and cross-gartering to please her. Golf socks and a double garter do the job, though it's not so shocking if the mourning mood is not created.
This is a production that concentrates on laughs—too consciously sometimes with Sir Toby grabbing balls and touching bums. There is a lot of superfluous exaggerated gesture. A movement director is credited: is this her idea or did she just give up on trying to control it? Shouting doesn't make things funnier either especially from the conspirators mocking Fred Gray's naively proper Malvolio when they are supposed to be in hiding.
It is a Twelfth Night that is a mixture of the good and bad. It opens with Rupert Charmak's bored and bad-tempered Orsino entering before the lights go up and flinging himself upon an Ottoman too small to to accommodate him and listening to a recorded track. The song helps to suggest that he only plays at love but it has no pauses to give the cues he needs to make sense of his opening speech.
There follows an imaginative and effective change of scene to a stormy seashore. Josh Enright is very real as the seaman who drags Viola aout of the waves (he also doubles an excellent Antonio, who rescues Sebastian). When the scene moves to Olivia's household there is a warm Maria from Funmi Ogunleye (though her "buttery bar" is surely rather higher on her body than where she gestures), but she doesn't get much chance to show her affection for Sir Toby. James Corley plays him as a young hooray Henry who never thinks before he speaks. It is a pity his delivery often also sounds as though the actor has not thought about it either. Richard Keiss, as his silly-ass mate Andrew Aguecheek certainly has done so. His performance is firmly rooted in reality.
Alex Whitworth is delightful as Viola. This is a performance well matched to its intimate setting and she delivers the verse with the freshness of natural everyday speech. Unlike some of her colleagues, she does not overplay a syllable but you know exactly when she has fallen for Orsino (though you might be baffled as to why) and share her excitement at the thought that her brother might still be alive. Could she produce the bigger performance needed for much larger spaces? There is a projection in her playing that suggests she could. Apparently she is in her final year at drama school. I look forward to seeing how she develops. David Palmstrom as her twin has much less to work with but gives strong personality to a role that can sometimes be a cipher.
Rae Macken has cut the text a little and substituted "I want to shout and scream" for Shakespeare's night reveller's catch but stays true to the story. Some of clown Feste's more arcane jokes are gone but Nathanael Campbell gives a lively and melodious performance. More surprisingly, Macken has introduced some quite demonstrative kisses, not just as the play draws to its romantic resolution but between Antonio and Sebastian and, after Viola's veiled declaration of her love between Orsino and the presumed Cesario. As played they grow from the text and underline the way in which the play is about attitudes to love.
Reviewer: Howard Loxton