Twelfth Night
William Shakespeare
National Theatre
National Theatre Live
–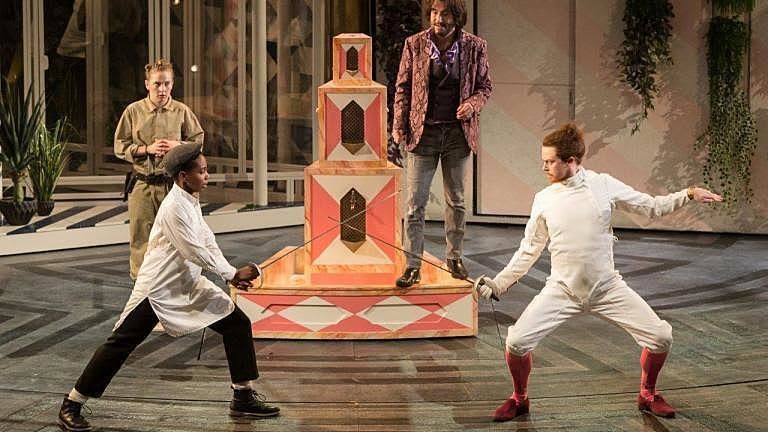 Shakespeare's festive comedy of love, mischief and misunderstanding is ideal escapist material in these times, and there was no better date for the National Theatre to screen their production of Twelfth Night online than 23 April, the anniversary of the bard's birth (and death).
In addition to the cross-dressing disguise element in the plot, Simon Godwin's production also features a gender-swapped Feste and Malvolio. While casting female actors in traditionally male roles is no longer novel—in recent years we've seen Maxine Peake's Hamlet, Helen Mirren as Prospero and Lucy Ellinson as Macbeth—it feels refreshing to see women in Shakespearean comedy roles. It also makes sense in story terms for Olivia, who "hath abjured the company and sight of men," to surround herself exclusively with women—including a chic troupe of maids in black dresses and giant sunglasses.
Doon Mackichan impresses as the clownish Feste, pithily quick-witted in her teasing and flamboyantly exhibitionist in her antics with the buffoonish Sir Toby and Sir Andrew; her vocal performances of the various songs are excellent. Feste is essentially a genderless character so casting a woman in the role adds interestingly to the dynamic.
It is Tamsin Grieg, however, who is the production's star attraction—and with good reason. The evolution of her Malvolia from haughty, sneering and stiff to brash and ridiculous is testament to both her talents and the potential of the character. The letter scene—in which Malvolia is duped into thinking Olivia is in love with her—is stand-out, eliciting raucous laughter as Grieg banters with the audience and dances in a working fountain. Her showbiz entrance on the staircase—singing a sonnet set to music while doing a striptease to reveal not just cross-gartered stockings, but an entirely yellow outfit—is triumphantly ridiculous.
The disillusionment of her character, however, is not in the least bit funny. Tied up and blindfolded, her deception revealed in front of a crowd of bystanders, Malvolia becomes vulnerable and pitiable; her exposure—mirrored in the removal of her wig—her final vow of revenge and her slow, limping walk into the rain significantly dampen the joy of the finale.
It isn't just the swapped roles that have impact on the play's treatment of gender, however. Olivia (Phoebe Fox) is at first clumsy and awkward in her behaviour towards Viola, in a way that is funnier and more relatable than a traditional portrayal. She then woos Cesario aggressively—like a man—presenting 'him' with tiny spandex swimming trunks and climbing on Viola's back in the swimming pool scene. Meanwhile Oliver Chris's Orsino is empty-headed and self-centred, so obsessed with his experience of love as greater than any woman's that he misses Viola's heavily dropped hints.
Music is, of course, integral to the production. Characters frequently burst into song and dance, scene transitions are covered by short live performances and musicians linger on the fringe, always at the ready to add to the party atmosphere. There's even a sung version of Hamlet's iconic soliloquy, performed by a drag queen—a real indicator of this play's potential to combine the serious with the absurd.
The set is like an interior design Instagram feed come to life, its hanging plants, polished floors and geometric patterned walls evoking the luxurious houses of Olivia and Orsino. A giant central triangle, with staircases down each side, rotates to reveal each new scene.
This production, ably played throughout for laughs by the entire cast, traces Twelfth Night's every twist with energy, overblown emotion and farcical humour, but it manages to provide contrast and subtler moments too.
Reviewer: Georgina Wells