Twelfth Night
William Shakespeare
Filter Theatre
Park Theatre
–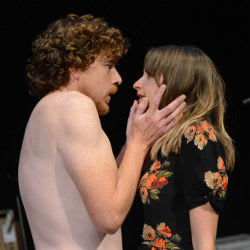 Filter is consistently described as 'anarchic' and this revived version of Twelfth Night demonstrates perfectly the raw energy that this company bring to the stage.
It is indeed Shakespeare distilled with an emphasis upon both the madness and sexiness of the piece. Purists may not be happy with the cuts or the injections of original music but the pure essence of Twelfth Night is delivered with freshness and an irreverent spirit.
The staging is deliberately stark with no obvious set aside from a variety of musical instruments and large drum kit. The wires that are strewn all over the floor form part of the informality and accentuate the lack of theatrical illusion. They also integrate fully with the text as at one point a stumbling Sir Toby (Geoffrey Lamb) has fun with a discarded microphone in possibly the most believable drunk sequence I have ever witnessed on a stage.
This blatant use of technology also allows information to be imparted through radios and speakers, messages to be given via mobile phone and sound effects to be consciously used by characters to emphasise their arguments. Live music underpins this entire adaptation and when Orsino (Jonathan Broadbent) urges the audience to help him finish his sentence "If music be the food of…" he is not just testing their willingness to participate but also highlighting one of the key themes in the production.
Coupled with the informality of the staging is the relaxed attitude of the actors who seldom leave the stage and for whom the fourth wall does not exist. The audience interaction is minimal but crucial and sets the cheeky tone perfectly. The chaos is carefully constructed, however, and this improvised spirit is tempered with touching moments in which the romance of the original text still shines through.
There is much doubling in this production that for the initiated works brilliantly. For those less familiar with the play, however, there are a few moments that could potentially be confusing, including the final scene in which an impish Polly Frame plays both Viola and Sebastian.
Nevertheless, this is a joyous version of a well-worn classic with a supremely talented cast and ingenious staging. Running at 90 minutes, it is a burst of creativity bringing a new perspective to a familiar story.
Reviewer: Amy Yorston