Twelfth Night
William Shakespeare
Royal Shakespeare Theatre, Stratford-upon-Avon
–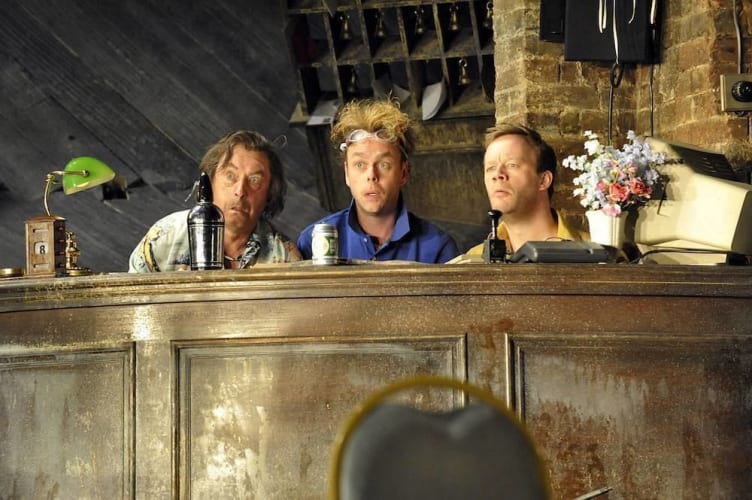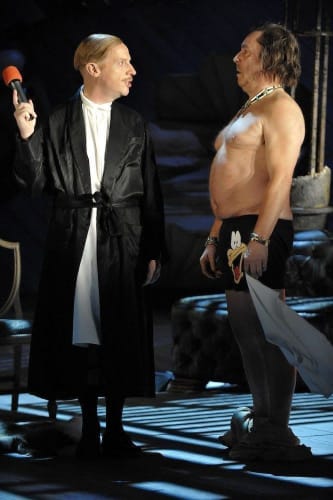 Illyria is transformed by Jon Bausor's overly fussy set into a decidedly rundown tropical hotel. A revolving door to stage left offers plenty of entrance humour, as does the hotel's front desk with telephone and CCTV monitoring of approaching wooers. Stage right is dominated by a multi storey steel lift that likewise creates novel entrances and exits for the guests of Countess Olivia. All is ruled by the iron grasp of Malvolio, a stiff upper-lipped gent whose hotel domain invites comparison with Fawlty Towers, strangely relocated to Havana. Everything smacks of stereotypical Cuban decay. The guards sweat, as does Sir Toby Belch (Nicholas Day), whereas Sir Andrew Aguecheek (Bruce Mackinnon) storms around Illyria on his 'Kawasaki 500'.
Part of a trilogy of Shakespeare's 'shipwreck' plays (oddly, Pericles is missing from the trio), Twelfth Night makes use of the vast water aquarium over which the stage appears suspended. Sit in the front row at your peril, although those nice RSC Front of House Staff offer towels and a word of warning beforehand. A splashing aside, the effect is made more uncomfortable because the audience are aware that several actors spend prolonged periods lying on the stage drenched to their very skins. British spring weather hardly seems suited to such unhealthy dramatic activity.
David Farr has directed a very solid production of Twelfth Night. Its solidity is its strongest point as well as its flaw. There seems a heavy-handedness about the humour that detracts from the narrative in unexpected ways. Kirsty Bushell offers a feisty portrayal of Olivia, who smothers the vast hotel chandelier in black gauze in honour of her late brother. Even so, this Olivia would scare most suitors back to their 'food of love' senses. More Harradine than heroine, Olivia's tantrums ensure that Emily Taaffe's Viola cannot succumb to her charms, even when being consumed by the eroticized kiss of the countess.
Jonathan McGuinness strives valiantly with the wishy-washiness of Orsino, but his eventual union with Viola is filled with disappointment and resignation. Only Felix Hayes's Fabian seems tuned to the play's humorous musicality, his presence in any scene elevating it beyond the doldrums of comic predictability.
In this laboured journey in Illyria, the Malvolio of Jonathan Slinger cannot help but shine. This offers a veritable feast of nastiness to an actor at home with the excesses of human nature. Interestingly, Slinger seems to be reprising his psychopathic role in last year's The Homecoming, his vocal trickery hauntingly reminiscent of Lenny at his menacing best. A lot of bare-bottomed buffoonery adds to the hubris of Malvolio's fall.
Feste should steal the show. Kevin McMonagle's singing is certainly also haunting, but his line delivery, sometimes screeching, sometimes mumbling his words, detracts from the comic effect. Why has this fifties folk singer arrived in Illyria, and why should Olivia's father have given him so much allowance at court?
Farr's production will please many. It is light-hearted and fun. It takes certain liberties and stretches its design concept to the limits. Whether the design imposes its own restrictions on the piece will be a matter of taste. For Slinger's discomforting rendition of Malvolio, it is worth the effort.
Reviewer: Kevin Quarmby