Twelfth Night
William Shakespeare
The Lord Chamberlain's Men
Rufford Old Hall, Lancashire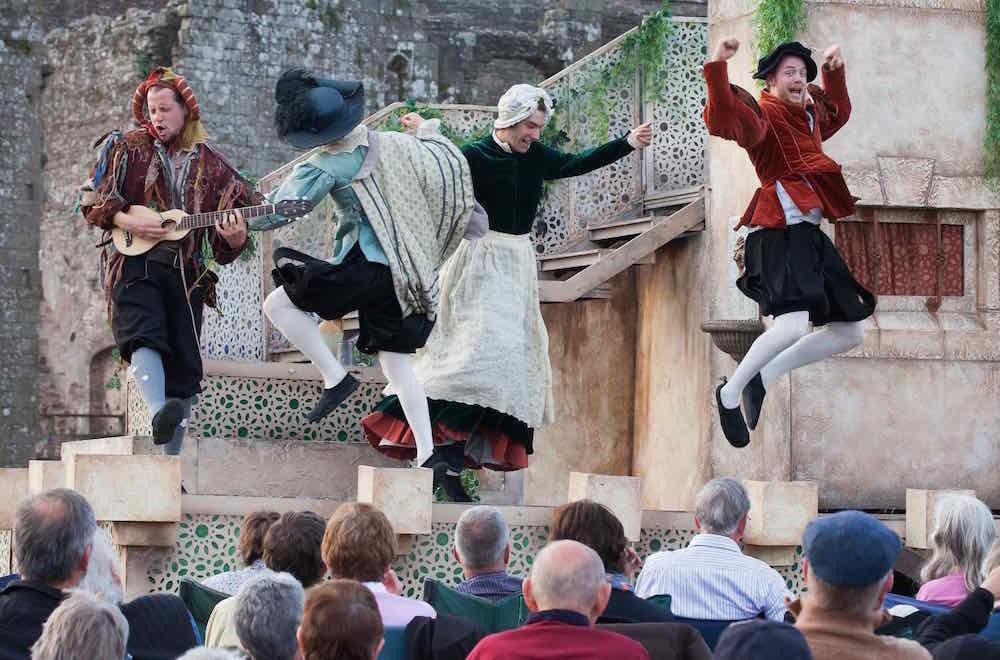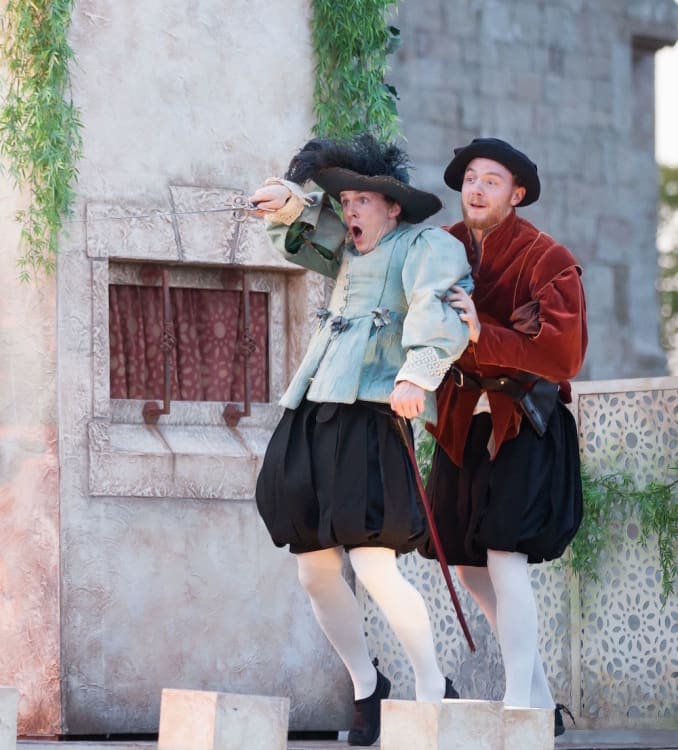 A decade prior to his meteoric rise to prominence in the London theatre world of the 1590s, William Shakespeare was rumoured to have spent some time in that lush part of the country known as Lancashire. The playwright is alleged to have spent six months in the county in the commodious abode known as Rufford Old Hall, as guest of the Hesketh family.
What better location then to present a production of that old favourite Twelfth Night? Not much in the way of imagination is required to conjure up the bard strolling around the elegant gardens of this splendid Elizabethan manor house. His Lord Chamberlain's Men had certainly hit the bullseye on that score.
Added to which is the all-male company's alluring promise to do Shakespeare as the man himself intended his work to be done. What a refreshing change! In these days of Shakespeare deconstructed, a 'straight' production has almost become something of a rarity; Shakespeare sans gimmicks.
Starting off with a medley of Elizabethan songs, the troupe certainly throws not only body and soul, but their voices too into this performance. Battling a few ambient sounds such as a low flying aeroplane, this production was nothing if not a model of projection. With an audience numbering over 250 and stretching quite some way back, the boys' lungs had to be on their A-game.
Twelfth Night is a true ensemble piece, and indeed all perfomers pull their weight, which includes no doubt, a little bit of carpentry too as the company presents a simple yet elegant mobile set. Performances too are bold and vivid.
Ollo Clark's Viola has the desired effect—obliging even seasoned Shakespeareans to occasionally calibrate: a male playing a female character who is disguised as a male, loved by a woman (Olivia) but who actually loves a male (Orsino). The subtexts go on forever.
Memorable too is Jon-Paul Rowden's Malvolio. Blink and it could almost have been Rowan Atkinson up there enumerating his Cs, Us and Ts as servant to the Prince Regent. Rowden is a suitably stiff steward, one who dresses and sees in black and white.
Also worth a mention is a pythonesque performance from Edmund Sage-Green as the shrewd Maria. The kings of incongruity themselves—Idle and Jones—could not have extracted any more laughter. Andrew Keay's Sir Andrew Aguecheek meanwhile is as effete as one would hope. Attributing a Scots accent to Sir Andrew is a masterstroke. From now on, anything other than a Scottish Sir Andrew may just seem plain odd.
Direction is certainly crisp—no sooner does one scene finish, the next one starts. The pace therefore never drops. There are also just enough moments of physical comedy to give this production legs; the scene in which Malvolio reads the discarded letter works particularly well over two levels: the pranksters literally have the upper ground.
In many ways this is Shakespeare laid bare. The only issue here is the rather frenetic pace as the play draws to a close. If it sometimes feels a little rushed, then that's due in no little part to a cast of actors who are at full throttle throughout in a production that ticks all the right boxes.
Reviewer: David Sedgwick