Twelfth Night
William Shakespeare
Lunchbox Theatrical Productions
Shakespeare's Rose Theatre, York
–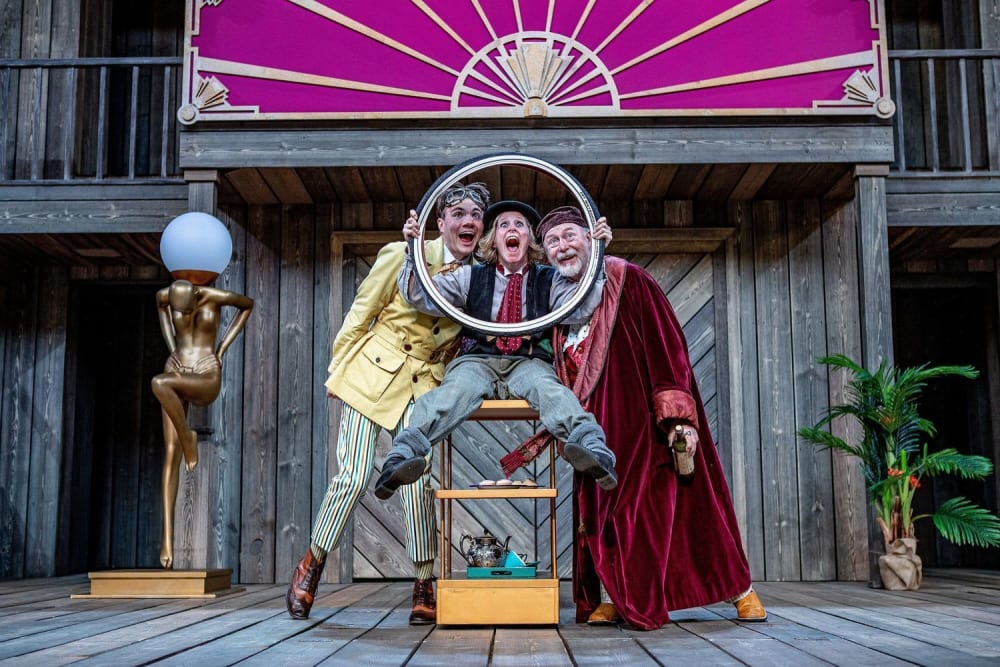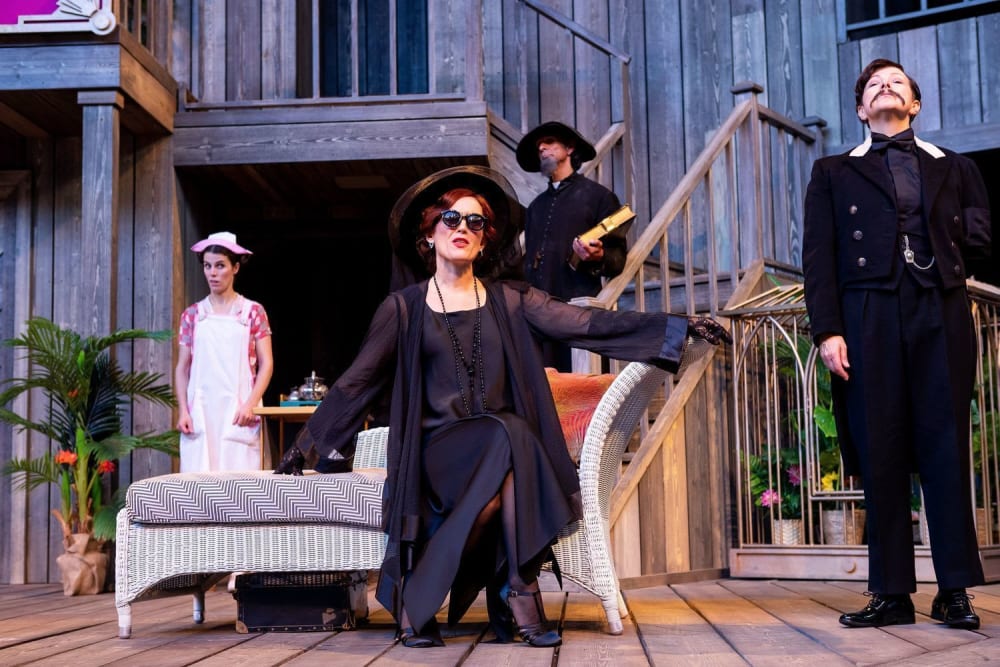 The fourth and final play of the Rose's second season in York is the imperishable Twelfth Night. Widely regarded as the greatest of all Shakespeare's comedies, it offers an irresistible mixture of mistaken identities, practical jokes and romantic confusion.
Productions of Twelfth Night are often set in winter as the title refers to the last night of the Christmas period. However, since the play is being staged in an open-air theatre in the hottest (fingers crossed!) months of the year, director Joyce Branagh has opted instead for a bright, sunny setting.
To maximise the fun, Branagh has wisely chosen to set the play in the 1920s—a period known for its glitz, glamour and excitement. Max Dorey's Art Deco-inspired design makes a huge impression, as does Sara Perks's eye-catching costumes. In this production, Orsino (Mark Holgate) is a dead ringer for Jay Gatsby in his nifty three-piece suit, and the shipwrecked twins Viola (Olivia Onyehara) and Sebastian (Marcello Cruz) sport identical Oxford bags and stripy jumpers.
In the programme notes, Branagh summarises her Twelfth Night as "The Great Gatsby meets P G Wodehouse with a touch of Some Like It Hot". Who in their right mind could resist such a confection? I certainly couldn't. This is one of the best productions of Twelfth Night I've ever seen—and easily the funniest.
My heart dropped slightly at the beginning of the production when we were asked to join in a Mexican wave, but once the play started in earnest I was totally gripped throughout. The show is just over three hours long, but it never outstayed its welcome.
If you've been to the Huddersfield panto at all over the last few years then you will know that Branagh has a genuine flair for comedy. However, I was still taken aback by just how hilarious this production was and how she inspires all of her cast to deliver such entertaining performances.
Olivia Onyehara is terrific as Viola, capturing both her sense of grief and her growing passion for Orsino. Dressed in layers of black, which slowly vanish over the course of the evening, Leandra Ashton excels as Olivia; like Onyehara's Viola, she also finds herself assailed by romantic desires, and she's a joy to watch. Mark Holgate is highly amusing as the indulgent Orsino, flouncing on cushions like a heartbroken teenager, and Marcello Cruz shines in his few scenes as Sebastian.
There is superb physical clowning from Clare Corbett's Chaplin-inspired Feste, and Fine Time Fonatyne and Rina Mahoney are joyfully irreverent as Sir Toby and Maria. Alex Phelps is brilliant as the outlandishly stupid Sir Andrew Aguecheek, prompting many of the evening's biggest laughs. Perhaps the most surprising performance of the evening comes from Cassie Vallance as Fabian (hardly one of the play's most famous characters), who manages to steal just about every scene she appears in with her vacant expressions and outlandish gestures.
Finally, there is a hilarious and soulful performance from Claire Storey as Malvolio, Olivia's pompous and deluded steward. The harsh punishment meted out to him—in this case, being dressed like a bird and imprisoned in a cage—was even more disturbing given the unremitting colour and vivacity of the rest of the production.
I've enjoyed all four productions that I've seen at the Rose this year, but Twelfth Night is my undoubted favourite and the one that I most hope to see again.
Reviewer: James Ballands