Twelfth Night, or What You Will
William Shakespeare
Iris Theatre
St Paul's, Covent Garden
–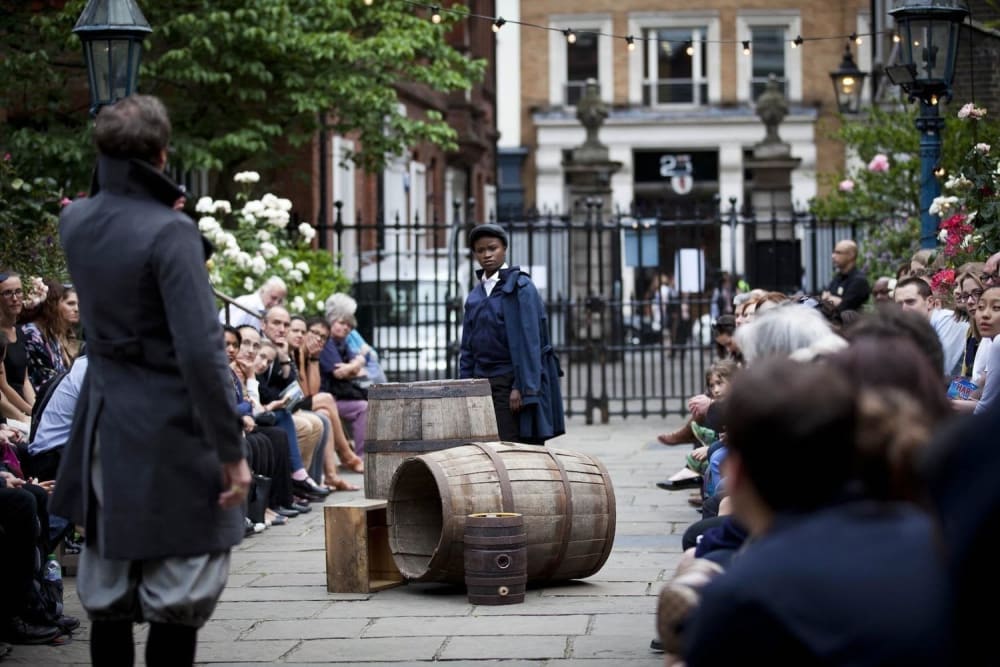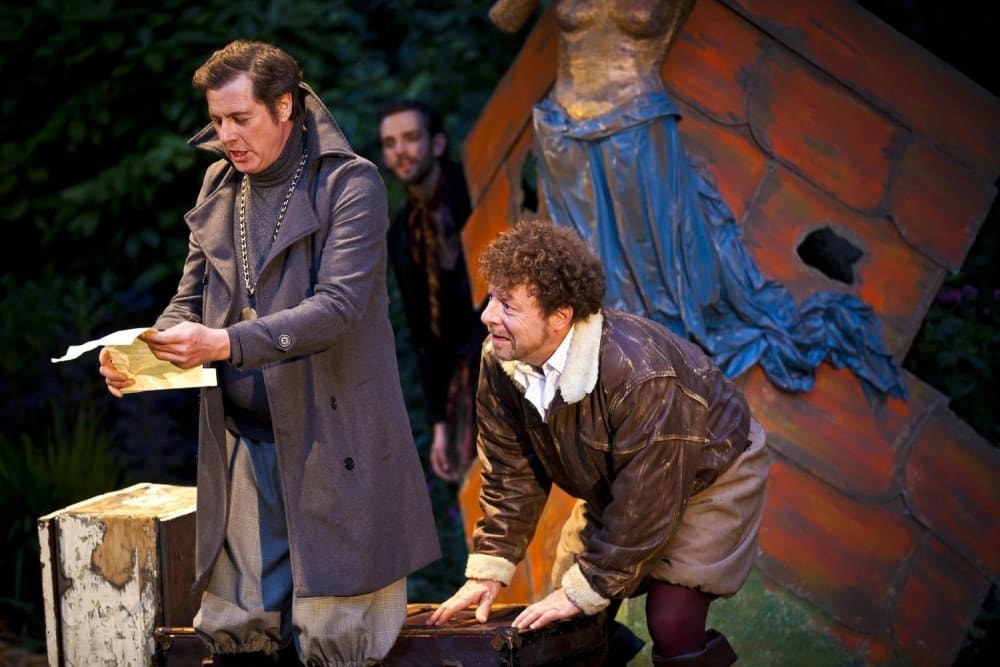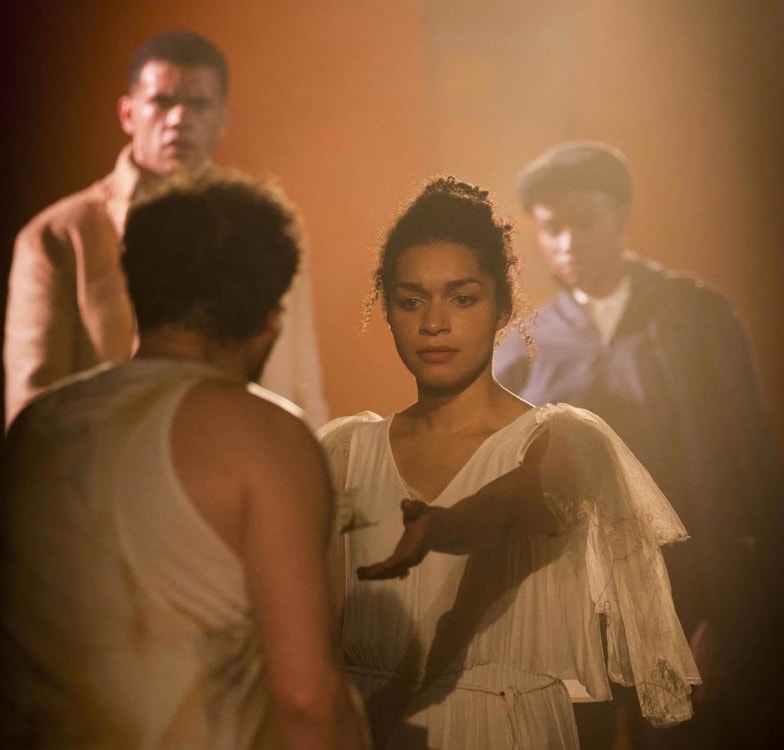 "This is Illyria, lady," Shakespeare tells us, so forget the shouts coming from the piazza, the police helicopter hovering above keeping an eye us, the party in an overlooking apartment and let the actors transport you there.
Shakespeare gave his Illyria a coastline and sets the plot off with a shipwreck so designer Carys Beard has littered its littoral with abandoned vessels, rusting cabins, tattered sails, fractured figureheads and torn nets (has there been some tsunami?) and director Vik Sivalingam stages a storm scene that Shakespeare neglected to fit in.
There is good reason, for this is a story set off by a shipwreck that separates the look-alike twins Sebastian and Viola but this won't be a tale of disaster. That storm-ripped rigging still bears its lit navigation lamps and is decked out with fairylights.
Viola, a girl in a strange land, disguises hersef as a boy to make her life a little easier, copying the fashion her brother wears. It is as young Cesario that she finds a place in the court of a Lord Orsino who sends her to woo the bereaved local Lady Olivia on his behalf. She, still in mourning for a father and a brother, rejects Orsino's advances but instead finds herself fancying his messenger, who in turn falls in love with Orsino. Meanwhile sea-soldier Antonio, who saves her brother from drowning, falls in love with him.
While satirising upper crust matrimonial management and overblown romantic posturing, Shakespeare still delivers great poetry. He also adds a riotous backstairs subplot that still leaves a sting within the final contrived happy ending.
The show starts off a bit awkwardly with a song in the part of the churchyard where the audience is kettled-in waiting beforehand. Then there's a rather prolonged progress to get a capacity crowd settled along the main path to the church for a brief scene that introduces Orsino and his wooing of Olivia before suddenly switching to Sebastian and Viola at sea as a storm whips up (wind and waves in Filipe Gomes sound design, no wet ones).
Another hiatus while the audience moves to circle a multi-hawsered tree: a mainmast around which sailors struggle until they are all swept away. Only Viola seems to survive and, rescued, sets foot on the shores of Illyria.
The logistics of moving a large audience, especially when providing some kind of seating for almost everyone (considerate for nights when the ground may be damp though), slow things down and using the path as a traverse stage causes problems for actors who have to walk away from the person they are speaking to and then shout back at them in an effort to include the whole audience. Things work better when the contact is more intimate with asides, or just a glance, to an individual spectator.
Once Viola is on shore, things move more smoothly, the audience has got the idea and Pepter Lunkuse's Viola is totally captivating. I don't know what she does with her bosom but as a boy she's a totally engaging youngster: with a peaked cap and a tailored mac slung over one shoulder cloak-wise she looks a perfect pageboy.
It is the costume that matters, a semiotic symbol to make you forget she is half her brother's height and a different colour. You would never confuse them in real life, but this little lad is pretty and engaging: enough to turn anyone into a pederast let alone Orsino who is finding his feelings confusing. You even forgive her for stressing too many words in a verse line.
Her would-be look-alike brother is played by Henry Wyrley-Birch but he makes much more of a mark as silly-ass Andrew Aguecheek, a foolish knight being fleeced by Lady Olivia's uncle Sir Toby Belch, a rumbustious performance by Robert Maskell. They are joined in the comic subplot by Anne-Marie Piazza's Maria, Olivia's woman. The comedy is broad and stretches the boundaries of the possible but they make the most of it and keep the audience laughing.
Olivia Onyehara gives a hint of hauteur to her Olivia but girlish enthusiasm bursts through; free of the control of father and brother, she's breaking free of convention. It is hardly surprising that her steward Malvolio has false hopes when the comedy crew set out to trick him.
Feste, Olivia's fool (or house comic), is Nick Howard-Brown; he's a fiddler who moonlights over at Orsino's place too and caustically funny (though his more obscure and complex conundrums have been cut). Sivalingham doesn't have him disappear in the middle of the play but gives him everything assigned to his temporary replacement Fabian.
Then there is Olivia's steward. Tony Bell is a splendid Malvolio from Yorkshire. He is supercilious, pompous, over-bearing, but you can't help feeling that's not his real nature. It's part of his job to behave like that and when he thinks he's got licence to let his hair down he goes for it. His rage, set against the cherry-blossom romantic sunset in which the play ends, is powerful.
Bell also plays Sebastian's admirer Antonio, some of whose genuineness we also see in Malvolio. It is one of several doubles that are skilfully handled to enable this cast of eight to cover all the roles. Antonio for instance gets sent off to bring in Malvolio, almost instantly; Sebastian has a fight with himself as Aguecheek.
A beautiful evening made this doubly enjoyable. Iris will only miss a performance if a real downpour makes things impossible. It is a production that is full of high spirits to cheer up even a dull day and the golden glow of lighting designer Benjamin Polya's sunset through mist would make you believe in summer even in the depths of winter.
Reviewer: Howard Loxton