Twelfth Night
William Shakespeare
The Globe Theatre
The Globe Theatre
–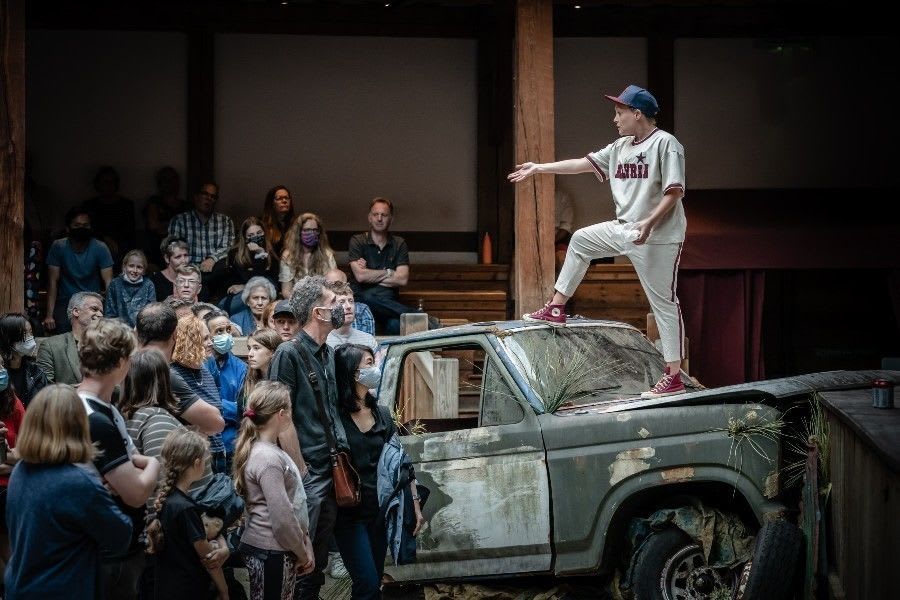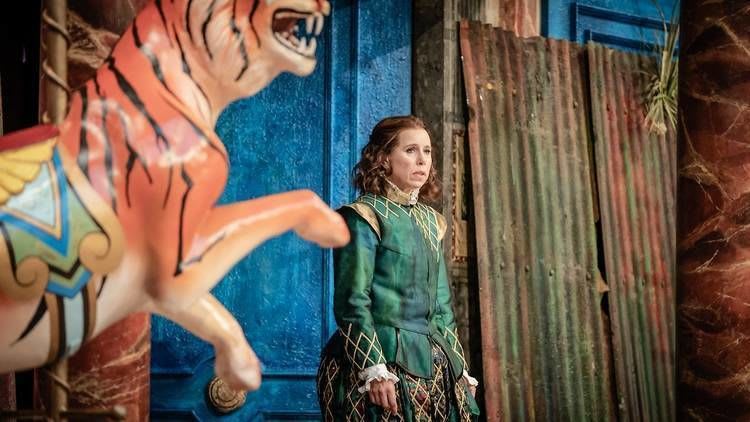 There is a touch of Hollywood's vision of a down-at-heel America in the Globe Theatre's Twelfth Night directed by Sean Holmes.
Above the stage in garish colours is a sign reading "Welcome to Illyria". Sections of rusting corrugated iron fencing, spray-painted red blue and green, rest along the back of the stage. A wreck of a car sits to the left of the stage amongst the groundlings. Hanging from the roof of the Globe centre-stage is a dead stag. Beneath it is a bucket of blood. Scattered across the stage are tumbleweed, old tyres and a carousel tiger.
Some of the characters dress like cowboys and, to laughter, a highway patrol officer at one point appears, gun pointing at a character they intend to arrest. There's also a character singing a mournful soul song. But that's about it for what the press release refers to as the "nostalgia and soulful music of the world of Americana."
None of the characters have American accents and perhaps, having run out of American clothes, Viola and Sebastian resort to impressive Elizabethan costumes.
None of the 'Americana' setting and costumes has any implications for the production, which is delivered as a conventional Shakespeare comedy. Sir Toby Belch (Nadine Higgin) arrives with a 24 pack of beer which remains on the stage throughout, occasionally giving the audience a bit of a beer spray. Andrew Aguecheek (George Fouracres) raises a laugh with his entry singing an Italian song.
Viola (Michelle Terry), disguised as the male Cesario, implies more than male friendship with Orsino (Bryan Dick) by a friendly slap on his back or the touch of his face and chest. However, Olivia's (Shona Babayemi) interest in Cesario resembles that of an old-world teacher for a pupil rather than someone with a romantic attraction.
Sophie Russell as Malvolio gets some laughs in his yellow full bodystocking cross-gartered, especially when he clambers onto the carousel tiger. However, that depiction of Malvolio illustrates a weakness with the production. It has no overarching theme, no point of view. The text speaks of Malvolio as a puritan who disapproves of singing, dancing and anything he regards as frivolous. A mere twenty-six years after Shakespeare's death, the puritans banned theatre. Yet here, Malvolio is simply a figure of fun, nothing to object to.
Maybe it's enough that the production delivers laughs, but it does miss an opportunity to give us a show with a memorable purpose beyond a bit of fun.
Reviewer: Keith Mckenna