Twelfth Night
William Shakespeare
Iris Theatre
The Scoop
–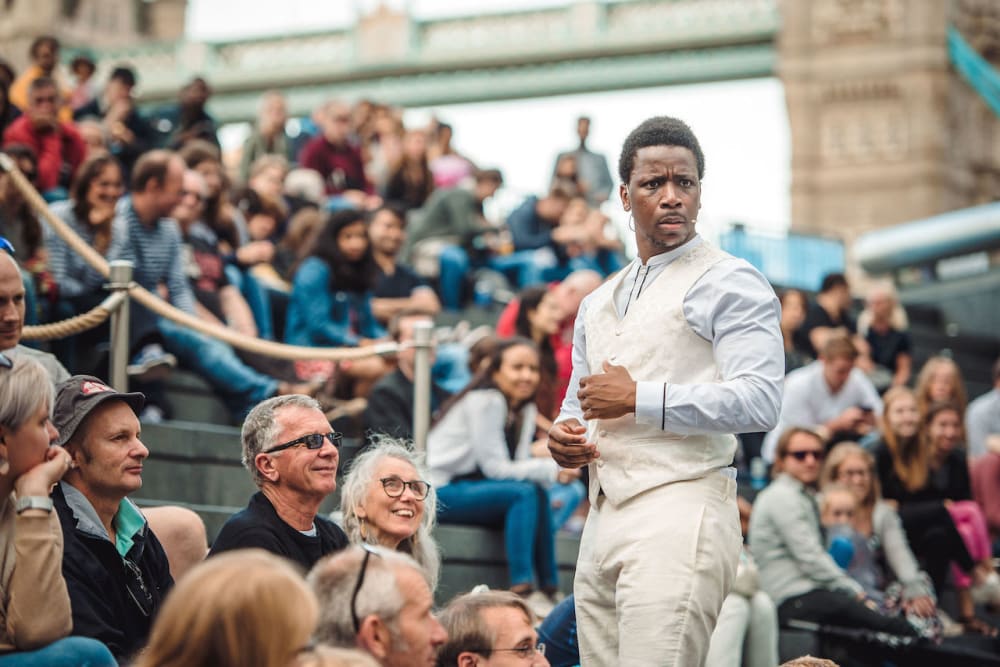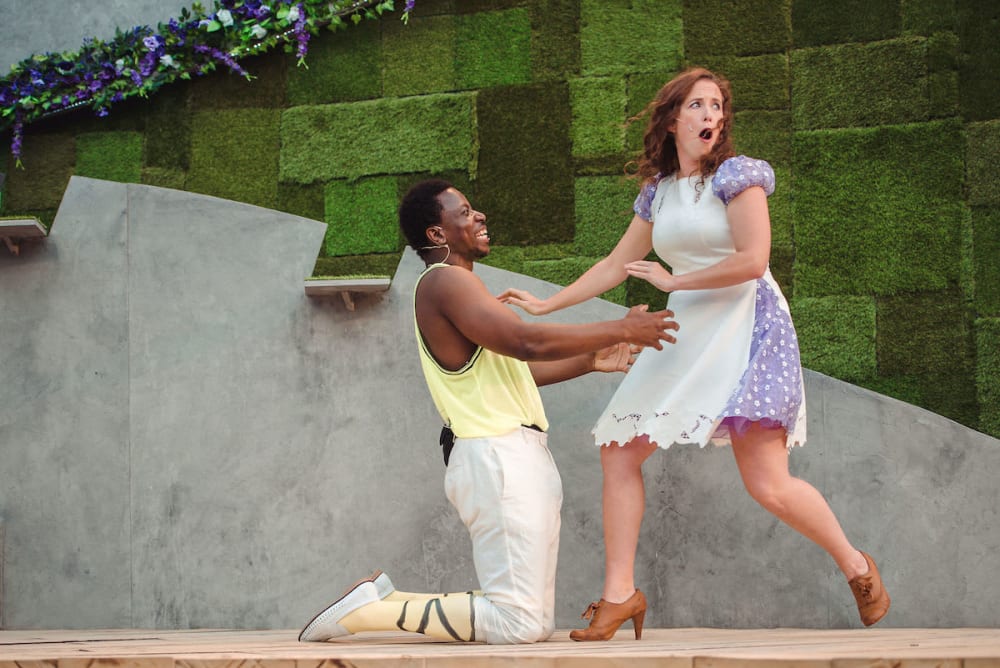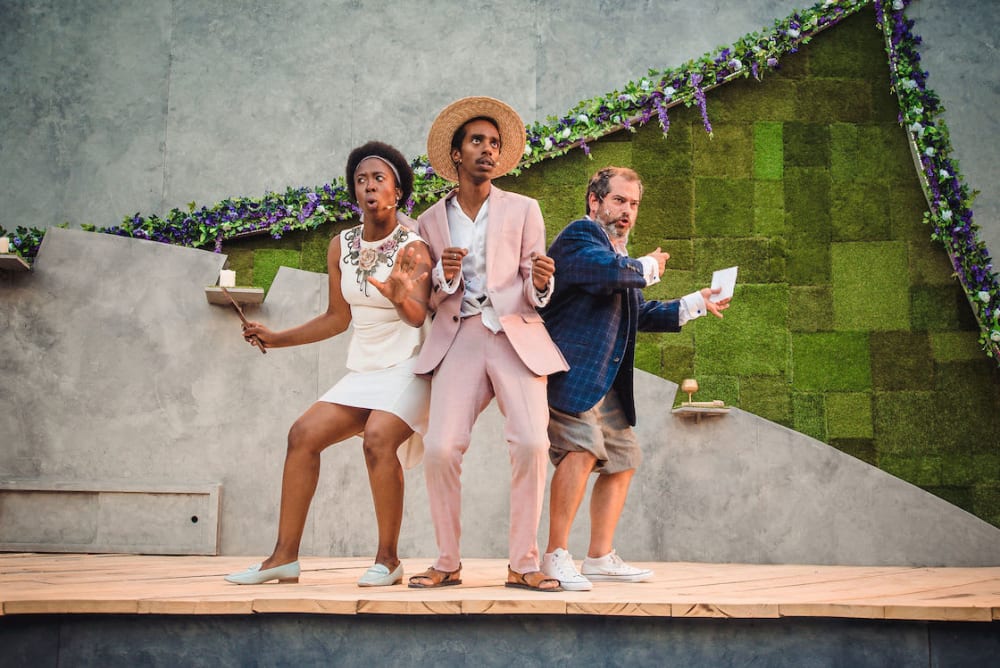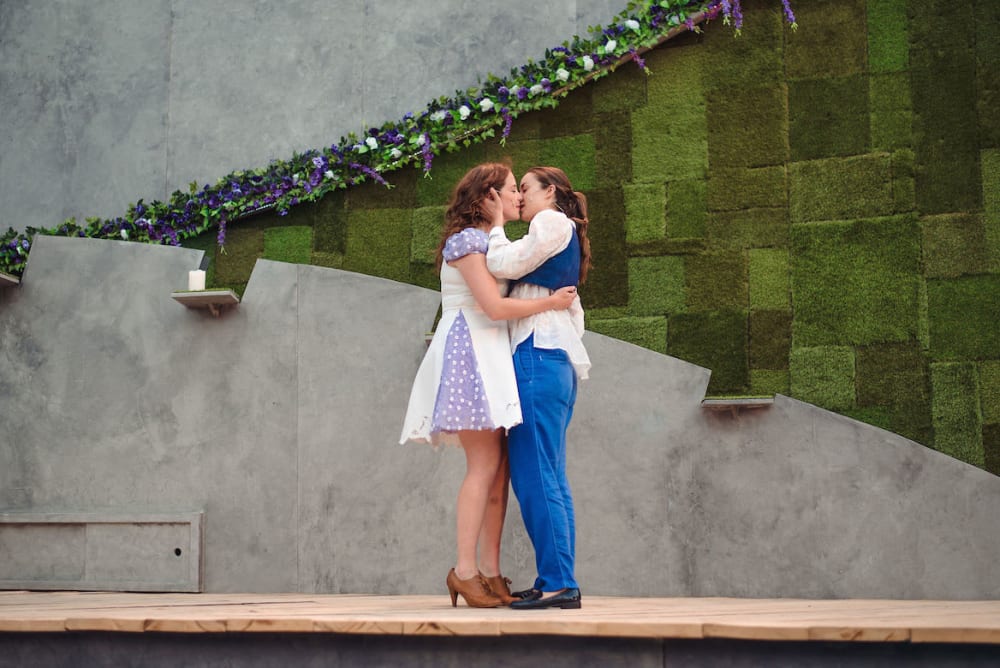 The Scoop's 2019 "grown ups'" play is a 90-minute version of Shakespeare's comedy directed by Rae Mcken played without interval. It is certainly fast moving but it keeps all the essential plot points. In fact they could have cut a little more of some of the more archaic humour, which is difficult for modern audiences to pick up on.
In a play in which a brother and a sister are mistaken for each other and romantic attachments arbitrarily transferred, the production adds to the gender confusion by making sea captain Antonio (now Antonia) and clown Feste female.
Twelfth Night is linked to its young persons' companion The Sea Queen by a sea theme, for it's a shipwreck that sets the whole plot in motion and here Melanie Gleeson's Viola is dragged from the waves by the seaman who rescues her. He is injured and, in a nice touch, she tears a strip off her dress to make a sling for his injured arm (but with no pockets, where does she gets the money from with which she rewards him?).
But that's not all she can get from nowhere. When we next see her, she's passing herself off as a young man in an outfit based on what her now (she thinks) drowned brother was wearing and has found herself a job attending on local lord Orsino.
Tim Bowie makes Orsino posturing and pompous, a bit of a bore, which may explain why he seems to have so few people around him but makes you wonder what Viola sees in him when she becomes besotted. He meanwhile sends her to woo orphan Olivia on his behalf.
Lady Olivia will have none of it; black garbed and officially in mourning for her brother who died recently, Heidi Lynch makes her quite lively in private and, though disapproving of the riotous behaviour of her uncle Toby Belch (Lorenzo Martelli) and his sidekick Andrew Aguecheeck (Feyest Wakjira), her steward Malvolio (Tom Butler) isn't the usual black-suited Puritan.
This production takes a fresh look at interpreting the characters. Sir Toby is rather camp; what is his relationship with Sir Andrew who is no numbskull but a pink-suited, bouquet-bearing, teddy bear-hugging playmate? You get the feeling that they may resent this young Malvolio not for overbearing pomposity but because this man in his elegant white brocade outfit has made something of himself without having the advantages of their knighted background and try to exploit that in a plot to make a fool of him.
Participant in that plot is Olivia's servant Maria, though Veronica Beatrice Lewis (a very positive Queen Bess in the companion play) doesn't make much of her and there is no sign of the implicit understanding she surely has with Toby. Feste, Olivia's jester who moonlights at Orsino's place, also gets involved: Acushia-Tara Kupe makes him giggly rather than witty but sings very sweetly.
In fact Sebastian, Viola's brother (George Caporn), isn't drowned. He turns up an identical twin in identical clothes, adding mistaken identity to the complexity of a chain of people apparently in love with people they shouldn't be, including Antonio, the Captain who rescued Sebastian and has fallen for him and is risking his life in Orsino's domain because he had fought against him. Except that Stephanie MacFaraidh now plays him as female, hardly a much feared fighter (indeed when arrested but unrestrained she just stands there) and it wrecks the gay subplot.
It isn't only the characters who are subject to gender confusion. With androgynous Feste kissing Olivia (rather strange for a servant), Orsino kissing Viola disguised as male Cesario and Olivia snogging Viola not as Cesario but when she knows she's a woman, you can't help wondering who is supposed to be straight and who gay.
The platform stage set-up in the middle of the Scoop tends to limit the playing area and may not help the acoustics. Actors illogically criss-crossing each other may be an effort to reach out to audiences on the side of the wide arc but audience contact is much better made when Viola addresses them directly or Sir Andrew comes bounding through them. Indeed, the production relies mainly on Andrew and Toby to give it energy but otherwise this popular comedy got relatively few laughs. Where too did the verse go?
It is part of the play to get a laugh on Viola's concern at wasting the flowery speeches she has conned so carefully but that doesn't mean that we shouldn't enjoy some great poetry. This production doesn't seem interested but it just isn't Shakespeare without it.
Reviewer: Howard Loxton