Twelfth Night
William Shakespeare
Filter Theatre
Theatr Clwyd
–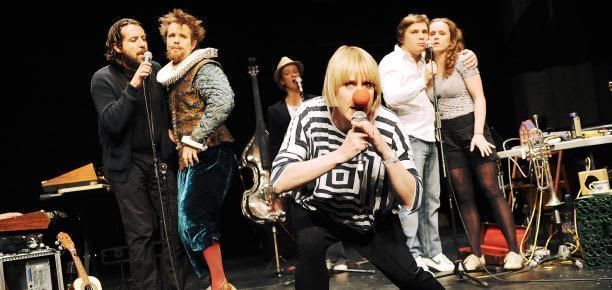 Filter Theatre Company returns to the UK after touring India and the USA to open a tenth anniversary tour of Twelfth Night and the production is sure to continue to divide opinion.
The performance in Mold certainly did that, with the Filter creative team ensuring the theme that "music be the food of love" is amplified, quite literally, and the chaotic events of this ancient night of revelry are portrayed in an unpredictable manner.
The performance is delivered under house lights and the stage is set as though for a gig sound check. With all the cast being in modern casual clothing bar Sir Toby Belch, who incongruously is in Tudor/Jacobean costume, there is a distinctly informal feel to the show. The spontaneous musical interludes generally enhance the performance and interesting use is made of sound effects to show what each character is thinking.
If we are talking in musical terms, the use of small amps with mics to deliver some dialogue has a touch of Mark E Smith about it and Harry Jardine's direction of the musicians gives the impression that the irascible Fall frontman could be loose in Illyria.
Some crucial plot lines are delivered through a transistor radio as part of Radio 4's Shipping Forecast which is innovative enough. However, it does leave some audience members who are not entirely familiar with the plot, to paraphrase cricket commentator Fred Trueman, wondering "what exactly is going off up there" for the rest of the show.
Nevertheless, there is more than enough crowd interaction to keep everyone entertained, with an impromptu conga that ends with members of the audience on the stage and trays of doughnuts making their way round the auditorium. This, alongside a frantic pace delivered by an energetic cast, ensures an enjoyably chaotic and challenging production throughout.
Dan Poole is a towering presence as the inebriated and anarchic Sir Toby Belch and Harry Jardine drives the performance as Orsino, whilst also delivering a suitably sloshed Aguecheek. Their attempts at secret revelries in Olivia's house sees a hugely enjoyable combination of sound techniques and farce that encapsulates the genuine strength of the Filter approach to performing Shakespeare.
The cast all deliver strong performances with Olivia Darnley and Amy Marchant shining as Olivia and Viola respectively. However, special mention should be made of Jonathan Broadbent's Malvolio who is presented as a nightmare of narcissism with rock star pretensions somewhere between Iggy Pop and Dave Lee Roth. This is a performance that sparkles in more ways than you may expect.
The Filter version of Twelfth Night continues to tour and is a high octane and stimulating experience delivered by a cast who seem driven by their shared energy. It will undoubtedly continue to challenge and invigorate audiences in equal measure.
Reviewer: Dave Jennings