Twelfth Night
William Shakespeare
Propeller
Yvonne Arnaud Theatre, Guildford
–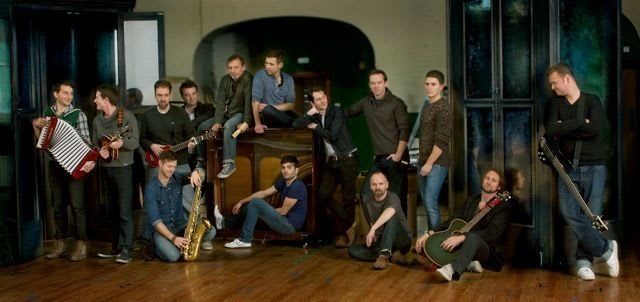 No fewer than nine regional producing theatres have joined forces to provide the sort of touring drama they wish to see on their stages, and with Propeller's version of Twelfth Night they are surely onto a winner.
The beginning is strange, almost surreal. Drapery covering the set is whisked away by the mandolin-playing fool Feste to reveal a melancholy Duke drowning his sorrows in wine, while the shipwreck is suggested by what appears to be the silvery bare bones of a boat which, after a very violently physical and riveting storm, is itself whisked aloft to become a giant chandelier.
Nothing in Edward Hall's production is quite as it seems with reflections, mystery, eerie music and shadowy, white-masked figures emerging from every angle to watch and listen, while in Michael Pavelka's design (expertly lit by Ben Ormerod) giant mirrored wardrobes, towering above the performers, turn, glide, confuse and, rather like a sixteenth century Tardis, who or what will emerge from or disappear through them next is a constant surprise.
The essence of the show is innovation and surprise, yet through it all Shakespeare's tale of love, deception, betrayal, mistaken identity and debauchery shines through with perfectly enunciated dialogue and exquisitely expressed emotion, yet all seeming completely natural—well almost!
Being an all-male company, the female roles are taken by grown men with few concessions to femininity, yet by mannerisms, expressions and movement they transcend gender and easily convey the depth of female emotions.
Ben Allen's Countess Olivia's girlish excitement in the first flush of romantic love is complemented by her satisfied sigh, "most wonderful" when she sees there are two of her beloved, and I just loved Gary Shelford as 'gentlewoman' Maria, saucy and with a cheeky smile and roguish twinkle. He not only manages high(ish) heels with aplomb but also some fetching fluffy (also heeled) mules, and his nifty and impromptu tap number was very unexpected.
Joseph Chance's Viola has an easier option as the suited youth Cesario (production is modern dress), but his speeches telling of his/her love are so beautiful and moving it suggests a feminine tenderness and vulnerability.
The steward Malvolio (Chris Myles) is as pompously insufferable as ever, wearing his chain of office even in night attire. Always difficult to find something new for yellow stockings and cross garters, especially in modern dress; this company has opted for fishnets and a codpiece, or is is a posing pouch? Whatever, there is enough room to secrete the fateful letter and the discovery of this letter is hilariously absurd, one of the funniest and most farcical scenes in the show.
Vince Leigh's Sir Toby Belch is constantly disgustingly drunk, and he plays it so well he must have practiced. Christopher Hayward plays Duke Orsino as a shallow, dreamy lover, in love with being in love and easily transferring his affections to another, and Liam O'Brian lends some Irish humorous inflection to the witty wisdom of Feste.
This is, however, truly an ensemble piece with every member of the fifteen-strong cast making a valuable contribution, not least in their mastery of musical instruments as Propeller's music and rhythms run through the whole performance.
Excitingly original, brilliantly inventive, thrilling and very fast moving, it kept three coachloads of teenagers hanging on every word and the discussions in the interval and after the show were animated and exhilarated. This is Twelfth Night—but not as you know it. I can only echo Olivia's "most wonderful".
Touring to Nanterre, France; Girona; Norwich; Plymouth; Ann Arbor, USA; Minneapolis, USA; Salford; Cheltenham; Kingston; Newcastle; Sheffield; Milan, Italy; Nottingham; Madrid Festival; Canterbury; and the Hampstead Theatre, London in July 2013.
Reviewer: Sheila Connor