Twelve Angry Men
Reginald Rose
Bill Kenwright
Yvonne Arnaud Theatre Guildford
–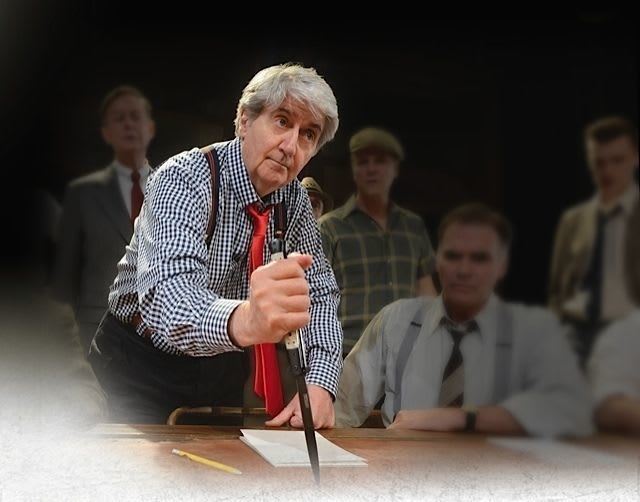 Inspired by his own stint as a juror in Manhattan, Rose first wrote this as a 1954 American television play. It was then adapted for the stage before, in 1957, becoming a highly successful film starring Henry Fonda.
In Kenwright's touring production, the audience is greeted when entering with a front drape depicting the Scales of Justice suspended by a finger and crazily tipping, an indication of how easily upset they can be, and behind it sit the twelve members of the jury—all male, all white, and mostly heavily prejudiced.
The scene shifts to a magnificent depiction of a jury room (set and costumes Michael Pavelka) on a stiflingly hot day in the 1950s where the 'twelve good men and true' sit around a table with the aim of reaching a unanimous verdict. Is the young teenager, accused of knifing his father to death guilty or not?
Without any deliberation, and mindless of the fact that they are sending a young man to his death by electrocution, these men are laughing, joking, anxious to get it all over and get out, one with tickets to the ball game more important to him than any deliberation on a verdict, and they take a vote. 'Guilty' they say—all except one.
This is Juror No 8, a role undertaken by Henry Fonda in the film and now played superbly, calmly and with great serious deliberation by Tom Conti, putting forward points that the inept defence lawyer missed, and calling into question the reliability of some of the witnesses.
Some of the men are aggressive and bombastic, making Conti's calm and reasoned approach even more effective for those who would listen and, this being an interesting mix of people from different walks of life, some of them do.
Robert Duncan as the pragmatic and serious Juror No 4 listens carefully and, as each point is raised, considers the implications.
Denis Lill, on the other hand, is frighteningly realistic as bigoted Juror No 10. In his opinion, guilty is the only verdict and he'll fight anyone who disagrees. "He's from the wrong side of the tracks, the slums… They're all the same there… They're going to breed us out of existence…". Where have I heard that before?
Some of the action takes place in the washroom, visible to the audience, and I was very pleased to see that they all carefully washed their hands. Attention to detail makes sure the fixtures and fittings are of the period, and the whole long debate is played out with the intermittent noise of an e-train rumbling past with a violent thunderstorm briefly interrupting the proceedings.
The punchy (often literal) script is brilliantly constructed as tensions rise and arguments rage, yet still interlaced with comic moments. Direction by Christopher Haydon keeps the production at a terrific pace, attention doesn't flag for a second, contrasting with the barely perceptible movement of the table on the revolve. A suggestion perhaps that the Wheels of Justice grind slow.
There is no weak link in this splendid team of actors as all their characters' faults and weakness are exposed. Andrew Lancel's bitter resentment of his son explains why his sympathies lie with the murdered father, Edward Halsted concentrates hard, determined, as an immigrant, to do his duty as an American citizen, there's no explaining Juror No 10.
Totally riveting—no one would want to miss a word—one of the best plays I have seen this year. A theatrical experience to treasure.
Reviewer: Sheila Connor