Twelve Miles from Nowhere
Sarah Calver, Doug Crossley, Kevin Dyer, Freddie Machin, Ben Worth
Karen Simpson Productions in association with Action Transport Theatre
Brewery Arts Centre, Kendal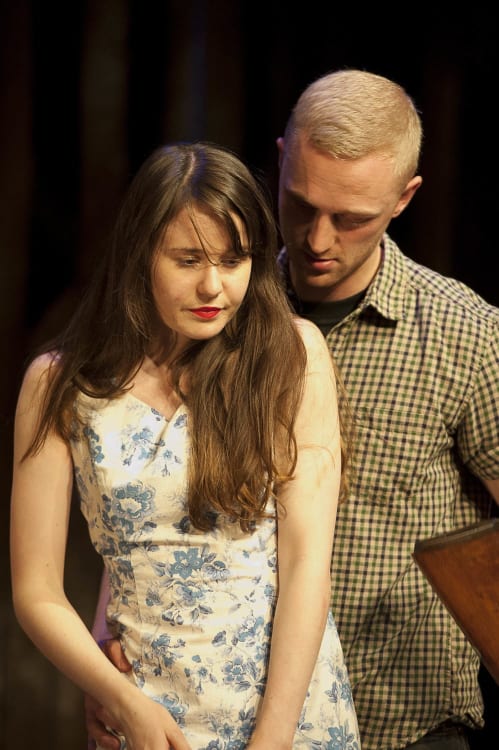 A simple and well-lit set is the background for this strong dramatic piece that has echoes of Edward Bond and Joe Orton.
Emily, a bright young girl, unable to regularly attend school, living on an isolated farm, is about to drown herself in the pond when she is rescued by Craig, a mouthy chancer who happens to be passing by. Craig soon meets Emily's dad, James and asks for casual work. Craig claims he can do 'anything' on a farm, he's been about, knows how to use a spanner and fix a fence. He quickly fabricates a story about Emily rescuing a sheep that had slipped into the pond to explain why she was in the pond and needed rescue herself.
Dad agrees to let Craig stay, especially if Craig can encourage his somewhat ineffectual son, Michael, to get his act together and complete the jobs he's supposed to do. The arrival of a stranger does make Michael hurt and resentful, especially when Dad suggests Craig can stay in the caravan that Michael had just done up. The family is in a bad way. Mum is no longer around; she went away some time ago. Dad is struggling to keep the family and farm together with very little income, Michael is a dreamer and Emily is lost in a world between harsh reality and her dreams.
When Michael, confused by jealousy and hunger, attempts to kill Emily's pet pig, Paul, and manages to make a botch of the job, injuring himself in the process, Craig steps in, quickly slaughters the pig, gets the family to work together to make the best of the situation and really establishes his new role in the family.
Craig stays on at the farm, teaches Michael to use a shotgun—Michael pots some rabbits that soon end up cooked and on the table.
Always tension in the background, Dad drinking away his nights, Michael resenting his dad, Emily frustrated and lonely, Craig out for himself.
When Emily decides to go alone at night to Craig's caravan under the pretence of asking how to use the shotgun, Craig clearly sees the opportunity to teach her more than shotgun technique but is interrupted by Michael. Craig and Michael fight. The stronger Craig soon has Michael beaten but stopped by Emily with a loaded shotgun.
Twelve Miles from Nowhere was developed from stories of young people growing up in rural Cheshire through Cheshire Rural Touring Arts and Action Transport Theatre. The production will be touring small theatres and village halls nationally.
The cast of four, Danny Childs, Ashliegh Cordery, Barry Hall and Gary Hanks, design by Helen Stewart, lighting by Mark Dymock, sound by Harri Chambers all work together, with direction by Andrew Breakwell, to create an excellent, thought-provoking piece of theatre.
Emily will not be attending school today because…
Reviewer: Denis W McGeary