Twinkle, Little Star
Philip Meeks
Customs House, South Shields, and touring
(2008)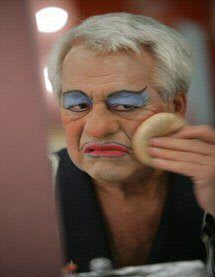 Well-known for its crowd-pulling pantos, The Customs House last night presented a very different look at the celebrated Dame, in the form of Kenneth Alan Taylor in Philip Meeks' real-time monologue Twinkle, Little Star.
A veteran panto star himself, Taylor is perfect in the role of Harold Thropp, an old-school Dame who, after years of being top of the bill, is now playing second fiddle to a talentless reality TV celebrity. The shimmering backdrop of the excellent set is in stark contrast to the drab and dingy basement dressing room to which he is horrified to be consigned.
With an effortless mix of pathos and humour, Taylor is extremely watchable as the very non-politically correct Thropp, making the audience howl with laughter and leaving them on the verge of tears with a joke too rude to publish on these pages.
In true panto tradition Taylor frequently breaks the fourth wall, both deliberately and with a string of ad-libs that a true dame would have been proud of.
Among distant reminiscent sounds of chorus music and past voices, he retells hilarious stories about his childhood with no dad 'but lots of uncles', his career and seedy gay encounters in public toilets.
But this humour is offset by a tragic tale of lost love that produces some genuinely moving theatre.
Performed in just one act, I was captivated as he prepared himself routinely for his first performance of the season, applying his make-up and using his two-tights trick.
Despite his longing to "say goodnight" to all of this, you feel completely sorry for this man who is too scared to give up all he knows. At the end, when he takes on the comfort of his wonderful Widow Twanky costume, the revelation of his sweet revenge on the reality 'star' was a delightful denouement.
Twinkle, Little Star is at The Customs House for just one more night and is warmly recommended.
Cecily Boys reviewed this production at the Theatre Royal, York.
Reviewer: Emily Taylor