A Twist Of Lemon
Catrina McHugh
Open Clasp Theatre Company
Hetton Centre, Hetton-le-Hole, and touring
(2008)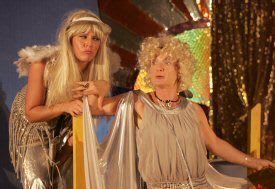 An electric blue set with a metallic sunset shimmered in the darkness of Hetton Centre's performance space last night awaiting Open Clasp's new production, A Twist of Lemon. Bursting into life with an opening sequence of dancing flight attendants, A Twist of Lemon certainly contains turbulence but there are no bumps in this ride.
Catrina McHugh's poignant play follows the story of four women as they head to the Island of Lesbos to scatter the ashes of their friend, Butch Jackie, on the 'face of Sappho', the lesbian poet/goddess, whose image is said to be seen indented on the side of a huge cliff. Relationships and problems reveal themselves as the four women holiday in the scorching sun with tempers rising, particularly for Sammy (Laura Norton) and the emotional abuse she aims at partner, Jo (Kathryn Mace). Claire (writer Catrina McHugh) and Carrie (Zoe Lambert) are ex-lovers who believe the past is behind them but, after a few cocktails, soon discover their past is still very much present. Intertwined with these four women are the omniscient lesbian goddesses, headed by Sappho, trying to put right the wrongs of those on earth and promote diversity thousands of years on.
This production is strong from the onset with a cast of four versatile and energetic performers and directed with perfection by Fiona MacPherson. The uneasy scenes of verbal abuse are played with gusto by Norton and the scene in which she reveals her true nature to her petrified partner is mesmerising. Mace's portrayal of a woman suffering from domestic abuse is heartbreaking and her scenes of sadness and isolation moved audience members to tears. McHugh soon turns tears of sadness to tears of joy with her fantastic rendition of 'I am what I am' and back to sadness again as Lambert sings a beautiful lament for her dead friend. Amidst this dark and painfully realistic subject there is great comedy and the comic timing of all four performers is truly remarkable - particularly in the more drunken scenes in the latter half and a marvellous banana boat ride.
The fine line between comedy and tragedy is clearly defined in McHugh's writing, providing a rollercoaster of a ride for the audience who are kept on the edge of their seat at all times. This brave piece of theatre not only promotes diversity but also pushes the similarities that all humans can face regardless of gender or sexuality. With the blast of modern music, observed writing and flawless performances, A Twist of Lemon ticks all the right boxes, making it an unmissable piece of theatre. Open Clasp is truly a treasure of the north east that must be supported and encouraged to become a treasure of the nation.
Reviewer: V Mitchell