Two Fingers Up
Gina Donnelly and Séon Simpson
SkelpieLimmer
The MAC Belfast / Summerhall
–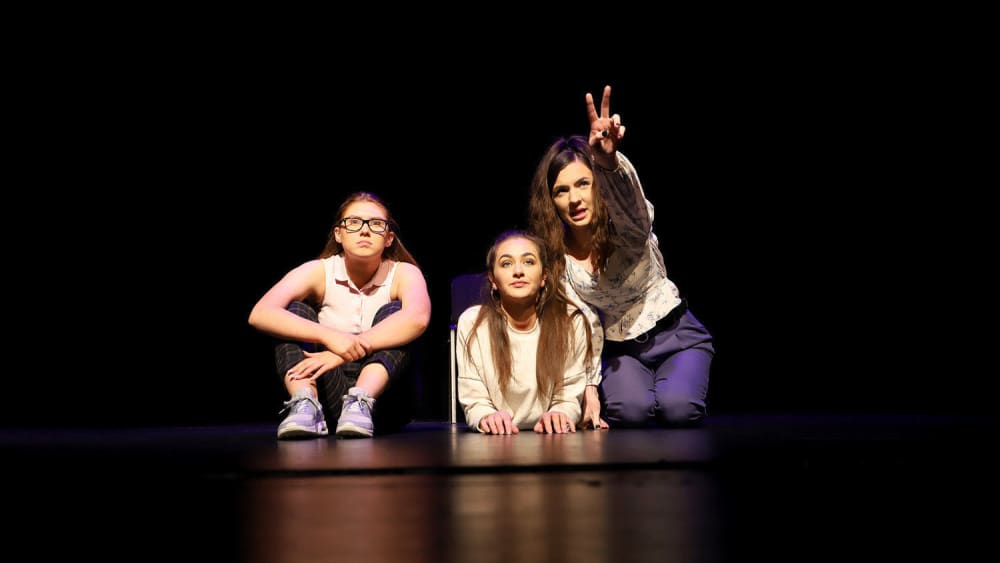 There is a double-meaning in the title of this play, as it is both a celebration of female sexuality and an angry gesture to how this is portrayed in Northern Ireland, particularly to young girls—and, for that matter, boys.
Writers Donnelly and Simpson said, "we made this show because we were angry." However, while it does have a strong point to make, it isn't just an angry play—it's a lot more fun than that.
It begins with a film montage (made by Gavin Peden) of images and news clips about anti-abortion protests, mother and baby home scandal, violence against women and a Christian sex education video, issues which aren't dealt with directly again until a brief mention at the end, although they feed into the main theme. This cuts suddenly to a basic black-box set containing just three chairs and the three actors—Orla Graham, Shannon Wilkinson and Sarah Reid—who tell the story and portray all the characters.
It's a coming of age tale for young girls in Northern Ireland, from bewilderment about how adult female relatives spoke about men on the telly, to echoing older girls referring to some men as a 'ride' without really knowing what they meant to 'The Talk', when girls were told about periods, but any questions they had were dismissed and boys were excluded.
When adolescence hit, official sex education came courtesy of Christian groups who preach only abstinence and reproduction was taught through plants, so of course they had to find their own way of answering the real questions that were burning inside them, initially on the Internet, then through an uncomfortable experience in the cinema with a boy who had allegedly been with lots of girls before but still didn't seem to know what to do, then finally discovering what all the fuss was about after taking matters into their own hands and exploring their own bodies. Finally, a visit to Ann Summers proved more enlightening than any of the sex education they had been subjected to.
The piece is lively and funny throughout and performed with a great deal of energy by the trio. A lot of the experiences of growing up and sexual curiosity are universal, but some, especially the kind of sex education that they dismiss as useless and possibly dangerous, are particular to Northern Ireland and so would mean more to a home audience than to me.
While it largely works on film, it is the kind of show that would be lifted considerably by the responses of a live audience. The sound levels are quite variable; some parts are very quiet, and I'm sure I missed a few story points because of this.
I would imagine watching this while sitting in a packed auditorium in Belfast would be a completely different experience, as it manages to combine lively comedy with a serious message that is still especially relevant in its home nation.
Reviewer: David Chadderton