Two Horsemen
Biyi Bandele
Jermyn Street Theatre
Jermyn Street Theatre
–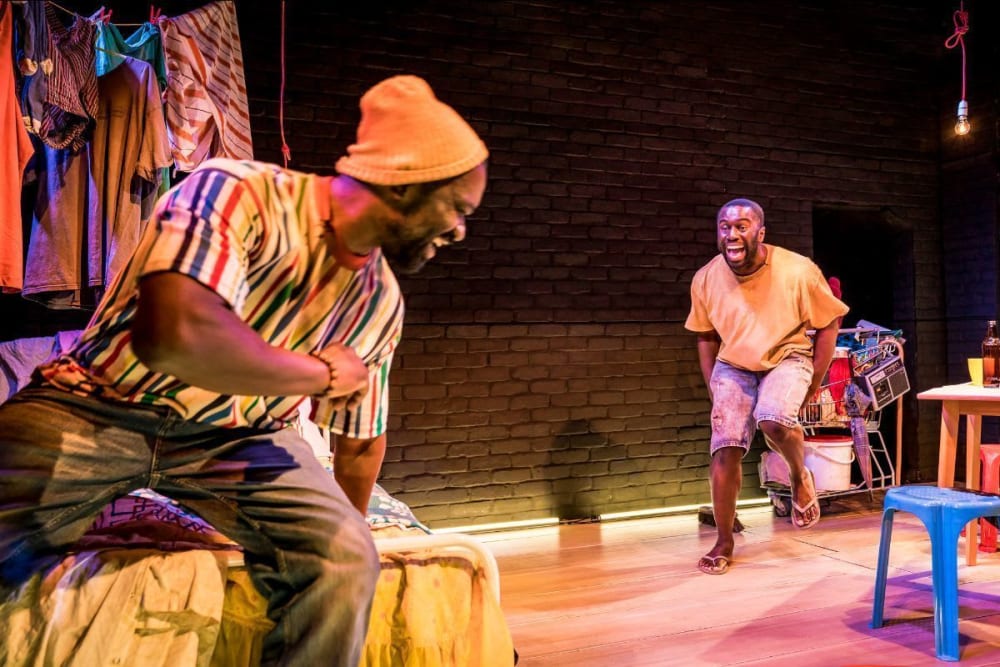 Jermyn Street Theatre is welcoming audiences back to live performance in person with an 11-week festival that celebrates theatre through an eclectic repertoire of plays, cabaret, solo performance and poetry that ranges from marathon readings of classics The Odyssey and Mahabharata, to Flanders and Swan, Shakespeare, Chekhov and Blake to Tom Lehrer.
First up is this lively revival of Biyi Bandello's Two Horsemen. First produced at the Gate Theatre in 1994, when it won Best New Play in the London New Plays Festival, it presents us with two men who, judging by their Yoruba names, are from Bandele's native Nigeria. Lagbaja and Banza seem to be street-sweepers whom torrential rain has made idle, but in this absurdist, Beckett-like play, identity seems a fluid thing, time recycled, relationships reimagined.
As one of them puts it, "every day we just sit here and yap our lives away." Their lives may be caught up in a round of repetition but their yapping is engaging, the language lively. Here it doesn't just rain cats and dogs but "mostly warthogs".
While Daon Broni's Lagbaja seeks relief in masturbation, Michael Fatogun's Banza reinvents their relationship, inventing more drama while all the time they have a sense that they have said this and done that before, vividly demonstrated as one undoes the other's action: laying and clearing a table or making and stripping a bed in a continuing cycle.
Lagbaja may call Banza "an intellectual eunuch" but that doesn't inhibit their talk of God, of parenthood and of murder.
This could be life in some Sartre-like purgatory or an engagingly comic analogy paralleling the messiness of so many lives, given extra resonance by recent experience.
Broni and Fatogun play off each other delightfully. Their engaging performances make this hour-long piece fly by. Ebenezer Bamgboye's direction also uses Max Pappenheim's sounds and Johanna Town's lighting to echo the twists in the telling, the darkness that may lie behind things while Louie Whitemore's design is as wild and colourful as Bandele's writing. Each audience member may find their own seriousness here but they won't be able to help laughing; this play is also very funny.
As Two Horsemen is playing as part of Jermyn Street Theatre's Footprints Festival, check performance days and times. This theatre responded to lockdown with a series of online productions and this whole festival is being live-streamed so that you can also watch it from home.
Reviewer: Howard Loxton