Two Into One
Ray Cooney
Menier Chocolate Factory
–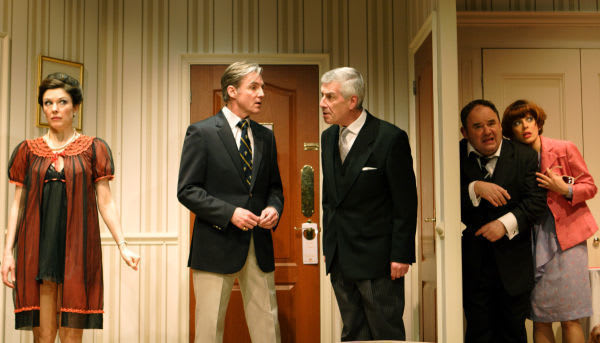 "There's far too much sex in this hotel and I'm not having any of it" declares Jeffrey Holland as manager of the Westminster Hotel, effortlessly making both meanings crystal clear. If you don't find that funny then Ray Cooney's classic 1980s farce is probably not for you but a first night audience loved it.
With one eye on the sexual shenanigans of real politicians of the Thatcher era, it presents us with a Home Office minister staying with his wife at the hotel who sets up an assignation with a secretary from the Prime Minister's office, while his missus is supposed to be at a matinée of Evita and he is supposed to be at the Ministry for a meeting about a private members Vice Bill.
Richard Willey gets his PPS George Pigden to make the booking under the name Charles Easter. Out of his depth and thoroughly confused, Pigden gives his name as Christmas. From there the lies and misunderstandings spiral to the slamming of doors in two suites: the Willey's and the one next door, the only room available when Pigden books it as Christmas.
It is brilliantly facilitated by Julie Godfrey's set which raises a front cloth of the hotel façade to reveal reception then not only smoothly converts to the adjoining suites but can roll sideways to focus on the appropriate location.
When Mrs Willey forgets her theatre ticket and has to come back to the hotel, the subterfuges escalate. Flustered Pigden finds himself the object of her attention. Secretary Jennifer Bristow turns up disguised behind red wig and sunglasses. In the complexities of trying to cover for himself and both the Willeys, Pigden finds himself inventing a gay boyfriend called Ted, a post boy in the Foreign Office. Things get even more complicated when someone really called Ted turns up (Tom Golding) without knowing about all this—and guess who he is.
Add a formidable lady MP, the puritan promoter of the Vice Bill, a force to be feared as played by Jean Ferguson, Ray Cooney as an eccentrically elderly waiter and Kathryn Rooney as various hotel staff all joining the melee and you have a cast that delivers excellent teamwork under Cooney's direction.
Michael Praed is wonderfully smooth as the Minister, though not quite unflappable. Bedeviled by hay fever and accidentally fuelled on Benzedrine, his desperate explanations even extend to inventing blood-spattered suicide. Josefina Gabrielle is a sexy Mrs Willey with a secure sense of theatrical timing and attractive Kathryn Rooney adds some extra titillation while putting up with various indignities.
It is Nick Wilton's Pigden, stripped down from bowler-hatted civil servant to embarrassed soap-sud layered lover, who gets to score most often. He has lost the plot even more than the rest in its many convolutions.
If I do have a quibble it is Cooney himself. He has done such a good job directing the others but is just a little too self-indulgent to early as the waiter. If you introduce silliness—and this memory-challenged, kung fu cavorting character who always has his hand out is wonderfully silly, it is better to hold it back until you have firmly established the serious of the situation on which farce depends.
The giggles come a little too early—but that is carping and it is really a pleasure to see Cooney still full of vitality at 80 and doing pratfalls with style.
Reviewer: Howard Loxton