Two Man Show
Devised by RashDash, music by Becky Wilkie
RashDash
Northern Stage at Summerhall
–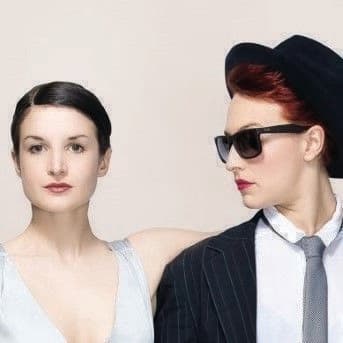 This theatrical collage from radical feminist theatre group RashDash is described by its performers as "live music, movement and women playing men and it's a mass of contradictions. Like the world." A perfect description.
Two Man Show is performed by three young women, although at the heart of it are two male characters who keep returning in a moving little tale that winds around the rest of the show, toying with its themes.
At the start, however, performers Abbie Greenland and Helen Goalen, with musician Becky Wilkie, are punk feminist musicians, telling us that "we know everything", explaining that men and women were equal for 290,000 years and that the only reason we believe that apes have a patriarchal community is we are told this by that seductive voice of the patriarchy, Sir David Attenborough.
The two-man story introduces us to John and Dan, whom we come to understand are brothers whose father is dying in the next room. John has been their father's carer, whereas Dan has a family elsewhere and hasn't visited for some time. Their relationship as men and siblings is explored through some very well-written naturalistic dialogue, beautifully performed as men by Greenland and Goalen—although to emphasise the point that they are men played by women they perform much of it partially or entirely naked.
Between scenes, they perform movement routines, many quite abstract, until their whole method of performance is questioned by Greenland staying in her male role and challenging Goalen as herself to justify her criticisms of men and dismissing the abstraction of the dance pieces' which Goalen does by saying she can't express what she wishes in the language of patriarchy.
And then Goalen switches gear and has a monologue in which she talks about what she likes about men and maleness and would not wish to lose.
It is, as they say, a mass of contradictions that raises lots of questions but doesn't provide any answers, but that is really the point. In a time when the whole concept of sex or gender and sexuality is coming into question in the popular domain, it provides some intelligent provocations and food for thought.
Reviewer: David Chadderton