two Palestinians go dogging
Sami Ibrahim
Royal Court Theatre and Theatre Uncut
Royal Court Theatre
–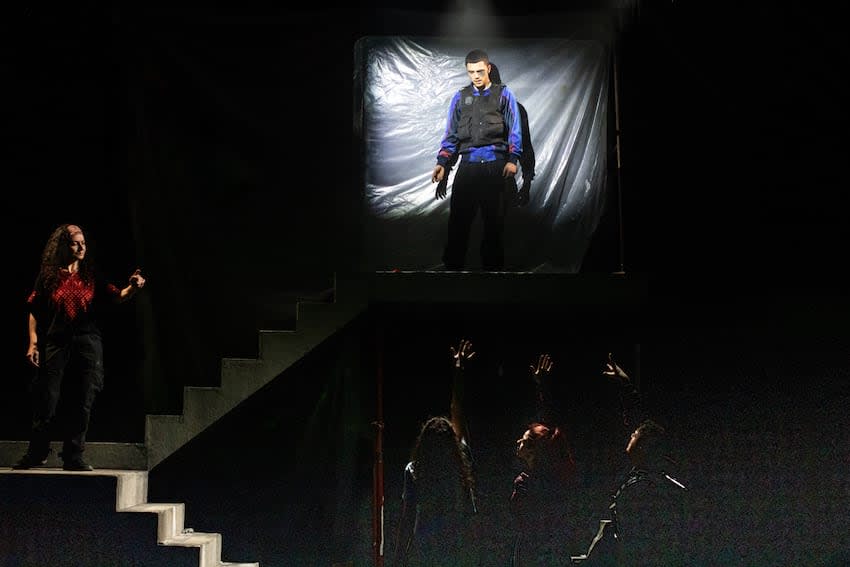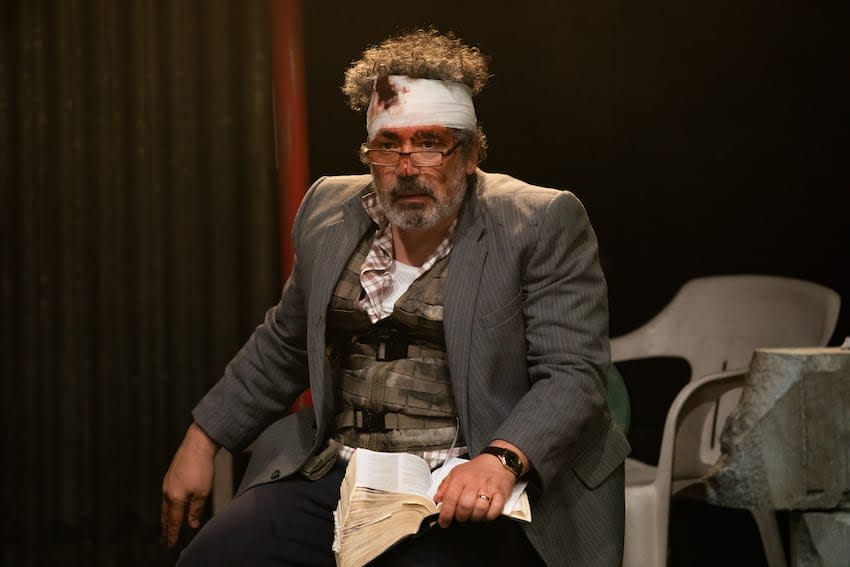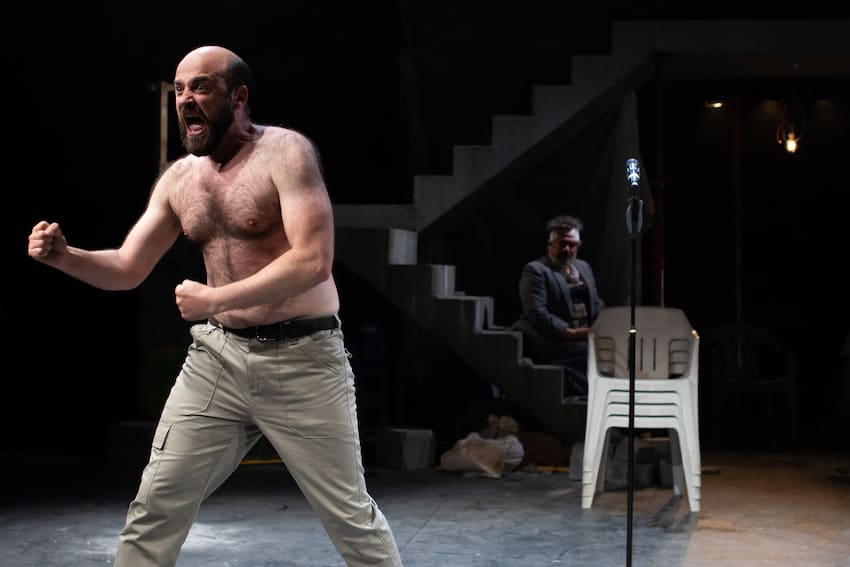 Winner of the Theatre Uncut Political Playwriting Award in 2019, two Palestinians go dogging has had to wait for its première but in no way has it dated.
From a ramshackle set of stairs, corrugated iron and plastic chairs, the company burst out wildly dancing, dragging audience in to join them while most of the others clap along to the music. Then the actors playing husband and wife Sayeed and Reem introduce their play.
They claim it is not pro- or anti- anyone or anything, then Reem launches into a joke about dogging that immediately contradicts that. But it's not the joke that gives this play its title: dangerous, dark-night dogging on disputed ground is a real part of the story. Disputed because we are in the Palestinian village of Beit al-Qadir, east of Jerusalem on the West Bank, and that disputed territory is the red area that separates them from the Israelis.
The villagers are getting ready to get out there, but first Reem gives us the context. It seems like now, but it is 2043, in the future. "Half of you are dead," she tells us, "the other half are voting Tory… people are on edge, the Fifth Intifada is right round the corner." This is a picture of people trapped in a situation of continuing encroachment, children killed, teenagers killers. Its images are sometimes surreally comic, but it presents a grim reality, though I hesitate to call it satire—it's too painful.
Hala Omran as Reem and Miltos Yerolemou as Sayeed make a believable contrasted couple. Her friendly bullying as she gets the audience to play a game of Bibi Says (like Simon Says but featuring Israel's former Prime Minister) turns to harsh hectoring as her anger and frustration increase. He, though hiding a deep sorrow, is gently understanding. You can't help being on his side while, though sustained with great energy, her relentless barrage of words can have the opposite effect of a rallying call.
There is a sympathetic portrait of an Israeli settler who wants to join the dogging: Adam, played by Philipp Moglinitskly, lives on former Palestinian land. He has no choice, everywhere else is too expensive. He loses a daughter, Sara, killed by panicking village boy Jawad (Luca Kamleh Chapman) while she is doing her military service. Jawad is made a hero for spitting at an Israeli soldier; Sara is inextricably linked to the death of Sayeed's daughter. Then there is the naively innocent-seeming Tariq (Joe Haddad) who gets trapped in barbed wire, stuck there still living for so long that he becomes a tourist attraction, another metaphor for the whole situation.
Director Omar Elerian has built the company into a fine ensemble as well as drawing strong individual performances from them. However, he rather awkwardly stages a confrontation between the spirit of Sara and equivalent village girl Salwa (Sofia Danu) facing each other at microphones. Though here and when used elsewhere this sets such passages apart from the "real-life" action, it seems awkward, not least because its delivery is less clear than without mikes. At a point when the text seems to ask for identification, it kills contact with the audience.
Sami Ibrahim divides his play into separate scenes announcing each with a title that sums up the situation but drags things out too long with what seems like a possible ending going on further. I saw two Palestinians go dogging at the first of a number of press nights, so some of my comments may no longer be valid.
This play may be a metaphor but, when not being shouted at, its bleak picture of the current situation continuing into the future, perhaps getting even worse, can be very moving. As for that claim about not being pro- or anti-, it isn't surprising (given the subject) that he hasn't succeeded on that score, but sadly this village on the West Bank could itself be a metaphor for other places of conflict around the world.
Reviewer: Howard Loxton