Two Sore Legs
Brenda Murphy
Green Shoot Productions, Belfast
Assembly George Square Studios
–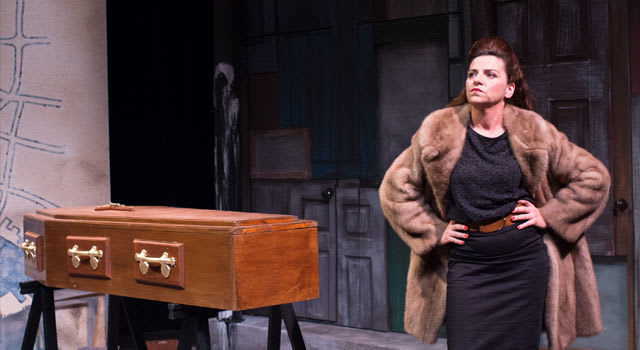 In the sound of rain, the fur-clad Bridget stands beside a candle-topped coffin and declares, "I died last week." With this we get the story of her life, mostly as it reflects on her children.
The young Bridget got involved with a married man. And pregnant. And not just once but six times. "I love you, Bridget," declares Liam, "but I won't leave my wife."
And Bridget took on the world but mostly the Catholic Church to make sure that they were all baptized and that she kept them, every one.
Two Sore Legs is Brenda Murphy's biographical play about her mother. Ms Murphy writes her mother as a take-no-prisoners, unapologetic character, content with her life and proud of her children. That Ms Murphy is proud of and admires her mother is obvious.
But this long monologue goes off track from time to time in a way that feels just a little too close to Ms Murphy to come together. One would wish that director Martin Lynch had dug in there and done some cutting, rearranging, and focusing. More Bridget and less theatre.
Maria Connolly as Bridget has command of the stage but at times we see the actor instead of the character. It is the actor that wanders and fidgets. Bridget is presented but we are hard pressed to find the life in her.
We're not sure why she's wearing a fur coat and we are not sure why, at one point, she takes this and her shoes off and then puts them on again. It seems a random choice and very much part of the staging that is not justified by the actor or the script.
We'd love to love Bridge as much as Ms Murphy does.
Reviewer: Catherine Lamm