Two
Jim Cartwright
Dreamshed Theatre
Customs House, South Shields, and touring
(2009)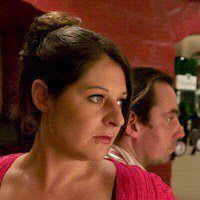 Recommended by a national newspaper as one of the top five theatre events to see nationwide, this fast-paced, two-man drama worked wonderfully in the intimate surroundings of The Customs House studio space.
Flitting from estranged landlords to smooth-talking scouser, lonely widower to nerdy cyclists, the very talented Jilly Breeze and Adrian Ross-Jones effortlessly draw us into their northern, liquor-laden world. Many of the punters they depict are instantly recognisable, seeking shelter from their everyday lives, and who make you laugh or leave you disturbingly cold. And as the duo introduce each, familiar character, they make the audience acutely aware of the strain that hovers over the leading landlord and landlady, who met, courted and wed in the pub they now own. All smiles and friendly banter on the outside but hiding an unbearable hurt with their daily routine and snide asides until the petty warring finally reaches a powerful climax.
If you forget, as I did, there are only two people in this drama, then it's safe to say the play has worked. A moving and insightful script, mixed with superb direction, high energy performances and a simple set void of unnecessary props makes for an extremely satisfying evening's entertainment.
Reviewer: Emily Taylor