Two
Jim Cartwright
Essential Theatre Company
Lion and Unicorn Theatre
(2009)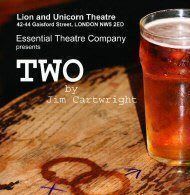 Jim Cartwright's play, set in a Northern pub, is most appropriately titled for it is a two-hander for two actors, one male and one female, who play both the landlord and his wife and all the other characters who, apart from a little boy whose daddy has gone home without him, also come in pairs, though we don't meet all the partners.
It offers a slice of half a dozen relationships, most of them pretty stressed, from the elderly old codger still carrying the memory of his dearly loved wife securely in his heart to the philandering sponger and his not so lovely infatuated girl friend . It is a clever piece of crafting that whisks actors off and on again with barely time to change expression let alone a costume, though these two manage to do so.
Joe Shefer and Samantha Joyce create a series of clearly differentiated characters without recourse to make-up or vocal mannerisms. They simply act each role with feeling, taking their cue from the vivid writing which moves from button-holing chat to soliloquising or bickering duologue. As the bickering landlord and is wife they people the bar room with their customers. They are so secure in their performances that they can speed up the rhythms of taking orders and convivial badinage without long pauses for replies and Emma Blundell's production goes along at a spanking pace.
Though the publican boasts of how they have knocked out a wall to open up the snug, in this small studio space, with only a couple of tables and a bar counter forming Louis Valenzuela's set, the idea of others in the bar is occasionally undermined when fractious argument spreads out across the space, but it is otherwise very accomplished playing and very moving as they uncover the tragedy behind the publican and his wife's difficult relationship.
They resist the temptation to show off how clever they are at different characterisations and make these roles more effective by the simplicity and sincerity with which they present them.
Until 21st June 2009
Reviewer: Howard Loxton