Two
Jim Cartwright
Theatre Royal Studio, York
(2006)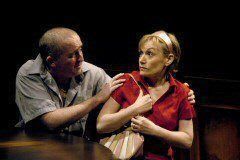 It's a hectic night at a typical Northern pub. The squabbling landlord and landlady are rushed off their feet tending to the lonely, the desperate, the eccentric, the inadequate and the simply thirsty. Fourteen characters reflect on the joys and miseries of being part of a couple - and they are all played by a cast of two!
The first customer to pull up a bar stool is an old lady worn out by the strain of caring for her doubly incontinent husband. Her only comfort, apart from a crush on the butcher, is in "sleep and Guinness". She is followed by hip-swivelling medallion man Moth, the poor woman's John Travolta, and his put-upon girlfriend Maudie. Pops, an endearing pensioner, has a surprising secret - he's "having a good time within" by conjuring up the spirit of his dead wife. A lady with a volcanic passion for big men is saddled with a husband too short to see over the bar. A smiling bully humiliates his partner. A couple who seem to be enjoying the dubious benefits of "care in the community" make up names for film extras and speculate on what killed Elvis Presley ("he died of a choked bum"). A drunk and desperate "other woman" turns up to confront her lover and his wife. Last of all, a tearful little boy left behind by his Dad forces the Landlord and his wife to come to terms with the death of their only child.
Jim Cartwright's 1989 play is a distillation (no pun intended) of what we've all experienced whilst nursing a drink in the local - rows, adolescent showing off, pathetic pick-up lines and overheard snippets of bizarre conversations. Nicholas Lane's revival of this funny and moving work does it full justice, and Eamonn Fleming and Gilly Tompkins segue effortlessly from one character to another. With only a handful of props and no costume changes to speak of they create a host of beautifully observed characters. If you enjoyed either the stage or film version of Cartwright's The Rise and Fall of Little Voice you will need no encouragement to see this outstanding production.
At the Theatre Royal Studio until 17th June
Reviewer: J. D. Atkinson