Typhoon Live: East Asian Plays in the UK
Getting Married
By Yi Kang-back
and Dogs By Elangovan Yellow Earth Theatre Oval House
(2007)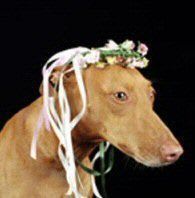 For this double bill of plays from the company's Typhoon international play-reading festival the audience is greeted as they enter by a smiling, white-suited, panama-hatted, bespectacled, dance-footed Jamie Zubairi. This is not just a gimmick for audience contact is an integral part of the first play, Getting Married (from South Korea). To begin, he starts to tell his character's story, before smoothly segueing into performance. It is a modern fairy-story, as he indicates by telling us it happened 'long long ago.' A self-confessed penniless swindler, he is lonely and he wants to marry and (it could only happen in a fable) he borrows a house, its contents and even his clothes to impress a potential bride who was looking for a husband on the internet.
There's a catch. He only has the house for forty minutes: his watch, his cigarettes, his lighter, his clothes for less. Everything is only his for a limited time. His would-be bride (Liz Sutherland) is late and time is lost. When she arrives and he begins to entertain her, a silent servant (Andy Cheung) reclaims things, one-by-one. He struggles to keep them but is overpowered. He slinks off into the audience to borrow a cigarette, but before he can light it his-pearl-and-diamond-studded lighter is reclaimed; he cajoles someone into lending him a tie 'just for five minutes' - and is meticulous in handing it back.
The man and woman are clearly attracted, but her mother married a swindler who left them and has made her daughter promise only to marry a rich man. It is a simple story that builds upon one simple comic idea and relies heavily on the actors' skills, especially Zubairi, but Philippe Charbonnier's production, in Yoon Bae's minimal but colourful décor, holds the attention. Its humour gradually darkens to remind us that our time too is limited. Possessions are transient, so to is love. When the silent 'servant' finally reveals himself in a red mask and wielding a stick he becomes the finality that ensures that 'you can't take it with you.'
The second play, Dogs, a close-up of a marriage in Singapore, also has an emphasis on possessions. The husband is obsessed with his old car, inherited from is father. It is the one he was conceived in - out of respect for their elders they wouldn't do it in the parent's house. His wife wants something that will impress the neighbours, not make them their laughingstock. She wants everything she sees in her glossy magazines and she wants a baby, if only her husband could get it up.
For her, everything he does is wrong, from the greasy fingernails from his garage job to his choice of clothes, his failure to remember to buy her chocolates to his physical endowment and sexual performance. It is a bickering that never stops, even through interludes of sexual experimentation, but so far not so very different perhaps from the experience of many couples. They have a dog, Singer, a German Shepherd that has become a child substitute. The wife wants to dress it up in gold-lame designer wear. The husband objects that other dogs will think he's gay! That's not all, he shares the wife's bed and she claims her only source of happiness is brushing him and playing with him on their balcony. Her husband's latest fault is to have bought only 30-odd cans of dog food for him.
Would you be surprised if the husband's patience snapped? But he doesn't lose his goat with her, he just pretends to listen. No, goaded by the thought that she will complain if he parts with any alms, he lashes out and thinks he's kills a beggar in the street. Has he? we aren't sure but there is something that horrifies the wife in an old holdall that belonged to her father in law that's in the car. Or maybe it's not the beggar? Could it be the dog?
Told like that, this may sound like a compacted story of the problems of making a marriage work, but in this production its forty minutes seem to go on forever. It is not the actors' fault (Sutherland and Zubairi again), and possibly not the award-winning author's, though it would help if he had given the characters a little more background. Though I haven't seen the script and don't really know which ideas came from the writer and which from the director (Kwong Loke).
The production starts with the couple sitting in separate chairs, behind them an architectural model of high-rise buildings along a motorway. Are we in a designers' office? He reads a paper, she fiddles. By the conversation and their behaviour they are at home, but, when they start talking about the car, he picks up a model car from the display and then somehow we are in the car. From then on, though the conversation is continuous, he is sometimes obviously sitting driving with her - though several feet away - beside him, but sometimes both wander around the room. All the while their relationship lurches back and forth from foul-mouthed vilification to frenetic attempts at copulation. It is all quite frantic enough without the complications of spatial confusion. What might have worked (especially on radio) to suggest an unending circular pattern, ebbing and flowing between hatred and toleration, needs much more conscious shaping if it is going effectively to build to its dark ambiguous conclusion.
This man and his wife may have exhausted each other's patience, but this production exhausted mine too, and hence my interest, long before the script sought to engage it with a change of focus. I think this second piece needs more work on it.
At Oval House until 13th October 2007
Reviewer: Howard Loxton