The Ugly Duckling
Hans Christian Anderson, adapted and devised by Travelling Light
Tobacco Factory, Bristol
(2007)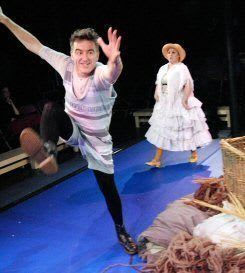 Hans Christian Anderson's timeless tale is brought magically to life by Travelling Light Theatre Company. Originally destined for the studio at the Bristol Old Vic, Travelling Light's director Sally Cookson said she approached the Tobacco Factory, keen to ensure young Bristol audiences weren't forgotten this Christmas. Thankfully for children all over the city, the Tobacco Factory was delighted to co-produce.
The result is a triumph; a must-see Christmas treat for very young children and their mums and dads. With the simplest of sets and mesmerising, energised performances, the cast create a series of enchanting worlds: from farmyard and nest, to marshland and even under water. The magic is clearly reflected in the faces of the children in the audience, encouraged to take a front seat on low benches all around the stage.
"I really enjoyed The Ugly Duckling because it was very funny but some parts were quite sad. I thought it was very magical the way the actors made things happen, especially when Little Ducky was underwater and the actors made silvery, shiny fish swim around him. Also the lights went all blue and a green frog made of painted boxes came swimming towards him and they started to play. The music set the mood, sounding scary sometimes but only when it needed to be. The seasons were clear when they changed, flowery blankets in spring and summer, paper leaves in autumn and special lights and paper snow in winter. The big cheers and applause at the end made me think that the audience definitely enjoyed it and I would recommend it to other young children."
Louisa Powell, aged 8
The story never condescends, despite its very young target audience (under 6), and Little Ducky, lost and alone, undergoes moments of quiet turmoil: "I don't belong here".
The story takes the audience nimbly through a year of seasons: the billowing blue silk of the river on a summer's day; a handful of autumn leaves; a flurry of snowflakes and some clever lighting and suddenly its winter.
The ensemble of four work well, Nina Wyllie is a funky Mother Duck, with on-stage music from actor-composer Benji Bower and some great choreography from Lee Lyford. Wyllie struts her stuff around the stage, closely followed by Craig Edwards and Marc Parrett: her clutch of ducklings and an ugly duckling who just can't feel the rhythm, try as hard as he may.
This is a delightful adaptation of a treasured tale which won't fail to delight.
'The Ugly Duckling' runs at the Tobacco Factory until 20 January 2008
Reviewer: Allison Vale