The Ugly One
Marius von Mayenburg, translated by Maja Zade
Royal Court Theatre Downstairs
(2008)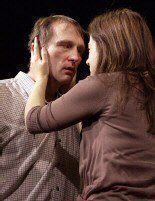 This compact German play, premièred Upstairs at the Court last year, is a lively satire on the importance given to appearance in these times of nip and tuck. It proposes that its title character could reach maturity without realising that other people find him ugly - very ugly. He doesn't find out until prevented from making a presentation of a new kind of high voltage connector that he's invented. His appearance might puts off potential customers. Don't ask what kind of connector, the explanation is itself a satire on technical terminology.
His looks haven't stopped him from finding a good-looking wife: she says he was such a precious and beautiful human being it didn't matter, but now he decides to go to a plastic surgeon and get a new face.
With someone so ugly he's told it's impossible to predict what the result will be, but he takes his chances and ends up looking lovely, the best of the beautiful people. Everything changes: he's the perfect front man and an instant object of desire for both sexes. All's marvellous, until the operation starts being repeated.
It is a very funny piece that pricks at our superficial values. It doesn't dig deeply but packs so much into a mere fifty minutes that you don't feel short-changed by its brevity. (I'm told that it ran for 90 minutes when played in German!) Director Ramin Gray achieves this effect through a pared down production in which actors instantaneously change character or switch location without even moving. Jeremy Herbert's set is the same as when upstairs: just some of the studio's seating arranged on three sides of a rectangle, now backed by a scaffold trolley, a stepladder and some stacked scene flats on a bare stage, stage management sitting to one side.
Cast and crew in casual rehearsal clothes are on stage playing with a shuttlecock and chatting as the house comes in, coming down to talk to friends in the audience until the play suddenly starts. It is all very simple - with a beautifully staged operation (though that was even more effective in the close quarters of the studio) and relies on the skills of the actors: Michael Gould as the Ugly One and Amanda Drew, Frank McCusker and Simon Paisley Day playing the roles that Mark Lockyer originally created.
At the Royal Court Jerwood Theatre Downstairs until 28th June 2008
Philip Fisher reviewed the original production (which had a slightly different cast) in the Thetare Upstairs
Reviewer: Howard Loxton