Un Ballo in Maschera
Giuseppe Verdi, libretto by Antonio Somma
Met Opera on Demand
Metropolitan Opera House, New York
From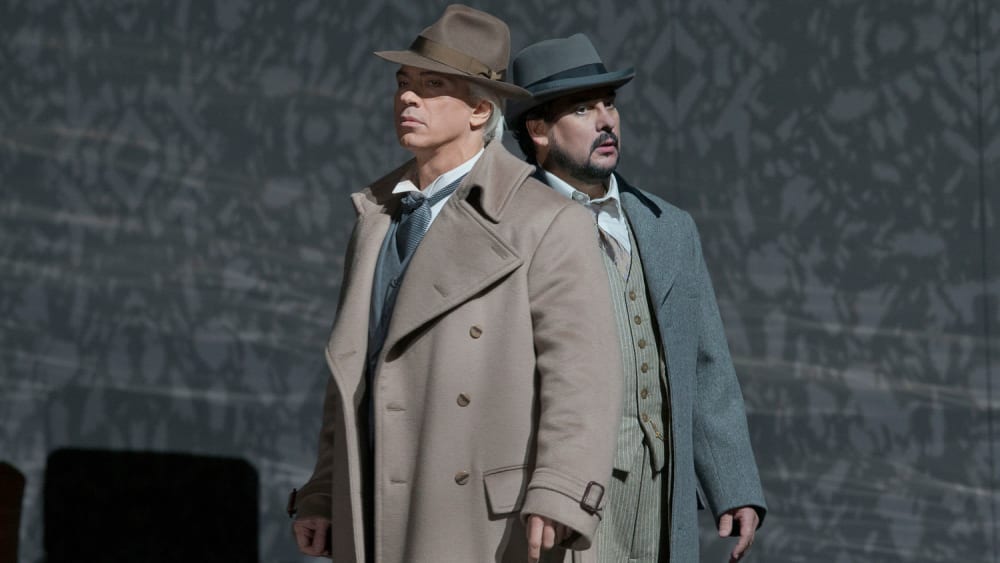 David Alden's production, conducted by Fabio Luisi, was seen at The Met, New York, in 2012. Giuseppe Verdi's Un Ballo in Maschera is updated to the 1920s. The expressionistic sets and Alden's handling of the lead roles and chorus are going to annoy and put off a lot of people.
The stage is dominated by a huge Baroque painting of Icarus plunging to his death after he had flown too near to the sun. The image anticipates the opera's final scene, the death of King Gustav III of Sweden, who was assassinated at a masked ball at the royal palace in Stockholm in 1792.
Verdi, for censorship reasons, changed all the names for his opera and added a fictional twist, concentrating on the romantic rather than the political. The king (now called Riccardo) loves Amelia, who is the wife of Renato, his best friend.
Renato catches them both in a compromising situation and, naturally, presumes their relationship is adulterous. He immediately joins the conspiracy and wants to be the assassin. Renato is played by Dmitri Hvorostovsky, who brings his familiar vocal and physical authority to the role.
Riccardo is a decent sort of chap. He admits he loves Amelia but he says he didn't have sex with her; though, when you hear Marcelo Álvarez and Sondra Radvanovsky singing their big duet, you may not believe him. The scene would have more impact if they were able to sing and act in a traditional rocky, eerie wasteland with a gibbet, rather than in an expressionistic nowhere.
The production has other jarring moments and particularly so when the king and the whole company decide to visit Ulrica, the fortune-teller. Alden directs the cast as if they were in an operetta or Broadway musical and has them all high-kicking.
Ulrica (Stephanie Blythe with handbag) looks like she has stepped out of a photograph by Brassai. Her performance, too, would have benefitted from a proper setting rather than a mess of chairs.
Kathleen Kim dons a toothbrush moustache and goatee to play Oscar, the king's irritating, perky page. Kim wears wings and pretends to be Icarus, which makes Oscar even more irritating than usual
For the finale, the masked ball, Alden ditches the expressionism and gives operagoers the sumptuous, richly costumed ballroom spectacle they can applaud.
There are a number of ways of tapping into this opera and others at will. The Met Opera on Demand service offers annual ($149.99) and monthly ($14.99) subscriptions as well as a one-off payment ($4.99) for those who have limited time or only want to watch the occasional opera.
Reviewer: Robert Tanitch