Un ballo in maschera
Guiseppe Verdi
Welsh National Opera
Wales Millennium Centre
–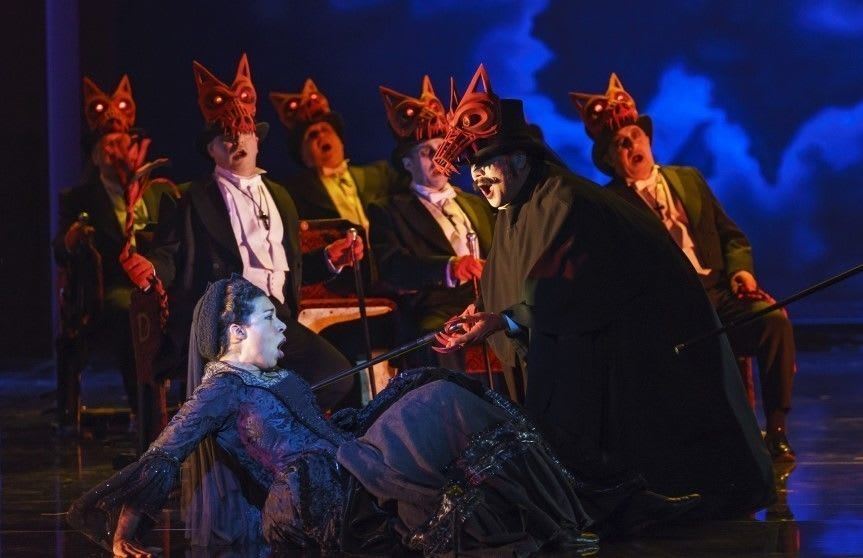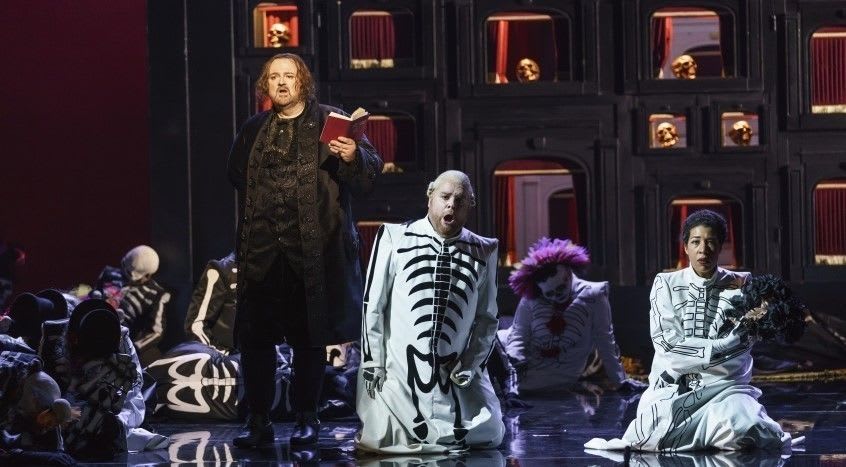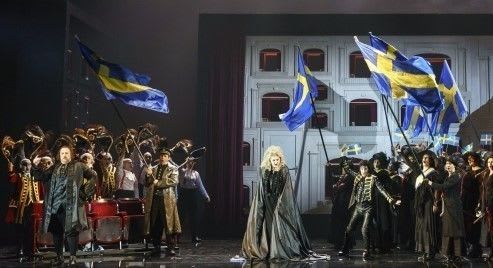 The courtiers crowd around the coffin of their leader, laid to rest in the crypt. But wait a minute—this is the start of the opera and he doesn't die until the end. So what's going on?
Then there's a movement, the lid moves, out comes a hand, then Riccardo himself emerges, beaming, large as life. He's clutching a book and so it becomes clear—he's directing what is to be his own melodrama.
Verdi's opera was based upon the actual assassination of King Gustav III of Sweden, although to assuage censors afraid of similar attempts on home territory he had to change his hero's name to the Italian one and to transport the location of the action.
The actual director, the WNO's soon-to-depart David Pountney, has ingeniously used Gustav's love of the stage and theatrical pranks to turn the entire story into a show-within-a-show.
This also opens the way to a solution for any rationalist director faced with one of those all-too-common fantastical soothsayers whose terrible prophesies / curses come true.
For at the heart of Pountney's interpretation is the fine mezzo Sara Fulgoni as a fraudulent sorceress Ulrika, here in cahoots with Riccardo's page Oscar. If this Ulrika were alive today, she'd probably be running her own doom-mongering TV channel.
She is nevertheless an agent of fate, albeit an unconscious one—and there's a lovely touch when her first prediction that a sailor will find fortune unexpectedly comes true (due to Riccardo's mischievous intervention), and she is as surprised as anyone.
There is a hint too of the real Gustav in the exquisitely sung love scene between Riccardo and his Amelia, who circle each other, for much of the time with the maximum space of the stage between them, touching only necessarily and briefly in a final embrace. For our historical Gustav was certainly, as it was then politely expressed, not that way inclined.
Gwyn Hughes Jones is an ebullient Riccardo, baritone Roland Wood by turns an explosive and expressive Renato and Julie Martin du Thiel a high-spirited Oscar, bringing a tingling contrast in her light-hearted interludes.
But the star of the production is Mary Elizabeth Williams as Amelia: her smooth as cream legato and tender control of the softest passages was heart-breaking.
Pountney picks up the theme of masks throughout the staging—Riccardo is after all guilty of concealing his affection for Amelia, and is clearly not the wholly benign ruler often presented. The conspirators are masked from the outset and wear fox snouts in the forest. As for guests at the ball, all arrive as dancing skeletons—never a good sign for a happy evening, one feels.
The whole thing is so very theatrical, the conceit of our Riccardo / Gustav / Pountney, even to the extent that there are rows of stall seats on stage in Ulrica's cavern, and in the forest, and deliberately obvious stage-hands frequently move the set.
It's a clever directorial interpretation, a brilliant new interpretation of a classic piece with magnificent costume designs by Marie-Jeanne Lecca. There is a downside, however, in this re-imagining of a re-imagining, that by distancing the drama one step further from the audience it diminishes the impact of a real human drama.
In compensation, we have the riveting, transcending performance of the wonderful Ms Williams. No lack of dramatic impact there.
Reviewer: Colin Davison