Unborn in America
Luke Styles and Peter Cant
OperaUpClose
The Vaults
–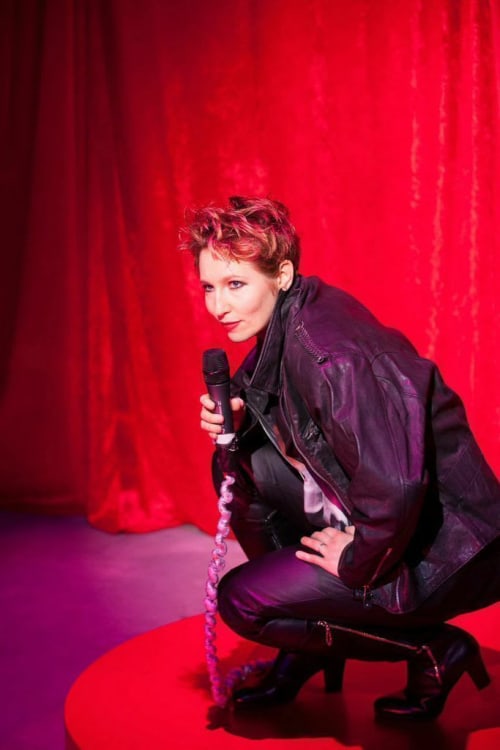 Unborn in America is OperaUpClose's latest venture: a collaboration with Ensemble Amorpha taking a newly composed opera by Luke Styles to the Vault Festival.
Set in the tunnels under Waterloo, it is with great intrigue that the audience assembles for a show that has been billed with a seriously eclectic description. Unborn in America is a show about abortion, the libretto provided by Peter Cant who also directs the production.
The opera is explained as "Displaying a fluidity of both form and genre that takes in and spits out cabaret, opera, performance art, satire, camp, musicals, B movies, celebrity culture and much else besides, this ascerbic work displays influences as diverse as Brecht-Weill, John Waters, jazz, pop, cool, punk, collage, African percussion, 1920s Berlin, 1970s New York and 1980s London."
The show opens with clips of American celebrities spouting their pro-life or pro-choice views. Out pops Ziggy Stardust (Jessica Walker). Set in front of a velvet red curtain, we are supposedly transported to the Petri dish bar and there is certainly a hint of the inside of a womb.
Unfortunately the show is largely downhill from here. The libretto attempts to be controversial (plenty of swearing, casual referencing of abortion, nuking the world), but sadly fails to be thought-provoking.
Cabaret singer Ziggy entertains the other unborns down in hell, and though Jessica Walker is clearly a talented actress and versatile performer it feels miscast. The role seems to require more grunt in the lower octave and perhaps even a belt. The vocal line regularly rests in the lower half of the voice needing a cabaret singer's rich, smoky sound which isn't best suited to Walker.
Walker is a charismatic performer though and able to strut her moves without missing a beat. The best parts of the libretto are the amusing insults relating to sperm, but many of the jokes fall entirely flat even though a pause for laughter is left.
The Amorpha ensemble are an extremely talented bunch, conducted by the composer Luke Styles who does keep the music tripping along. It is a jazzy score but it fails to keep musical interest for the hour and fifteen minute performance. The orchestra consists of a cellist, oboist, pianist and, most prominently, a drummer. This talented player combines military precision with a good deal of pizzazz, but the balance is an issue that could be easily rectified by placing the drum kit further back in the orchestra.
If you want to see a group of talented musicians performing a reasonably bland number in an interesting space, this is the show for you. Otherwise wait for OperaUpClose's next venture.
Reviewer: Louise Lewis