The Uncertainty Files
Linda McLean
A Paines Plough / Òran Mór Production
Part of the A Play, A Pie and a Pint series Traverse Theatre, Edinburgh
(2010)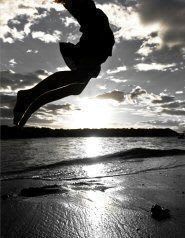 As with last week's lunchtime show In the Pipeline, in The Uncertainty Files three people give separate monologues to the audience, but these are spliced up with actors swapping characters and genders at quite a rate. This certainly fulfills the play's title, but, although it isn't especially confusing, it does distance you a little from the stories of everyday people discussing life's problems.
All three actors create strongly defined characters with the jumbled pieces they have to work with. Lesley Hart's inarticulacy in one character makes the speech feel very convincing. The content for the most part also holds your attention, though at times it is rather mundane. It also didn't seem to go anywhere, although presumably this lack of structure was part of the uncertainty. More direction and more change over the course might have sustained it longer as it did feel rather repetitive after a while.
There were some very touching pieces, sometimes just lines, in the midst of all the character switching and gender bending, about relationships, death and, I think most importantly, about the self. These did provoke some thought and, for a very short play, that is certainly an achievement.
Until 9th October
Reviewer: Seth Ewin