Uncle Vanya
Anton Chekhov, translated by Michael Frayn
Chichester Festival Theatre
Chichester Minerva Theatre
–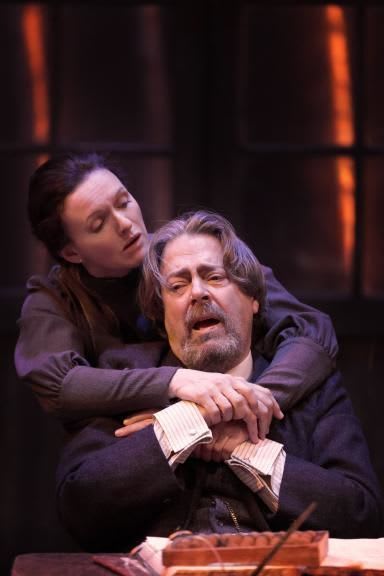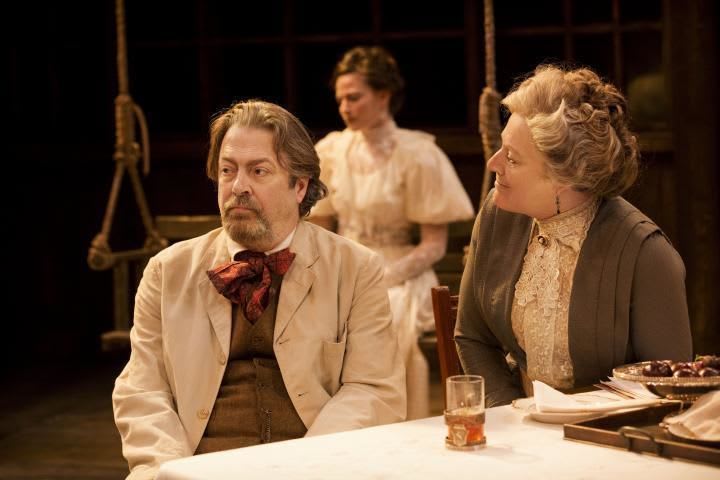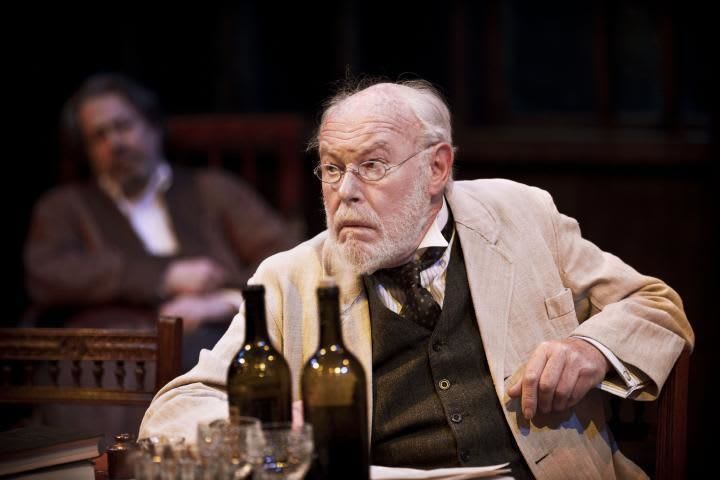 I did not see the Laurence Olivier's star-studded production of Uncle Vanya at the newly-built Chichester Festival Theatre in 1962, but I understand that it lives in the memory to this day, and was described by the New Yorker as "probably the best Vanya in English we shall ever see". In the theatre's fiftieth anniversary year it is a fitting tribute to its success to begin the summer season with the same play, and Jeremy Herrin's beautifully cast production promises to equal the triumph of the first.
This is an Uncle Vanya played as, I believe, Chekhov intended, as if we are simply looking in on a household of ordinary people leading ordinary lives, but with emotions, frustrations, hopes and desires bubbling below the surface, their intensity increased by Russian depth of feeling and the sense that they are trapped in their uneventful lives with no chance of escape.
Olivier played the part of the doctor Astrov, and here it is handsome Alexander Hanson who paces the terrace bemoaning the tedium and depression of a workload which exhausts him while old nurse Marina (Maggie McCarthy) sits calmly knitting with all the following drama passing her by. Trees are 'planted' around the stage and a forest can be seen through the veranda windows increasing the sense of isolation from the outside world, and it is trees and their needless destruction which most concern the doctor, that is until the arrival of Professor Serebryakov (Timothy West) with his new young and beautiful wife Yelena take his mind in a different direction.
Vanya, brother of the professor's late wife, lusts after the new, and with his niece Sonya hesitantly confessing her love for Astrov, there are three doomed love affairs, but matters really come to a head when the selfish professor casually states his intention to sell the estate to facilitate a better urban lifestyle for himself and his wife. For twenty-five years, Uncle Vanya and his niece Sonya have worked to exhaustion keeping the run-down estate going. What will become of them now?
With such a tragic story, it surprising how much comedy there is in the script and Roger Allam as Vanya is a master of the art seeming only to need inflection and pertinent pauses to create a laugh, yet his mood can turn in an instant to frustrated jealousy, with the bouquet he is bringing to Yelena shredded in his hands at the sight of her in the doctor's embrace.
Hearing the professor's plans, his fury erupts in impotent despair that he has wasted his life in useless toil and cannot even manage revenge. "I was a fool to shoot twice and miss both times". An outstanding performance of a man at the end of his tether, his anger followed by total despair.
Lara Pulver's Yelena drifts through the house, indolent, elegant, beautiful, totally unsuited to a life in the country and desperately trying to be faithful to her old husband despite the temptations of frustrated sexuality.
"They've gone" is repeated with a note of finality as professor and wife depart, leaving elegant grandmother Maria (Maggie Steed) still intent on her political pamphlets, and the impoverished Telegin still playing his guitar.
Dervla Kirwan is a mournful Sonya, only once indulging in embarrassed and almost hysterical giggles as she confesses her love of the doctor to Yelena, and she can only advise "Endure Uncle, endure" there is nothing to be done except work, and maybe with the next generation things will be better.
Not the happiest of endings, but the feeling that we have just watched some very special theatre and there will be hope for the future.
Reviewer: Sheila Connor