Uncle Vanya
Anton Chekhov adapted by Samuel Adamson
West Yorkshire Playhouse
Quarry Theatre, West Yorkshire Playhouse
–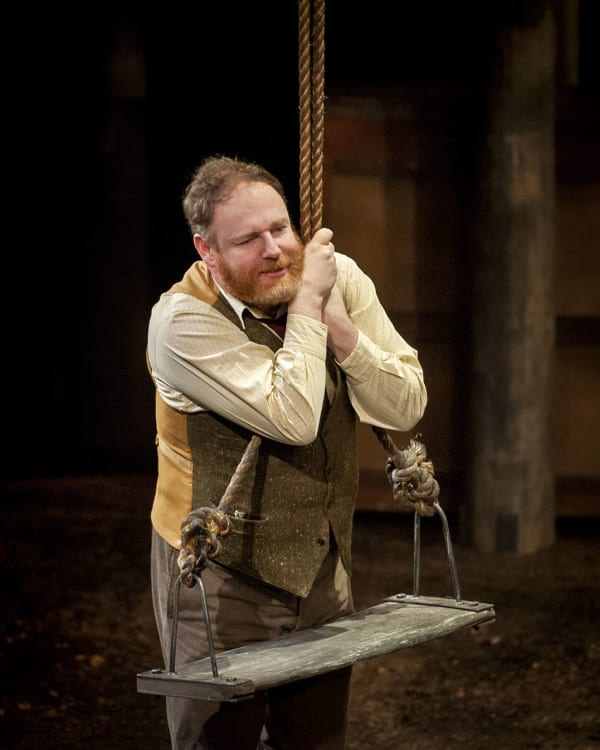 Ever since I spent several hours intoxicated in a summer house on a hillside in the Dovey Valley reading Chekhov to the accompaniment of a violent rainstorm, I have loved the man and his work.
That afternoon I learned that his later plays are open to apparently endless realisations. And so to find Uncle Vanya at my local Playhouse was a treat. I turned up with enthusiasm and left feeling enthusiastic about the production, but also a little disappointed.
Dick Bird's set fills two thirds or more of the vast West Yorkshire Playhouse stage with telegraph poles; hanging between them are lamps. On one occasion, during a rain storm, shower heads descend and we are treated to columns of teeming water.
As the play progresses, lights can be seen moving through this 'forest', at other times characters enter or exit. Down stage left is a small refrigerator, and this is a little worrying. There's a lovely swing stage right and a table with sandwiches and a samovar. As the action develops, sets and props descend or are shifted a la Pickfords. Sinead McKenna does some nice non-self-congratulationary lighting.
But what of the action? We are on an estate, run by Vanya (David Ganly) and his niece Sonya (Dorothea Myer-Bennett) and owned by his brother-in-law and her father, Serebryakov (John Bett).
Professor Serebryakov, who loves himself, brings his beautiful young wife Yelena (Georgina Rylance), who falls in love with the visiting doctor, Astrov (Ryan Kiggell), who loves her, as does Vanya. Astrov himself is loved by Sonya. Also on stage are Maria (Eve Pearce) Vanya's aged mother, Marina (Anne Lacey) an old children's nurse, Telegin (Graham Turner) a local landowner down on his luck, and Yefim (David Leopold) a general odd job man/servant.
This then is the pack of cards, and no-one can play them like Anton Pavlovich Chekhov. Purposes are crossed, expectations unmet, love unreturned, ambitions thwarted... and so on. A fascinating tangled web.
Samuel Adamson's adaptation sticks very close to the original. However Vanya does shout "bollocks" rather a lot and Adamson throws in enough contemporary language to remind us that there is a fridge hanging around somewhere.
But that is not the problem with this production. The problem is that, as of now, it just does not really seem to know where it is or what it is. As my partner for the evening said, "it doesn't have a heart". This is more than the result of anachronisms in script and a white fridge to keep the cheese in (but not the vodka?).
It is a matter, I fear, of Mark Rosenblatt's direction. Too many of this band of good actors have been encouraged, or allowed, to do our thinking and feeling for us. Emotions are writ large on faces, arms wave, bodies crumple, voices quavour. And SHOUT. My God there is far too much SHOUTING going on. We are pushed away rather than drawn in. All too often we are reminded that people are acting for our entertainment.
But there are delicate indications of love, moments of genuine passion and sadness and delightful laughter, moments when the play flies, and then we feel the impact of this masterwork. And this was press night. Time enough for performances to settle. To bin the fridge. To turn down the volume.
It has the potential to become a very good production. And, even as it is, a visit is a rewarding experience.
Reviewer: Ray Brown