Uncle Vanya
Anton Chekhov adapted by David Hare
Theatre Royal Bath Productions
Theatre Royal Bath
–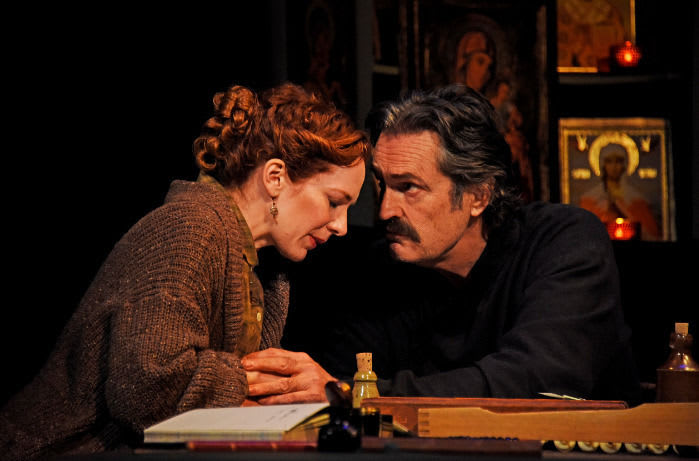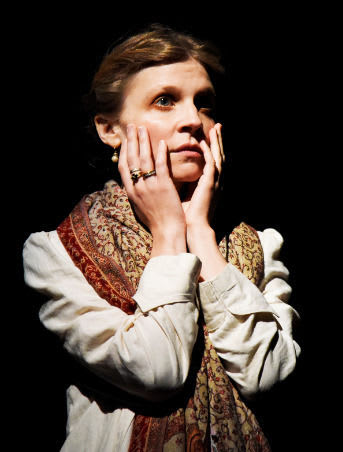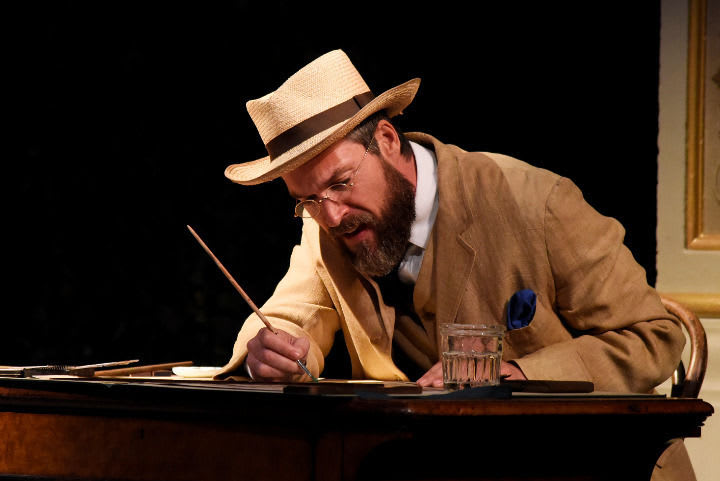 The misery Chekhov's Uncle Vanya traditionally wrings from the boredom and isolation of rural life is undermined in this new adaptation by David Hare. From looking into the claustrophobic living area, at the end of the first act, perspective shifts outwards towards the horizon, affording a view of such tranquillity that any flagging human heart would surely be stirred. Yet, although some of his decisions as director may be questionable, Rupert Everett's impassioned performance in the title role is fascinating to watch.
His Vanya seems set apart from his peers, vital and imposing with a generous moustache and dark belted tunic. By all appearances a man of great appetites, it's unlikely he would be a stickler for sensible routine, even if he has been worn down by years of conformity. Still, the play's beginning finds him drunkenly collapsing on a makeshift bed, exhausted by the demands of entertaining his brother-in-law Professor Serebryakov, who is visiting with his beautiful new young wife Yelena.
Everett's interpretation mines a self-deprecating humour in the misery of his situation, railing against Serebryakov's professional mediocrity as an 'artistic bed-blocker' for more talented candidates, wondering at his appeal to the women who flock to him despite his age and self-obsessed ill-health. This is a Vanya heart-achingly in love with Yelena and despairing in his soliloquy at the futility of his life of hard work and many squandered opportunities.
The trouble is that Everett takes up so much of the oxygen that the other characters in this two-hour adaptation often have little room to breathe. At times they appear stilted and conventional where Vanya is all whirlwind fluidity—they could almost be acting in a different play.
Still there are strong performances from fine actors here, that deserve more of a chance to develop: Katherine Parkinson is an interesting and dutiful Sonya, fiercely intelligent, witty but wistful in her unrequited love—how you wish that, like Jane Eyre, she could loosen herself from the ensnaring net. John Light, whose injury during previews means he is performing with a crutch, inhabits Doctor Astrov's conflicts and obsessions, bringing out a remarkably far-sighted preoccupation with environmental ruin, yet the torture of his soul seems underplayed when compared to Vanya.
Clémence Poésy's portrayal of Yelena is more self-confident than languid, though as her most prominent attribute is her beauty and her role to be a catalyst for change, Hare's adaptation allows her little agency. The shattering moment when her husband refuses her dearest wish to play the piano is almost thrown away.
Charles Quiggin's beautiful set of gauze curtains, leafy walls and hanging foliage swaying in the breeze, combined with ferocious storms and delicate snow, artfully suggests the inevitable passage of time. But the inward-looking tedium of routine central to Chekhov's portrayal of Russian country life falls away; even the ever-present samovar, though a pointer to daily ennui, feels familiarly comforting and the ethereal landscape does little to reinforce the mournfulness. There is no hint of peasant-filled hovels or the unrest discussed in the text to spoil the view.
Don't expect a cohesive directorial vision or fresh insight into Chekhovian themes in this production of Uncle Vanya, go instead for a mesmerising, mercurial central performance and a glimpse of ideas that strive but never quite achieve their potential.
Reviewer: Claire Hayes