Uncle Vanya
Anton Chekhov, adapted by David Mamet from an English translation by Vlada Chernomirdik
Wilton's Music Hall
(2007)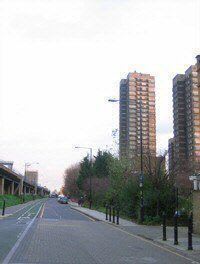 The sound of classical overtures may well have reverberated in the Wilton's Music Hall a mere year before Anton Chekhov was born. Today, in the long shadow cast by an notable past, the Hall provides an inspiring setting for this fabulous production of Uncle Vanya.
Mamet's adaptation of the play infuses its very own music into Chekhov's dialogue and monologues and effortlessly imports the play into the twenty-first century.
The large stage provides a sort of an open-plan interior, where the front extension of the stage has a few chairs and a single round table. Some steps lead up to the backdrop of the adjacent elevated stage, which appears as a distant room where discarded furniture and household items are abandoned. The overall impact of this layout is of a large yet intimate space. All characters are dressed casually and none is stooping to demonstrate old age, not even the revered retired moaner, Professor Serebryakov.
In this adaptation, Philip Voss's superbly acted Professor Serebryakov, is a fierce old man. Despite his ceaseless whingeing about his gout and numerous other ailments, his voice thunders and he commands presence and respect. The estate is his and there is no question in his mind that they are all are there to serve him and dance attendance on his every whim. But soon age turn to rage. Not only is his ailing body a miserable reminder of old age, but the presence of his young beautiful wife, Yelena, evokes in him further self pity.
Yelena is exquisitely performed by Rachael Stirling. She appears in a hugging, knee-length black dress and in black tights with matching shoes, an outfit that emphasises her elegance, youth and feminine curves, all of which enhance her seductive beauty. Visually she is the still centre of the play in this production, while all the other main characters gravitate around her.
Her step-daughter, Sonya, exquisitely performed by Catherine Cusack, turns to Yelena for advice and guidance. Sonya is hopelessly in love with Dr. Astrov who, she admits, barely even notices her. Yelena offers to assist in finding out what Dr. Astrov feels about Sonya, a task that was accomplished but not without a momentary lapse when she find herself in his arms.
Vonitsky, known to Sonya as UncleVanya, is impressively performed by Colin Stinton. He is in love with Yelena. Her rejection of his advances coupled with the fact that she is married to Professor Serebryakov , the 'dull old stick, the scholarly dried fish' for whose benefit he laboured all his working life, punctuates his strong sense of a wasted life.
Ronan Vibert's Astrov is a boyish performance. His interest in people is limited as he admits when intoxicated: 'I could never become fond of another human being'. He is indifferent to Sonya but drawn to Yelena. By his own admission this attraction has the mark of desire rather than love or affection. Astrov's main passion is preserving the woods. He is an environmentalist and his lines strike a surprisingly modern chord. Yelena provides him with the platform to air those views.
The minor roles in the play, Mariya, the Professor's mother-in-law of his first marriage ( Lucinda Curtis) and Marina, the old nurse (Marlene Sidaway) are impressively acted. Last but not least, Ilya, the impoverished landowner, is humorously performed by Michael Gunn.
Chekov's comic ironies are not lost on Hugh Fraser, the director, and find a proper outlet in this production. Mimed gestures and inspired delivery encourages the audience to capture the comic elements in the tragic existence of characters where each realises, in a different way that his /her life may have been wasted.
This is a superb production of a brilliant play in a unique venue. A must see!
Reviewer: Rivka Jacobson