The Unconquered
Torbin Betts
Stellar Quines Theatre Company
"Brits Off Broadway" Festival 59E59 Theatre, New York City
(2008)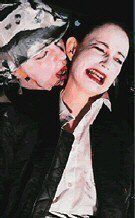 Our former Edinburgh reviewer, Rachel Lynn Brody, has moved back to the United States and is now giving us the occasional taste of US theatre.
When Torbin Betts' The Unconquered premiered at St. Andrews' Byre Theatre, it was strong work. Director Muriel Romanes and her cast dealt audiences a blow with Betts' poetic, rhythmic language as they took us on a trip to a not-so-fantastic world where rebels overthrow a government only to be crushed by a freedom-loving 'outside world,' shown through the perspective of a rhetoric-spouting middle-class punk girl and her happy-with-the-status-quo parents.
With a new cast, playing through 18th May at 59E59, The Unconquered is even sharper. Humor is teased gently from even the most macabre of situations, and there are moments where audience members are likely to recognize parts of themselves and their relationships to their own family members which they might not find altogether comfortable.
The Unconquered has played in a variety of spaces during its production life, and it was interesting to see how the piece changed when seen in the intimate space of 59E59's B theatre, as opposed to the rather more spacious space at the Byre. In the smaller space, the outrage of Nicola Harrison's Girl is palpable, as is the depth of her frustration with her mother (Alexandra Mathie) and father's (Neil McKinven) resolute dedication to their pursuit of creature comforts at any cost.
Parallels to reality, which were so rife at the time of the play's premiere, are still relevant and engaging. The play is set in a world that is recognizable and chillingly comforting (if such a thing can be said to exist), but when the soldier (Neal Barry) begins to start spouting the rhetoric of the invaders, the echoes of US and UK military PR is unmistakable.
While audiences at 59E59 skewed decisively older than one would expect for such an uncomfortable work, the ideas and stories in Bett's work are universal.
V Mitchell reviewed the original production when it toured to South Shields in 2007
Reviewer: Rachel Lynn Brody