Under Milk Wood
Dylan Thomas (with additional material by Siân Owen)
National Theatre
Olivier Theatre
–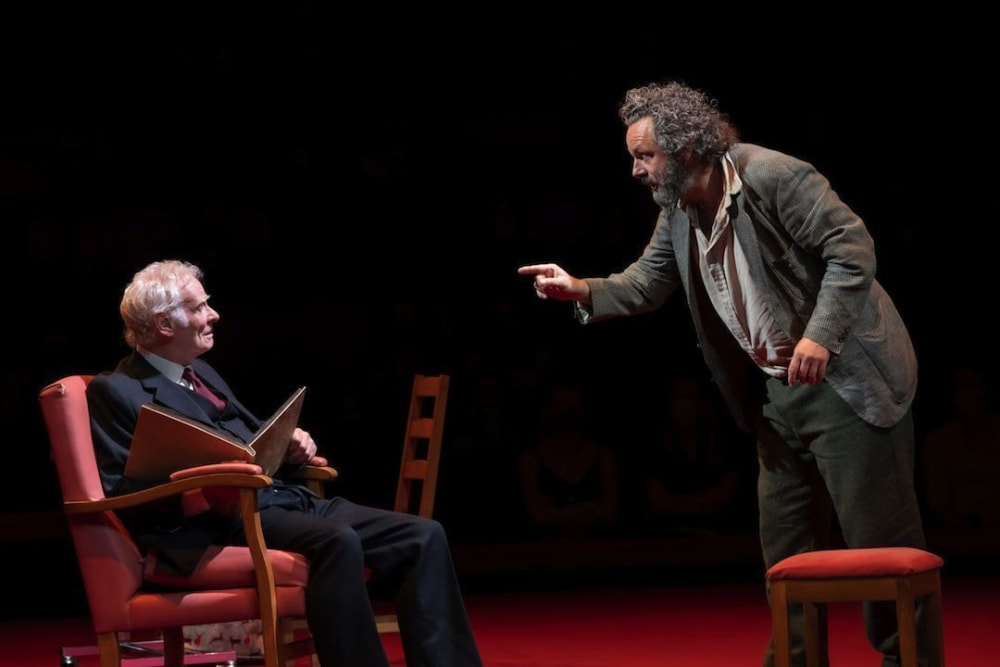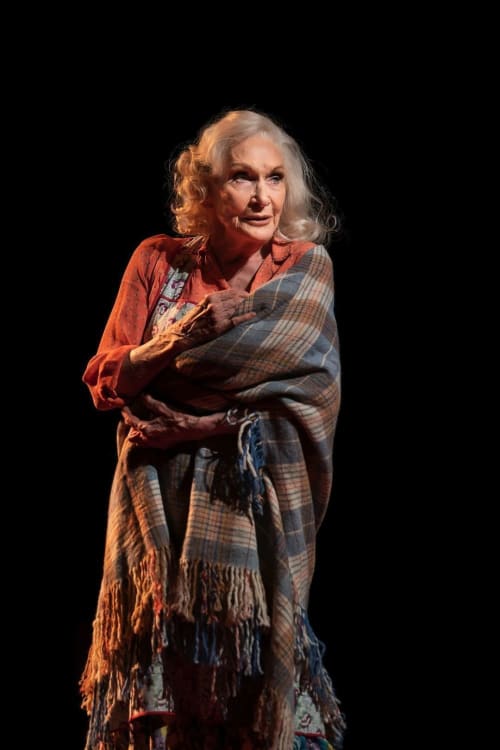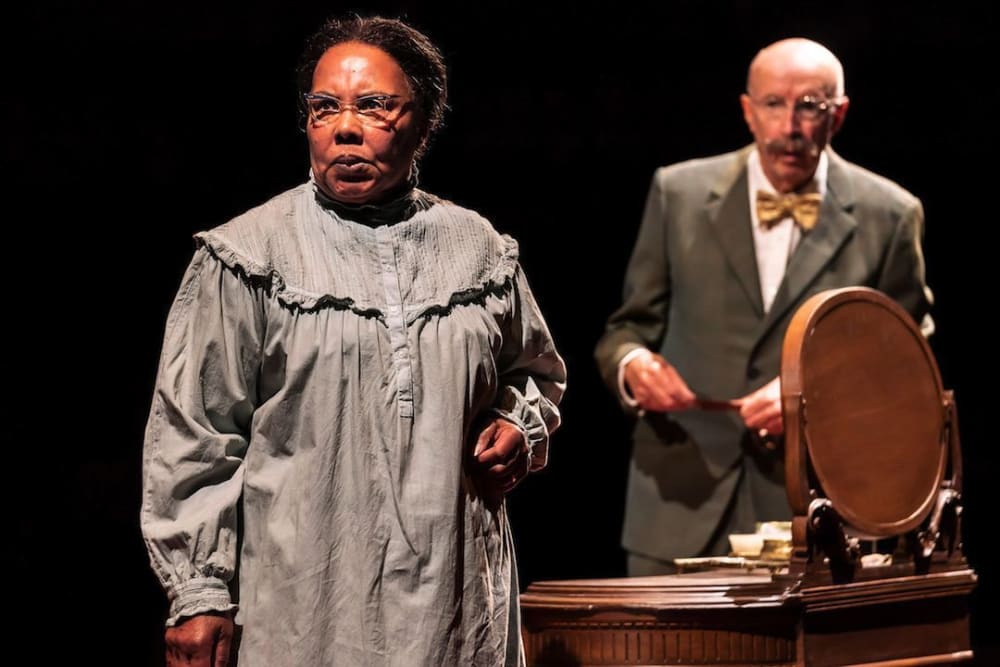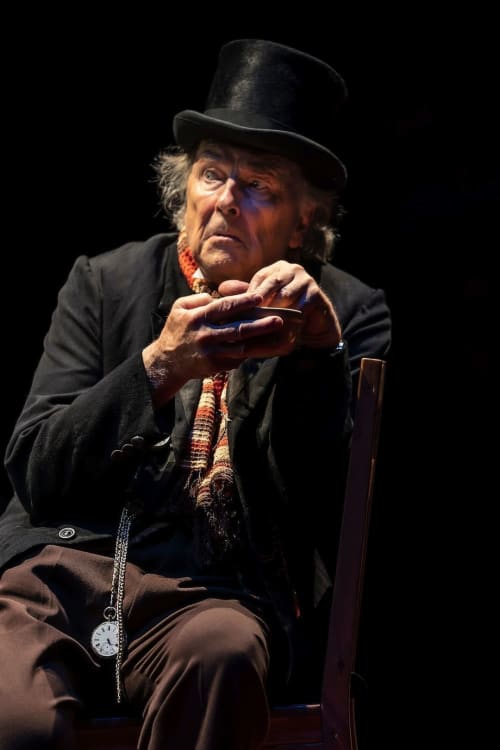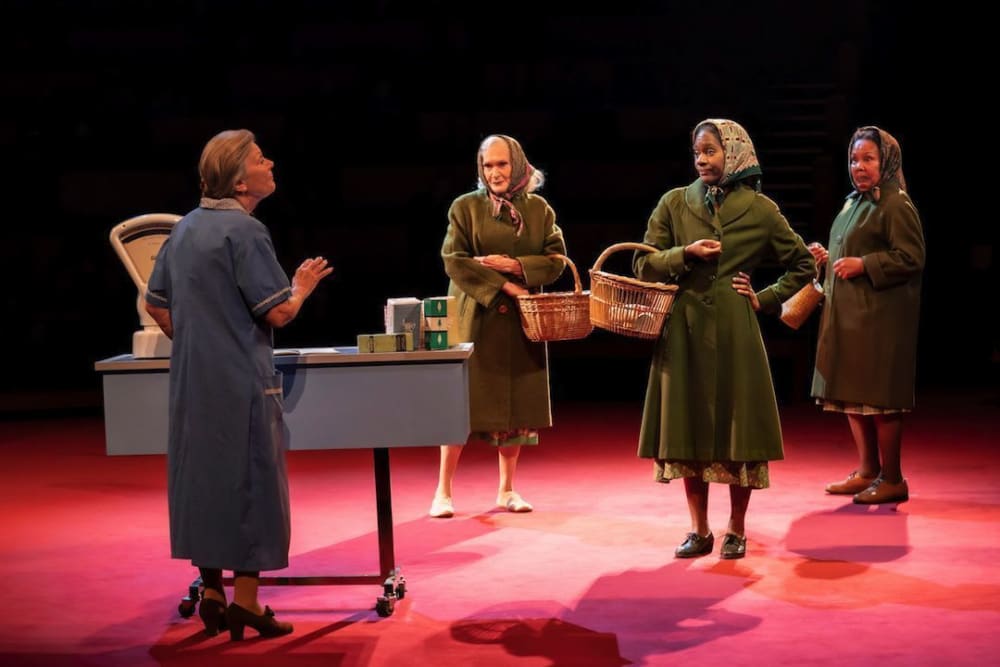 When Dylan Thomas's "play for voices" was first broadcast on the BBC Third Programme in 1954, the world was a different one but even then, the imaginary Welsh coastal village of Llareggub (bugger all backwards) it depicts looked back to a pre-war past or before that, though one that its audience could connect with.
Perhaps that's not so easy today. Perhaps that is why this production chooses to frame this glimpse into the secrets and lives of its villagers by setting it all in a care home where Michael Sheen's Owain Jenkins comes, after long absence, to visit his dementia suffering dad Richard and the narration of Milk Wood becomes his attempt to waken his father's memories and restore him perhaps to himself.
The play includes frequent reminders that only you are enabled to eavesdrop and listen-in to these revelations, which isn't quite the experience of an in-the-round, socially distanced audience, so this device makes Karl Johnson's Richard Jenkins that privileged listener. The effect of what he hears and any changes in his relationship with his son becomes a parallel plot to the story of Llareggub.
Is there a direct link here? Are we to suppose Thomas's Rev Eli Jenkins is Richard's father? While is it only incidental that Jenkins was the family name of Richard Burton so closely linked with the play as the BBC's first narrator?
The care home morning shuffling and pill-taking and Owain's confrontation with the matron go on too long before Sheen launches into Thomas's text: "To begin at the beginning" of his language-rich picture: "starless and bible-black, the cobble streets silent and the hunched, courters' and rabbits' wood limping invisible down to the sloeblack, slow, black, crowblack, fishingboatbobbing sea."
The narration was originally split between two voices, but Sheen takes it all on and for an hour and three quarters sustains a remarkable performance that simultaneously presents the village and interacts with his father and even, briefly, with a swig from his hip flask, becomes one of the revellers in the Sailor's Arms, Llareggub's inn. It is a bravura performance, lacking the intimacy of radio, but reaching out to the audience.
As Sheen's Owain introduces each new character, one of the home's residents is there, just at the right time, to become them; Lyndsey Turner's beautifully timed production is full of delightful cameos.
There is Anthony O'Donnell's blind Captain Cat (like the radio listener unseeing) but recognizing the sound of every child in the village. He remembers lost shipmates and especially his past love Rosie (Kezrena James). Mrs Ogmore-Pritchard (Susan Brown) is still giving orders to her two dead husbands. Michael Elwyn is Lord Cutglass, with his house full of clocks all set to different times, and draper Mog Edwards, whose romance with Myfanwy Price (Gaynor Morgan Rees) goes on only in letters and their dreams.
Mr and Mrs Pugh (Alan David and Cleo Sylvestre) are a picture of polite respectability but they eye each other acidly at opposite ends of the dinner table as she remarks on his manners and he thinks about poisons, and there are many more whose secrets and dreams we are let into but especially Siân Phillips's unmarried Polly Garter, her dreams full of her many babies, poignantly singing of lost loves, who always thinks "as we tumble into bed, of Little Willie Wee, who's dead, dead, dead".
Though the company includes some of our most senior actors, they are not just playing geriatrics but shedding years to be lively children or becoming a herd of cows in a production that is full of invention. Merle Hansel's design, with its individual items trundled on as needed, even manages a sleight of hand to make a table fit three places and Tim Lutkin's lighting can make the care home disappear and become Thomas's dream world.
Reviewer: Howard Loxton