Under Siege
Yang Liping
Yunnan Yang Liping Arts & Culture Co Ltd
Sadler's Wells Theatre
–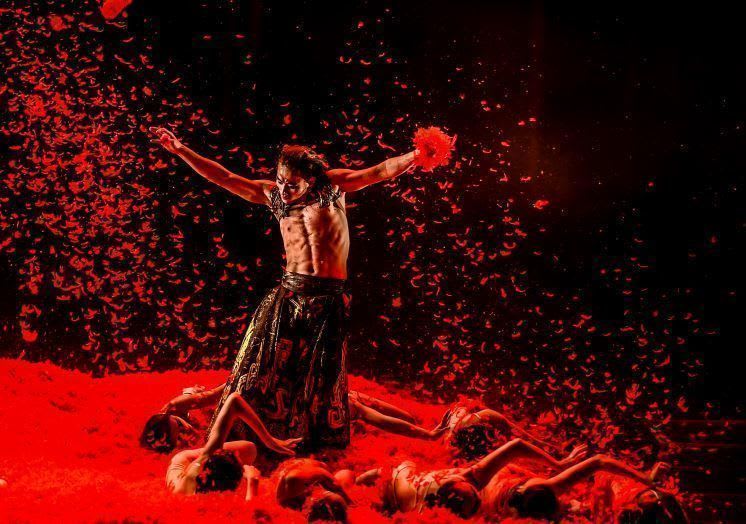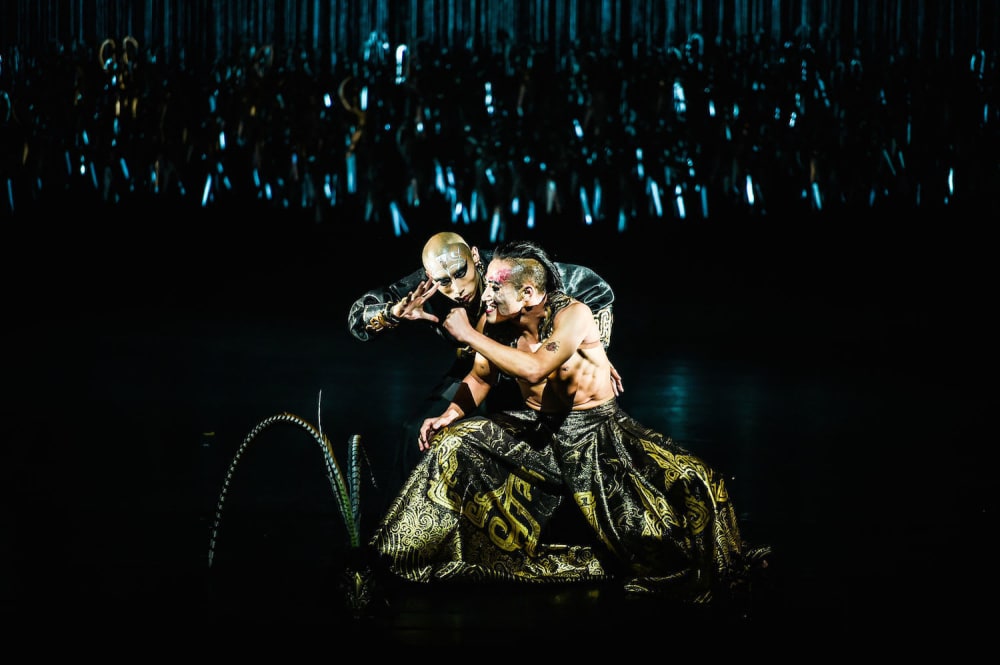 This spectacular dance work, here getting its European première, centres on the battle in 202 BC, after the fall of the Qin Emperor, in which He Shang, a prominent warlord who ruled large parts of China was beaten by challenger Liu Bang who then became Emperor, so founding the Han dynasty.
It a very famous episode in Chinese history and one already familiar to westerners from the story of Farewell My Concubine (which the China National Peking Opera Company performed here last year) and the plot of the opera in Chen Kaige's movie of the same name. Here it is not presented as a piece of simple narration but rather as a symbol of all struggle, passion and sacrifice told in a thrilling physical manner.
The setting consists of hundreds, perhaps thousands of pairs of scissors that hang overhead. They don't just form simple borders but can be raised and lowered and shaped to form arches and can have an ominous quiver. Scissors may seem safely domestic but here they are symbolic of conflict and especially the crossed swords of the Xiang Hu and Liu Bang.
Downstage right is a beautiful woman surrounded by piles of paper. Wang Yan wields a pair of scissors. From the beginning and right through the action she cuts paper into the Chinese characters that spell scene titles and names of participants and holds them up to help identification (there are English translations on screens when most needed).
A musician plays a Chinese lute upstage, another later joins her (Du Yichen and Feng Xiaofan) but the lights are still up: it is an overture, followed by an audience announcement. Only then do gongs, percussion and shrill wind dramatically open the action as the scissors descend from above and the white clad figure of Qiu Jirong appears as the statesman Xiao He who narrates the story in the half spoken, half sung style of Peking Opera that swoops up to sound like birds cawing and complex, often violent gesture in martial arts language.
There is no translation of his narration and an outline synopsis doesn't help much but this has no effect on the impact of these dazzling dancers and the choreography by Yang Liping and her colleagues which draws on Peking Opera somersaulting acrobatics and circling running, Kung Fu and Tai Chi (those carefully controlled movements becoming real fighting gestures), hip hop and contemporary dance.
This is dance that is more abstract than narrative, capturing states of mind and emotion or particular climatic moments rather than recounting plot. You just need to know that it is inspired by a famous love story and a climactic battle that changed Chinese history.
The huge figure of a Chinese general, identified by the flags radiating from his shoulders, towers upstage, from it emerges He Shang's hieratically elegant Xiang Yu.
Challenger Liu Bang (Gong Zhonghui) first appears bare-chested in a fretted gold helmet mask; removal reveals a red and yellow marked forehead, clearly symbolic, and his sometimes grinning expression and some of his movement seem to echo traditional Monkey King behaviour.
The beloved concubine is introduced with her own solo, sinuous and sexy with balletic ally curved instep and lovely extensions. There are women in the company, usually dressed to be indistinguishable from the men and given the same virile choreography, but Yu Ji is danced by a man (with bare chest and tight flesh coloured pants that is very obvious), but the performance is exquisitely feminine. Hu Shenyuan is cast in the Opera tradition, with his contemporary nakedness giving adding extreme vulnerability. Later, there is a stunning duet between her and Xiang Yu that is sexually explicit but overwhelmingly romantic.
Han Xin, a general who changes sides, is performed by two dancers, constantly interacting with each other, controlling the other's action or emerging from beneath their skirts. Pan Yu, white-clothed and white-faced, plays one aspect, Gao Chen, entirely black except for his eyes, plays the other: a skilful partnership as they wrestle for dominance.
All these are fantastic dancers displaying great physical prowess with spectacular leaps, magnificent timing and passionate feeling but that describes the whole company who deliver non-stop, undiluted energy. The dramatic music of German-born Lao Luo is a driving force; Tim Yip's design (taking inspiration from artist Beili Liu's scissors installation) and the lighting of Lea Xiao Lihe and Fabiana Piccioli are wonderfully effective. When the final battle arrives, a bloodbath of red feathers through which bodies roll and writhe, the image does become repetitious but still achieves effective climax to a gripping performance.
At two hours without an interval, it may be a challenge to those with short attention spans or weak bladders but go first, unlike the guy who had to push past me at one key moment. The audience response suggested they were avid for more.
Reviewer: Howard Loxton