Under the Skin
Yonatan Calderon
Tik-sho-ret Theatre Company
Old Red Lion Theatre
–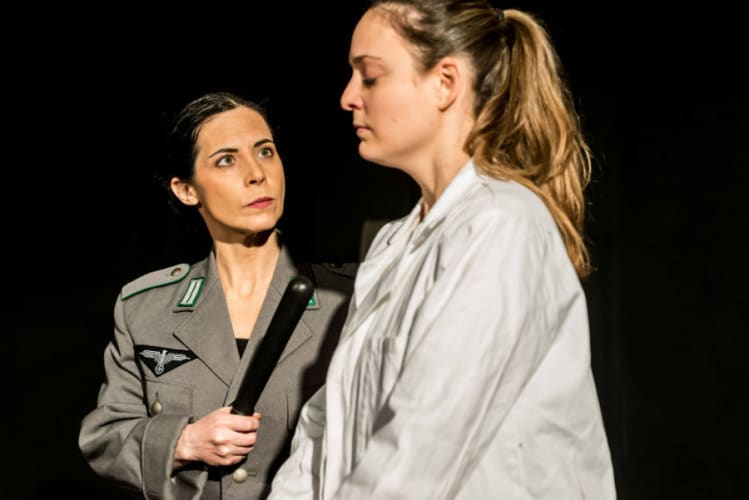 In 1945, the German SS camp guard Anneliese (Ilsa) Kohlmann, working at the Neuengamme and Bergen-Belsen concentration camps, was tried and found guilty of war crimes.
Drawing on the testimony of survivors and the court record, Yonatan Calderon has created a fictional account of a relationship between Ilsa and a prisoner in the camps, Lotte Rosner, a former ballet dancer. It is given a clear, well-performed production by Tik-sho-ret Theatre Company.
The fifty-five-minute play switches continuously back and forth between the death camps of the 1940s and Tel Aviv in 1991, with Adi Loya playing both Ilsa and the older Lotte who goes under the name of Charlotte Brod.
We arrive in the performance space to the sound of 1930s dance music and the sight of a woman actor sitting pensively in an easy chair.
As the lights dim, the music shifts to a moving Yiddish lullaby, "Raisins and Almonds", and the actors briefly enact a graceful ballet.
These are fragments of Charlotte's memories of a past that she admits still haunt her and include the moment in a concentration camp when, as she collapsed, another prisoner held her and sang the lullaby.
A knock on the door of her Tel Aviv flat in 1991 returns her to the present and the visit of a woman Kirsten Eberhardt (Natasha Lanceley who also plays the younger Lotte) claiming to be a journalist covering the war with Iraq.
However, it quickly becomes clear that her interest is the relationship in the German concentration camp that Charlotte had with Ilsa, and as they talk there are flashbacks to those encounters.
Lotte is shown working with Ida Berman (Batel Israel) when the guard Ilsa asks for volunteers to feed the pigs and, in refusing to accept Lottie as a volunteer, effectively saves her life.
She also later doesn't reveal to the authorities that Ida has stolen material from her job in the camp to make ballet shoes for Lotte.
There is clearly a developing relationship between Lotte and Ilsa but we see little more than a moment when they touch hands.
Things Ida says to Lotte remind us of the larger criticisms of collaboration that can be made of Lotte's behaviour and the reasons Lotte will always want to be silent about her true feelings.
But the play encourages understanding and compassion, avoids melodrama and gives a low-key, minimal sense of concentration camp cruelties though there are moments when Ilsa is shown to be part of an organisation responsible for the most terrible actions.
Ilsa's gestures of humanity amidst the horror may be little more than an exercise in opportunist sexual exploitation but that can still leave Lotte troubled by a complicated set of emotions.
Under the Skin gives us a glimpse of the secret wounds of this Holocaust survivor that can only with great difficulty ever be spoken aloud.
Reviewer: Keith Mckenna