Under Three Moons
Daniel Kanaber
Box of Tricks
The Lowry
–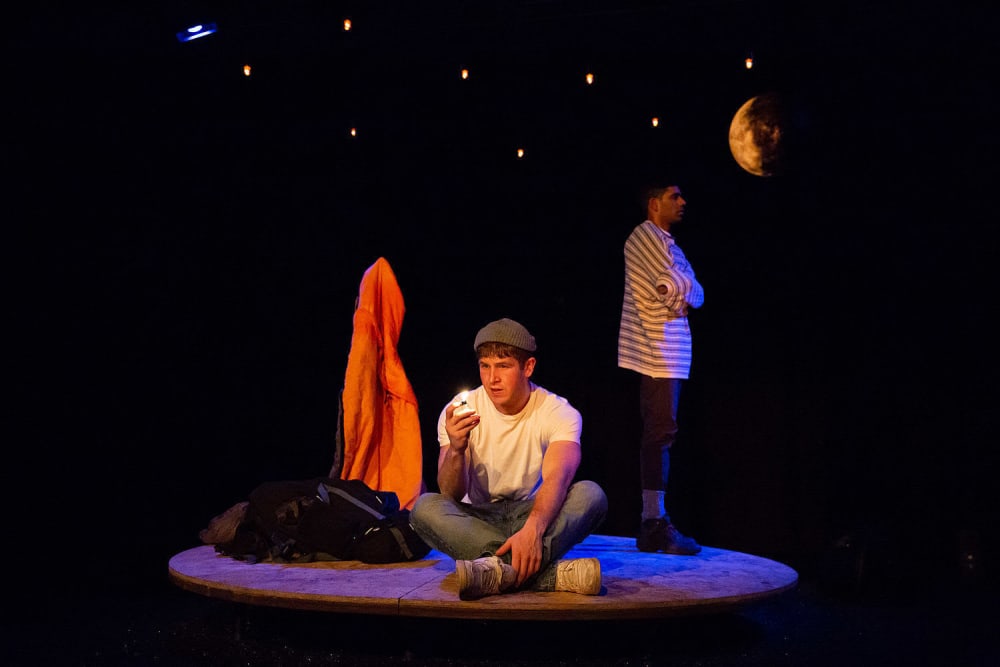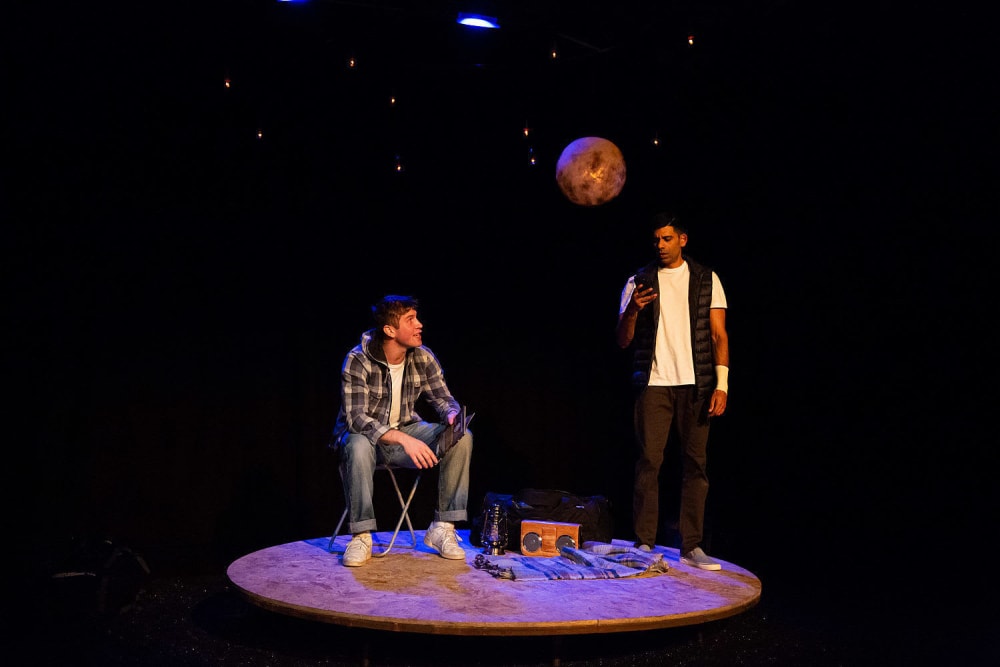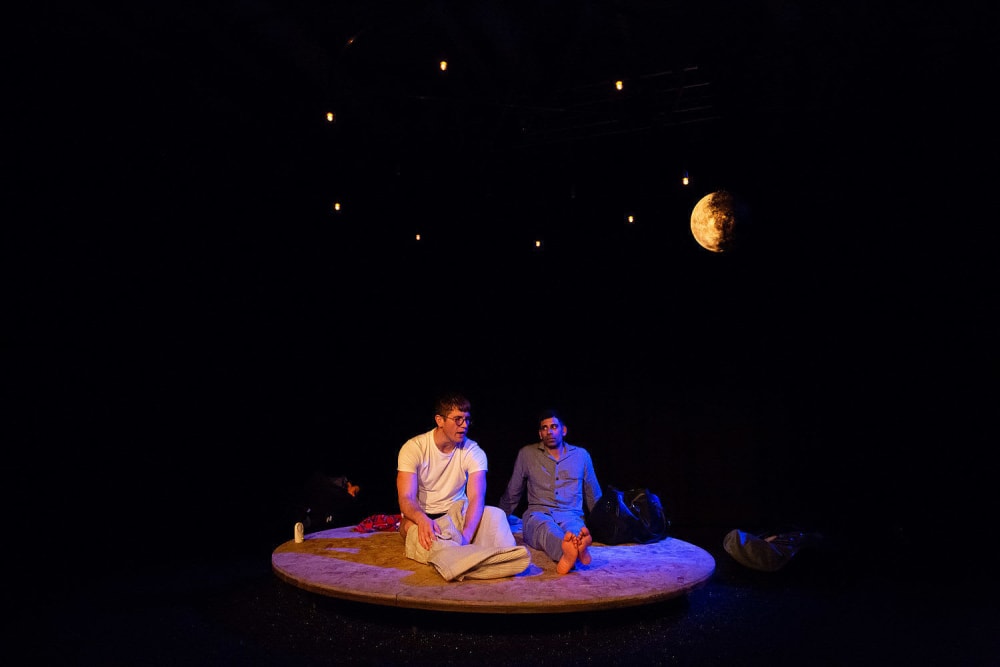 The latest new play première from Box of Tricks examines the friendship of two men over a period of twenty years, but writer Daniel Kanaber has not jumped onto any fashionable trends or causes by making the masculinity 'toxic' (although there is a mention of some allegations against Paul's father) or the encounters 'homoerotic'—it's just the story of two guys.
The play takes place over three short acts, each ten years on from the previous, each at night and therefore under a different moon. In fact in the script, which doubles as a programme, each is named after a phase of the moon—act I is "Crescent", act II is "Harvest" and act III is "Apogee and Perigee"—although these titles do not appear on stage.
The first scene is in 1999 in France where Mike (Kyle Rowe) and Paul (Darren Kuppan) are part of a camping trip, but there has been some kind of bullying incident against Paul. Mike was involved but is now trying to make amends, but Paul, who seems to be from a more affluent family but is a bit of an outcast at school who struggles to make friends, is trying to get rid of him, even offering to pay him to go away—but Mike isn't going anywhere. By the end, there is some sort of an uneasy friendship between them.
And this is the template for the other two acts as well: beginning with hostility and ending with a truce. The second scene in 2009 is a surfing trip to Pembrokeshire organised for the two of them by Mike, but I only got from reading the stage directions in the script afterwards that they were in "a rickety beach shack, designed for day stayers not anyone to sleep in overnight", which would explain why they were listening out for the security guard passing. Paul was looking for drugs and parties, but Mike is content to soak up the atmosphere of a place he loved as a child. The third is (again from the script) in a small child's bedroom (Mike's child) in Sale Moor in Manchester in 2019, when Paul needs a place to stay before his flight back to his current home in the US.
As Paul gets more successful (i.e. rich) in his professional life, his personal life appears to be getting more chaotic, whereas Mike is quietly getting on with things, studying for a PhD in act II and settled with a family in act III. There are some nice moments between the two men over the years, but I still can't be sure why they were friends for twenty years as they never really seem to like one another and don't have enough in common to speak about much apart from their families.
The problem I have with it—and this may just be me—was that there is too much that is too vague, especially when they are talking about people whom we never see. It's as if Kanaber is trying too hard to avoid the common mistake of having characters tell one another things they already know for the audience's benefit and instead hasn't given enough detail for us to piece together the back-stories of the characters. There are frequent mentions of family members, but I can't remember which uncle or mother was which or how the stories of illnesses and allegations and so on actually turned out. The clues are dotted around, but it seems as though the canvas isn't big enough for the impressionistic details to add up to a clear picture.
Adam Quayle's production with design by Katie Scott and lighting design by Louise Anderson is visually striking but simple and unobtrusive, with some well-choreographed transitions between scenes to avoid blackouts (movement director is Luke Rigg; music composed by Chris Hope). Rowe and Kuppan are perfect in the two roles, showing some good comic timing, and create that uneasy bond between the two characters convincingly, but there are moments later on that are a bit too slow and ponderous.
Kanaber paints an interesting portrait of two convincing, contrasting characters that produces moments of tenderness and of humour that work well, but I would have liked a bit more clarity in the storytelling to guide me through the play.
Reviewer: David Chadderton