Underneath a Magical Moon
Mike Kenny
Tutti Frutti and York Theatre Royal
York Theatre Royal
–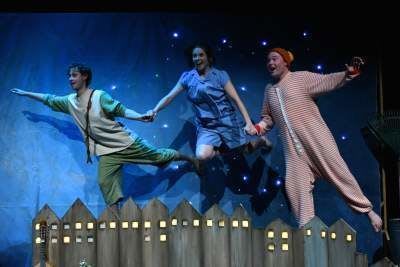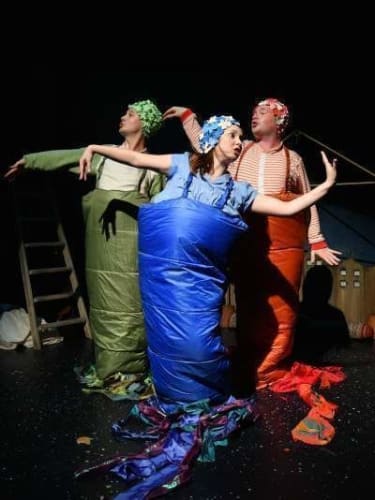 Since its first performance in 1904, Peter Pan has been a constant presence in our lives and the subject of innumerable adaptations and reinventions. Its inclusion in Guardian critic Michael Billington's recent list of the 101 greatest plays ever written attests to it enduring popularity as a family entertainment.
In Tutti Frutti's latest production, Olivier Award-winning playwright Mike Kenny reimagines J M Barrie's masterpiece for the 21st century by framing the action from Wendy's perspective—much like Ella Hickson's Wendy and Peter Pan (2013) for the RSC—and setting it in the present day.
Whilst camping in their back garden, Wendy (Grace Lancaster) tells the story of Peter Pan to her younger brothers, John (Chris Draper) and Michael (Jack Brett). What follows is an abbreviated version of Barrie's classic tale, in which most of the familiar elements—Tinker Bell, the Lost Boys, Captain Hook and his gang of pirates—are acted out in little over an hour. Many people will be glad to hear that the Redskins, the most un-PC element of the original story, have been removed altogether.
Director Wendy Harris makes ingenious use of props to recreate Neverland within the limited space of the York Theatre Royal studio. Hook's pirate ship, for example, is a wheelbarrow with a tea towel sail, whereas the crocodile is brought to life with a garden rake. Tinker Bell may only be a green light, but the excellent ensemble playing makes her feel like a real presence on the stage. Kate Bunce's striking set design, filled with wonderful touches, provides a versatile playground for the performers.
Over the years, Tutti Frutti has gained a reputation for creating physically and musically imaginative children's theatre, and Underneath a Magical Moon proves to be no exception. Holly Irving's excellent choreography imbues the show with dynamism and Ivan Stott's splendid score is filled with catchy, melodious tunes. The highlight of the evening was the mermaids' song, in which the actors—dressed in makeshift fishtails and swimming caps—danced and sang in the style of a Motown girl band.
Each of the three multi-talented performers rises to the challenges of the piece—acting, singing, dancing and playing a range of instruments with great skill and panache.
Grace Lancaster, in her professional debut, imbues Wendy with just the right amount of maternal warmth, but also makes her a capable and resourceful heroine to boot. Chris Draper and Jack Brett are suitably adolescent as Wendy's younger brothers, but are even better in their other roles. As Peter Pan, Brett captures the cocky bravado of Barrie's immortal hero, and Draper's rapping Captain Hook is pleasingly different from other incarnations of the character we have seen on stage and screen.
Every aspect of Underneath a Magical Moon has been lovingly crafted with the utmost care, and I have no doubt that the show will delight children and adults in equal measure.
Reviewer: James Ballands