The Unexpected Guest
Agatha Christie
The Agatha Christie Company
New Victoria Theatre, Woking, and touring
(2007)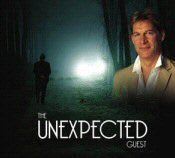 'Producer Bill Kenwright has joined forces with Agatha Christie Ltd to create a new touring theatre company with the exclusive right to present the original stage plays from the best-selling fiction author of all time, and Matthew Prichard, chairman of the company, is delighted that his grandmother's work "will be presented in the high quality productions which they deserve"' was how I began my review of their inaugural production, The Hollow, last year; and high quality it certainly was with excellent staging and performances all round. After such a successful beginning I was looking forward to another treat, but this time I was sadly disappointed. The picture on the front of stage curtain of a ghostly house and windswept tree promised a thriller, but this was the scariest part of the show – and that includes the gunshots.
Christie's work was not just whodunits, but worked a great deal on characterisation, building up personalities that we could believe in and care about, but I'm afraid that no one here made me care whether or not they had committed murder – or indeed whether they lived or died.
The director and designer are the same ones as in The Hollow (Joe Harmston and Simon Scullion) but there was none of the previous tension or intrigue in this production and, although there were a few laughs, they seemed to come in the wrong places. The set is minimal – simply white curtaining, a few steps, and little more than a desk and wheelchair as furnishings. Perhaps this is part of the problem as, with a great deal of dialogue, the cast spent most of the time standing and talking. They did their best, but the effect was static and lifeless.
An attempt was made to inject some liveliness into the proceedings with African drum beats and the sudden appearance of a wall frieze depicting lions, rhinoceros and masks – the murdered man (or course there is always a murder) having spent time in Kenya as a hunter - but even this just seemed superfluous to the plot.
The first character to appear credible was Frazer Hines as Inspector Thomas. He had a little more action as he was looking for clues. Eugene Washington as male nurse Angell displayed some low-key menace in is his attempt at blackmail and I thought that here we were getting into the heart of the play, but the effect soon fizzled out. Dean Gaffney came to life in act two as the simple minded but surprisingly dangerous young man.
Overall – very disappointing, but last year's offering was such a huge success that I'm still looking forward to the next one.
Touring to Wolverhampton, Malvern and Aberdeen.
This review was first published in Theatreworld Internet Magazine.
John Thaxter reviewed this production at Richmond and Gail-Nina Anderson in Newcastle
Reviewer: Sheila Connor