The Unimportant History of Britain
Robert Blackwood and Nick Cowell
Presented by Interrupt the Routine
Lion and Unicorn Theatre
(2009)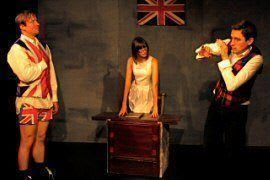 Blackwood and Cowell are a clever couple who perform their own script, joined by Polly Eachus, giving it a relaxed zaniness that delighted its first night audience. From Blake/Parry Jerusalem to Land of Hope and Glory this is a very British piece with a very British sense of humour, though from the reactions of party of Americans in the audience you don't have to be well-versed in Our Island Story to enjoy it.
It is essentially a succession of sketches, historical vignettes, linked by what looks like brilliant ad-lib of the kind that can only be achieved when it is meticulously rehearsed - though full credit to the performers and director Martin Cort that it seems so apparently spontaneous. It is not entirely unimportant history - in one episode we get Henry VIII not only getting rid of wives but changing British history with the creation of the Church of England and here it's typical of the writers that they have noticed that of Henry's ministers and advisers Wolsey, More, Cranmer and Cromwell, were called Thomas - and when all played by the same actor in quick succession that's a gift to comedy - and by the way, it's a Wild West king with a Chicano Katherine..
The Romans and the Victorian get totally discarded and, apart from Hastings and the Bayeux tapestry (where they follow the old interpretation that makes it Harold with the arrow in his eye), there's not much else you'll remember from the history books and the lesser figures and 'unimportant' incidents they celebrate are unlikely to be unearthed by the most diligent researcher unless given access to the dramatist's imagination. There's Geoffrey Chaucer's brother whose written a three-volume epic set in Hell, Purgatory and Paradise and is trying to place it with an agent, Horatio Nelson's doctor sibling who can't bear the mention of his brother's name, but has a very practical method of giving timid people confidence, and a nurse who works with Florence Nightingale and has a way with maggots.
Stonehenge becomes a crime scene and those stone working ancestors developing a prototype square get a juicy commission for a huge round table. From answering William Blake's question 'And did those feet ?' by a 'walking-on-water' demonstration to the revelation that champagne was actually invented by the Cornish, this is a succession of wild imaginings that keeps on generating laughter.
The 20th-century is represented by a Just a Minute programme segment that features Winston Churchill, Joseph Stalin, Mahatma Ghandi and an invisible Harry Houdini who is shut up in a stone box, and a James Bond sequence - definitely Connery, Cowell has carefully studied the accent, and with Blackwood's Blofield stroking a tiny woolly leopard, their combined dialogue contrived to include the titles of all the Bond movies. My favourite item offered the two male actors as a pair of highland crones, their needles clacking away at both ends of the same piece of knitting. I found it hilarious and it is a perfect example of the way this material pushes things to the limit without quite going over the top.
It is a show still in need of a little fine tuning - but with comedy that can only come after its exposure to an audience. There are places where it can do with a little tightening but the performers and the director are I'm sure well aware of that and will learn from their audience's response. This is an entertainment totally without pretensions that displays a mix of writing and performing talent that makes me eager to see what this team do next.
At the Lion and Unicorn (Kentish Town) until 11th October
then 12th - 31st October 2009 at Above the Stag Theatre (Victoria)
Reviewer: Howard Loxton