Unknowing
Translation by David Parry, direction by Matthew Monaghan
Teatime Opera
Tristan Bates Theatre
–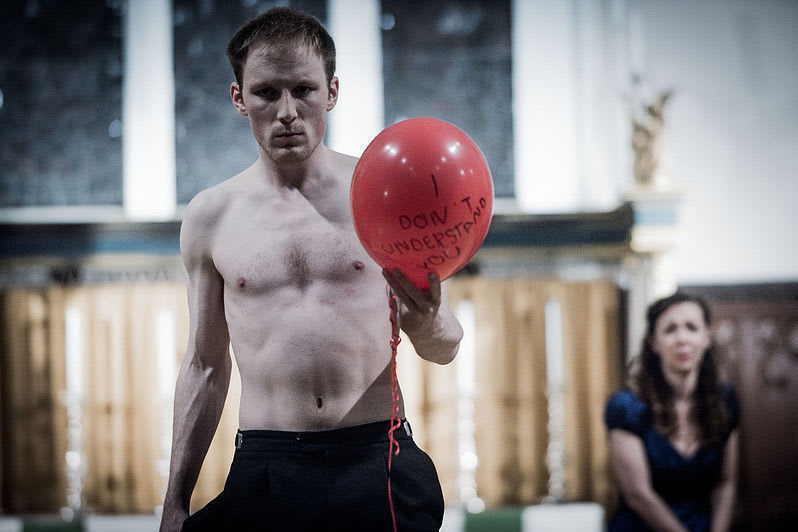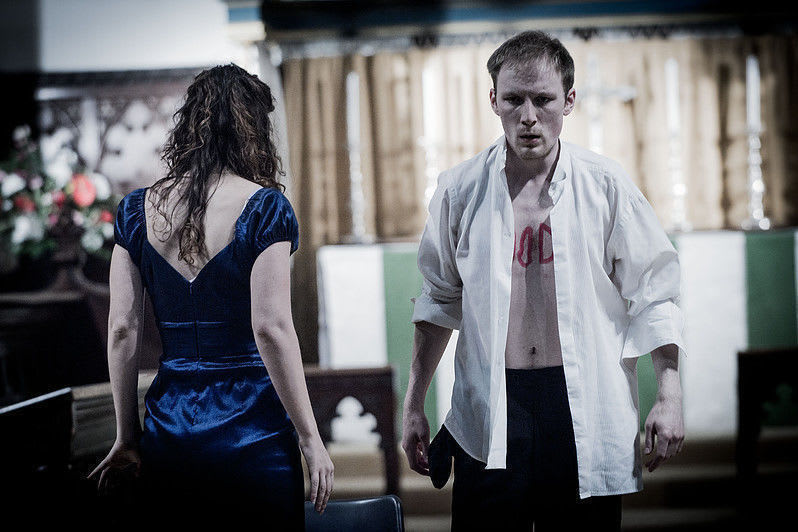 Unknowing is, in the words of its director Matthew Monaghan, "a poetic and theatrical meditation on what it means to be alive".
The words and music of Robert Schumann's two Romantic song-cycles, Dichterliebe and Frauenliebe und Leben, are performed by two characters, Him and Her, to enact a narrative which charts the lovers' progression from initial ecstasy, through conflict and confusion to disillusioned farewell.
Some wear their hearts on their sleeves, but Him (baritone David Jones) exhibits his soul on a suitcase containing emblems of his hopes and dreams. Wearing evening dress, seated at the centre of a bare black stage, he clutches a heart-emblazoned portmanteau to his chest. Alongside, a bright red balloon bobs and sways, but there is nothing festive or joyful about this upwards-striving flash of colour. As Him stretches out his hand, it eludes his touch.
Her (soprano Christine Cunnold) enters, masked, carrying her own crimson inflatable. A choreographed mime reveals tentative feelings which blossom from tender intimations to more robust expressions of desire. Yet, Him's fierce, anxious clasp of consummation seems fraught with dangerous doubts and desperate need.
Indeed, it is not long before the cracks begin to show. Communication is not simple: language and symbols fail. Him stands upon a chair and sings into a spangled microphone, to amplify the conviction of his urgent words, before flinging it aside in angry frustration. Miniature mannequins—"Ken and Barbie" in nuptial attire—perched upon the black-shrouded upright piano to the rear enact a fantasy of happiness and harmony. In anguish, Him takes large pebbles from a red rucksack and outlines a circle to protect their love, strewing red roses between the stones.
Unknowing contains no spoken text, but words are not absent. Him plasters himself with outsized Post-it notes declaring "She's a cheat" and, positioned on his bare chest, "Help me". Her slides off her black silk gloves and daubs her bare arms with marker-pen graffiti. The red balloons are conduits of meaning: Her's reassuring message "I still love you" is replaced by denial—"I don't understand you". Him seeks to evade rejection by hiding the rebuff with black tape. The marred balloons sink to the ground.
Aggression escalates. A balloon is violently punctured. The dolls are ripped apart, decapitated; the roses are viciously dead-headed. Her binds Him to a chair with the balloons' red ribbon.
When separation comes, Her packs the detritus of two lives into the rucksack and Him sets off on a journey, stumbling after a few steps. Schubert's winter wanderer seems to have intruded into Schumann's cycle.
Jones and Cunnold give strong, stirring performances. The physical theatre is raw and stylised and generally complements the musical discourse effectively and appropriately.
Schumann's cycles present considerable vocal challenges—technical and musical—and both performers gave competent accounts. Cunnold has a full, lyrical soprano with lots of layers and colours; she assuredly conveyed meaning through the musical line, though the range of her physical and facial gestures was more limited. But, then, Her undergoes little development of character with which to experiment.
Jones's baritone is more taxed at the top, and the pitch is not always true and consistent, but he uses his voice expressively—particularly in the light of the need to simultaneously act and surmount the vocal demands. Him, too, seemes defined by his distrust and disenchantment almost from the first. The Romantic sensibility of the German lied so often defines women as a destructive force and the poet's love as an abiding pain. Adoration is equalled, even expelled, by bitterness. Experiencing what Wordsworth described as the "Romantics' spontaneous overflow of powerful feelings"—a Romantic Agony—Jones at times strays towards self-indulgent self-pity, as Him recognises his own self-conscious illusions.
The texts have been translated from the original German by Olivier Award-winning translator and conductor David Parry and, on the whole, the performers' diction is good though inevitably some consonants and words are comprised by vocal necessities.
Unknowing is visceral and affecting. But it seems to me to contain too many layers of narrative: poetic, biographical, musical and dramatic.
The poems which form Adelbert von Chamisso's Frauenliebe und Leben of 1830 present a first-person account of a woman's love, from first meeting through marriage to her beloved's death and beyond. Schumann's choice of 8 poems was probably influenced by his failure to gain permission from his cherished Clara Wieck's father for the pair to marry.
Schumann's Dichterliebe sets 16 poems by Heinrich Heine in which requited love is repeatedly frustrated; the cycle was written in 1840 at a time when the composer was separated from Clara.
Schumann's music reveals his hyper-sensitivity to the affections of the poems and Richard Harker is an assured, sensitive accompanist. So great is the sophistication and expressive nuance of the piano's arguments that one might argue that these cycles are piano works with vocal accompaniment.
But, for all its immediacy, Unknowing tries to tell a story which Schumann has already told and which needs no further elaboration.
Reviewer: Claire Seymour