Unreal
Second Most Disappointing by Alison Carr
Double Nuts by Louide Gallagher
Mind Games by Joe McLaughlan Cloud Nine and the Customs House co-production The Customs House, South Shields
(2009)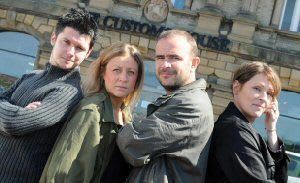 Unreal is the first fruit of a new three year new writing collaboration between North Tyneside's Cloud Nine theatre company and South Shields' Customs House, three new short plays by northern writers.
New writing - especially new writing which is limited geographically - is always a risky business, but Cloud Nine has considerably reduced the risk by being involved in the plays' development almost since the start. All three have been workshopped by the company and given script-in-hand performances (with the same director, Jackie Fielding) over a two year period before receiving this full-scale production. It's a process which has paid off handsomely, for, by last night's opening, each piece had clearly been refined, problems ironed out, characters well developed and dialogue tight and to the point.
They are performemed by cast of four - Christopher Connel (taking on this piece in the gap between playing in Pitmen Painters at the National and taking it on a national tour), Christina Berriman Dawson, Tracy Gillman and Louis Roberts.
First up is Alison Carr's Second Most Disappointing, set at the foot of the Angel of the North as newly remarried Alan (Connel) attempts to establish a relationship with teenage step-daughter Louise (Dawson). They are pushed into rather more honesty than either has expressed to date by the very enigmatic figure of Pamela (Gillman) who runs a kiosk and could be con-woman, angel, a figment of their imaginations, or all of these.
It's funny but very touching as Carr, deftly and with a light touch, reveals the layers of emotion felt by Alan and Louise. It requires sensitive playing on the part of the cast, for at times Alan and Louise verge on the stereotypical but never actually step over the edge, either in the writing or the playing.
What follows is almost a mini-play in itself. Rather than bring up the house lights as the stage crew change the set for the second play, Fielding has stage manager Martin Hogg make the changes under the direction of Pamela: a short but amusing interlude which enables the audience to remain focused rather than being distracted into the usual whispered conversations or straining to see what is happening through the semi-darkness. A nice touch.
Louise Gallagher's Double Nuts follows. There seems to be something in the theatrical zeitgeist at the moment which focuses on mental health issues. After Unlimited's The Moon The Moon, on tour at Northern Stage, and the North East Theatre Consortium's Queen Bee which premiered at the Customs House, now Gallagher's first play takes the same subject, approaching it from a different angle, of course.
Like the other two plays - in fact, one might say, like the other two sets of plays: the others in this programme and the two mentioned in the last paragraph - there is a blurring of what constitutes reality. Set in a residential psychiatric clinic, it focuses on Tanya (Dawson) and Paul (Roberts) and seen primarily from Tanya's point of view, it's a sympathetic and gentle piece examining damaged minds. Again, the direction and playing are very low key, which actually allows Tanya's desperation to come through more clearly than a more strongly emotional performance might effect. We are left saddened and with a deeper understanding.
The emotional heights are reached in Joe McLaughlan's Mind Games as Sam (Roberts) struggles to come to terms with a traumatic part of his past. He is forced into confronting his demons by The Man - a very powerful performance by Connel. Again reality (in the form of fiancée Nikki, played by Dawson) and unreality (The Man) come into conflict, but this time the anguish is strong and palpable, and the unlikely setting (a gent's toilet in a pub) simply adds to the power of the piece.
Fielding's tight direction and a very talented cast, together with some clearly very promising writers (although it has to be said that, although Gallagher and McLaughlan are new writers, Carr already has a good track record), combine to make this first part of the three year collaboration an undoubted huge success - and a hard act to follow.
Running until Thursday 4th June
Reviewer: Peter Lathan