Unsung
Ayndrilla Singharay
Red Mane Productions
Rosemary Branch Theatre
–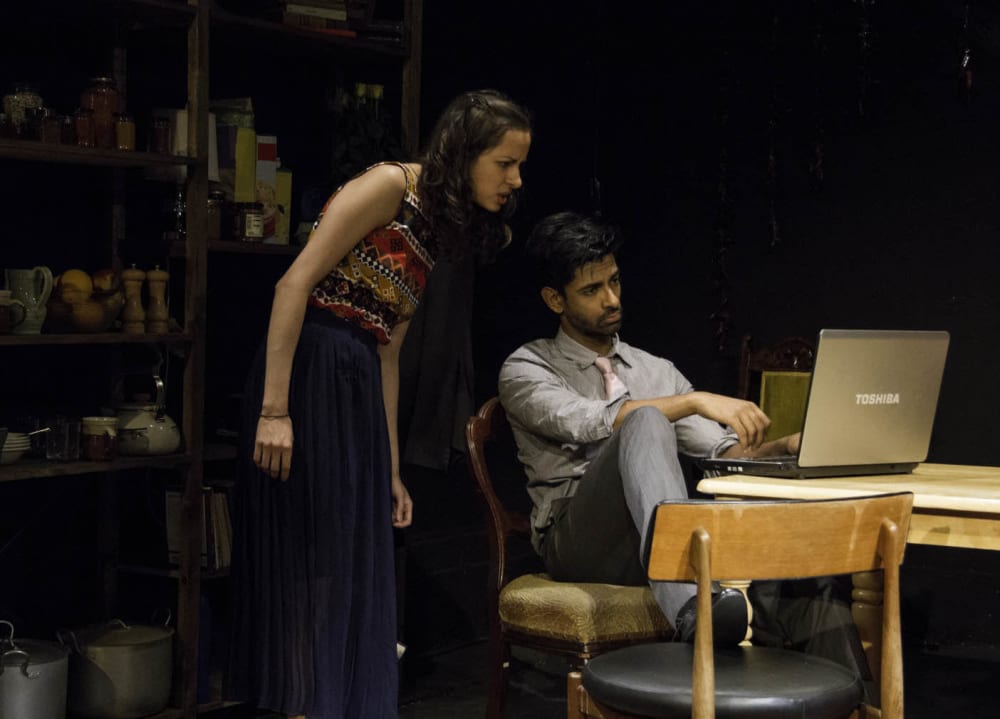 "The song I came to sing remains unsung," wrote the Bengali writer and composer Rabindranath Tagore in one of his poems.
It is a line that Ayndrilla Singharay quotes in this play, which is a re-imagining the 1913 Nobel Prize winner's short story Punishment. That was a tale about two brothers, farm labourers in rural India, one of whom in a rage kills his wife when he comes home to find she has no food for him.
Singharay has transposed this story to modern London a century later, reworking its details but retaining its topics of male and female roles and familial duties. Rana, the elder brother, is deep rooted in traditional attitudes; the younger, Ash, is a success in the city and more modern in outlook but he owes much to Rana who gave up university to support and raise him after their parents died.
Rana is married to a woman brought over from Bengal, subservient Megh, whose life is strictly controlled by his ideas of proper behaviour. Ash's marriage to independent, British-raised Joy is a love match but in their shared household her conduct is also subject to Rana's constant criticism. "You can always get a new wife but you'll never have another brother," is Rana's idea of family.
A century has passed but Tagore's themes are still topical. Megh thought marriage would be perfect, like a flower or a song, but her mother told her it was a brick wall. Joy may remind her sister-in-law that times have changed and cite Margaret Thatcher, a woman Prime Minister, but Megh reminds her that India too had Indira Gandhi—it doesn't change anything. Past mores still weigh heavy, especially when personal debts are added to them as this play remarkably reveals.
From traditional Indian music before the drama starts, there is a change of musical tempo and the cast move rapidly around performing two days of domestic activity on fast forward, a technique that helps the transitions between its multiple scenes in which designer Emma Jesse's shelf-lined domestic interior is also turned into a prison interview room and a court of law.
Although personal interaction is played with realism, this stylised aspect of Lucy Allan's direction, the use of music and keeping characters in view when they have exited a scene helps concentrate the play on its ideas, though it presents rather than explores them. The speed with which it moves detracts from asking whether these brothers would actually be able to get away with the scheme that they devise, given the forensic evidence and cross-questioning of modern British courts.
Rez Kabir, buttoning down frustration as hide-bound explosive Rana, troubled by his own infertility, is paired by Nadia Nadif's gentle Megh, accepting but not happy with her position. Niall Ray as Ash, his contemporary ideas and love for Joy in clashing with his brother's values, gets more chance to explore that conflict in a sensitive performance, though he only jokingly considers a role swap with his wife; he thinks her far too pretty and not tough enough for office life.
The liveliness of Avita Jay as the unfettered Joy inevitably becomes the focus of audience attention, movingly subdued as she also becomes conforming, then increasingly uncomprehending—a fine performance with much more implied than explicit in the text.
Unsung, which premièred at the Dartington Tagore Festival earlier this year, is an impressive debut from this new writer.
Reviewer: Howard Loxton